NBA preview: A look at how the Western Conference teams match up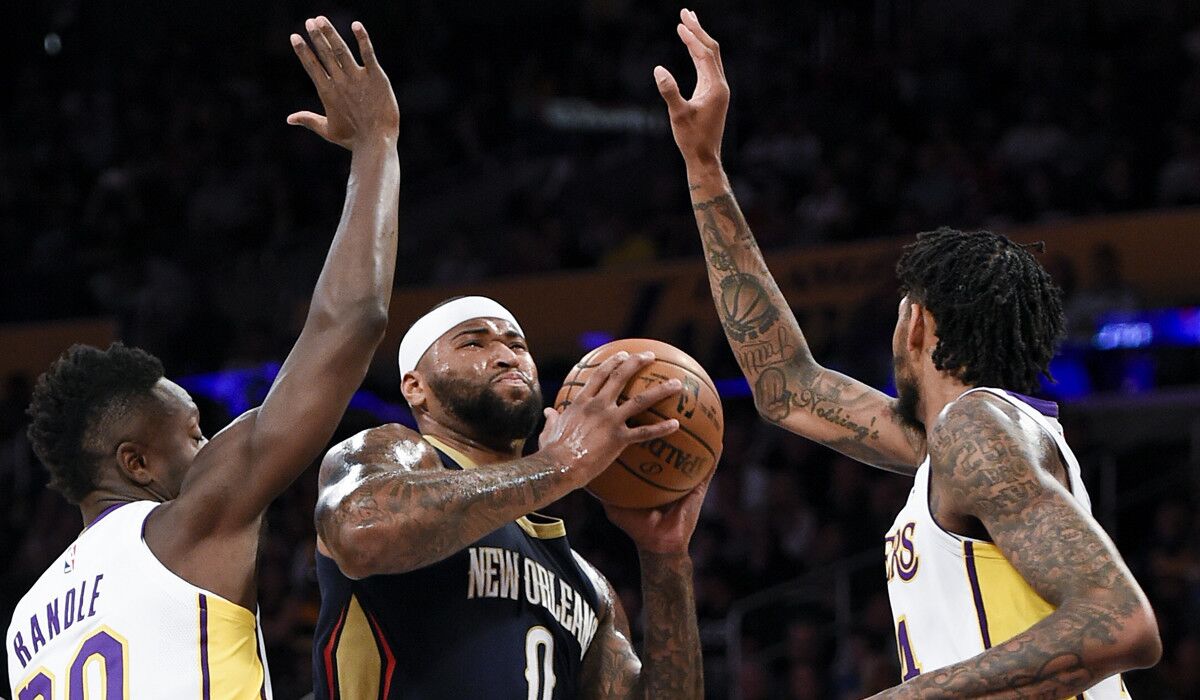 A look at how the Western Conference teams match up (with predicted order of finish):
1. GOLDEN STATE WARRIORS
2017-18 finish: 58-24, second
Coming: DeMarcus Cousins (FA), Jonas Jerebko (FA)
Going: JaVale McGee (FA), Zaza Pachulia (FA)
The NBA's defending champions added another offensive weapon in Cousins, one of the most skilled big men in the NBA. The Warriors landed him on a one-year, bargain deal as he works back from a torn Achilles tendon. If he regains form, the best team in the NBA should be even better and on their way to a three-peat.
2. HOUSTON ROCKETS
2017-18 finish: 65-17, first
Coming: Carmelo Anthony (FA), Brandon Knight (trade)
Going: Trevor Ariza (FA), Ryan Anderson (trade)
The Rockets were four quarters away from the conference finals — even with Chris Paul dealing with a hamstring injury. They re-signed the star point guard, but they lost Ariza — a valuable two-way player — along with top-tier defender Luc Mbah a Moute. Anthony could bounce back in Houston's isolation offense, but who is going to defend on the wings?
3. LAKERS
2017-18 finish: 35-47, 11th
Coming: F LeBron James (FA), G Rajon Rondo (FA), C JaVale McGee (FA), G Lance Stephenson (FA)
Going: F Julius Randle (FA), C Brook Lopez (FA)
There might not be a team with the biggest difference between worst- and best-case scenarios. On one hand, the Lakers will be counting on players such as Lance Stephenson, JaVale McGee and Rajon Rondo. And no one is sure how they'll guard centers. But on the other hand, they added LeBron James. He's simply too good for this group not to contend and could lift the Lakers' young core — Lonzo Ball, Kyle Kuzma, Brandon Ingram and the underrated Josh Hart — with him.
4. UTAH JAZZ
2017-18 finish: 48-34, fifth
Coming: G Grayson Allen (draft)
Going: F Jonas Jerebko (FA)
No big changes for Utah this summer, and that's not a problem. The Jazz found their star, Donovan Mitchell, last year and have a defensive eraser in Rudy Gobert. They've got a pass-first point guard who is an excellent defender in Ricky Rubio, an agitator in Joe Ingles (and one in waiting in Grayson Allen) and plenty of other role players at coach Quin Snyder's disposal. Utah might have the best defense in the NBA.
5. OKLAHOMA CITY THUNDER
2017-18 finish: 48-34, fourth
Coming: G Dennis Schroder (trade), Nerlens Noel (FA)
Going: F Carmelo Anthony (FA), F Nick Collison (retired)
Paul George and Russell Westbrook are as good as any superstar duo in the NBA not playing for the Warriors, but Westbrook's recent knee surgery is a good reason to be concerned. Without Westbrook, the Thunder are fairly ordinary — with him, they're incredibly dangerous and on the fringe of contending for a title. Getting Schroder in a trade with Atlanta was already a key move, but with Westbrook's early-season status up in the air, the acquisition was a must.
6. PORTLAND TRAIL BLAZERS
2017-18 finish: 49-33, third
Coming: G Seth Curry (FA), G Anfernee Simons (draft)
Going: F Ed Davis (FA)
The good news: Portland proved its nucleus can play with any team in the Western Conference last season, when Damian Lillard and C.J. McCollum led Portland to a third-place finish. The bad news: It wasn't that surprising to see the Trail Blazers upended in the first round by the lower-seeded Pelicans. Portland basically is running back the same roster, hoping continuity and growth matters more than big-name talent.
7. DENVER NUGGETS
2017-18 finish: 46-36, ninth
Coming: G Isaiah Thomas (FA), F Michael Porter Jr. (draft)
Going: F Wilson Chandler (trade), F Kenneth Faried (trade)
Nikola Jokic is one of the best players in the NBA, a center with incredible skills that go beyond statistics. The young backcourt of Jamal Murray and Gary Harris is getting better each year. And, the Nuggets might own one of the truest home-court advantages by playing at altitude. Murray is the key — a player who could make a big jump this season — to Denver cracking the playoffs.
8. NEW ORLEANS PELICANS
2017-18 finish: 48-34, sixth
Coming: F Julius Randle (FA), G Elfrid Payton (FA)
Going: C DeMarcus Cousins (FA), G Rajon Rondo (FA)
It's hard to imagine scenarios where do-everything superstar forward Anthony Davis plays his entire career in New Orleans, but while he's there, the Pelicans will be a playoff contender. Point guard Jrue Holiday elevated his game last season, and Randle should be a good fit. But it comes down to Davis, who might have put his injury problems behind him by playing 75 games for the second consecutive season.
9. SAN ANTONIO SPURS
2017-18 finish: 47-35, seventh
Coming: G DeMar DeRozan (trade), C Jakob Poeltl (trade), G Marco Belinelli (FA)
Going: F Kawhi Leonard (trade), G Manu Ginobili (retired), G Tony Parker (FA), F Kyle Anderson (FA)
The golden era of Spurs basketball is gone, with only Gregg Popovich left standing. The talent cupboard isn't bare, and DeRozan is an All-Star. But with Leonard traded, Parker in Charlotte and Ginobili retired, the Spurs could miss the playoffs for the first time in 21 years. Losing starting guard Dejounte Murray, a tremendous young defender, for the season because of a knee injury could push the Spurs out in the West.
10. CLIPPERS
2017-18 finish: 42-40, 10th
Coming: G Shai Gilgeous-Alexander (draft), Jerome Robinson (draft), C Marcin Gortat (trade),
Going: C DeAndre Jordan (FA), G Austin Rivers (trade)
Lob City is dead and the Clippers' rebuild is in full swing, though this team is way too talented to fully bottom out. They have depth all over the court and should play with an aggressive, defensive mind-set. Gilgeous-Alexander was one of the stars at Summer League. They'll play hard, but this season is still just a precursor to the real challenges the team faces next offseason when they've got plenty of cap space to chase a star.
11. MINNESOTA TIMBERWOLVES
2017-18 finish: 47-35, eighth
Coming: F Luol Deng (FA), G Josh Okogie (draft)
Going: N/A
Minnesota has a young star — Karl-Anthony Towns. The Timberwolves have a high end two-way wing — Jimmy Butler. The pieces are there — they're just from different puzzles. Butler wants out, and depending on the return, Minnesota could see its stock fall further. And if the Timberwolves can't move him, they'll have a massive in-house issue in their locker room. It probably won't happen with this roster.
12. DALLAS MAVERICKS
2017-18 finish: 24-58, 13th
Coming: C DeAndre Jordan (FA), G Luka Doncic (draft)
Going: G Yogi Ferrell (FA), F Doug McDermott (FA)
The Mavericks added two big impact players this season. In Jordan, they get a starting center who can protect the rim on one end and rock it after lobs on the other. A great communicator, he should flourish under coach Rick Carlisle. In Doncic, already an accomplished player in Europe, there's a chance they have the best player in the rookie class. It's not impossible to think the Mavericks could challenge for a playoff spot in what could be Dirk Nowitzki's last season.
13. MEMPHIS GRIZZLIES
2017-18 finish: 22-60, 14th
Coming: F Kyle Anderson (FA), F-C Jaren Jackson Jr (draft)
Going: G Tyreke Evans (FA)
There was a time when the Memphis Grizzlies were consistently the toughest team in the NBA, a modern-day Bad Boys who would win sumo matches against whoever they played. Time's been cruel to Memphis, though, with injuries costing Mike Conley almost all of last season. Marc Gasol is still effective, with his game moving farther and farther from the basket, but the Grizzlies need their new generation of players, including potential defensive star Jaren Jackson Jr., to forge a new identity.
14. PHOENIX SUNS
2017-18 finish: 21-61, 15th
Coming: C Deandre Ayton (draft), F Mikal Bridges (draft), F Trevor Ariza (FA)
Going: G Brandon Knight (trade), F Marquese Chriss (trade)
The Suns hit reset again for what feels like the fifth time since the Steve Nash era, trading Knight and a former lottery pick in Chriss. They'll move forward with the No. 1 overall pick, Ayton, as the centerpiece up front, Devin Booker as the perimeter star and Ariza as the veteran leader. They need a starting point guard, though, to really make strides with this group.
15. SACRAMENTO KINGS
2017-18 finish: 27-55, 12th
Coming: F Marvin Bagley III (draft), G Ben McLemore (trade)
Going: G Garrett Temple (trade), G-F Vince Carter (FA)
Who knows what the Kings are thinking? They passed on Luka Doncic for Bagley, which seems like a major risk since a lot of people considered Doncic the best player in the draft. They reacquired McLemore, a whiff of a lottery pick in 2013. Their best hope, outside of Bagley, could be Harry Giles, a 6-10 first-round pick in 2017 who missed all of last season. There are young players here, but no one has looked like a definite part of the Kings' plans, which are always subject to change.
Twitter: @DanWoikeSports
Get our high school sports newsletter
Prep Rally is devoted to the SoCal high school sports experience, bringing you scores, stories and a behind-the-scenes look at what makes prep sports so popular.
You may occasionally receive promotional content from the Los Angeles Times.