Here's what we learned on the night where Shai Gilgeous-Alexander got his first NBA start:
Jamal Murray and basketball's unwritten rules
The Denver Nuggets had a signature early-season win, beating Boston and doing it with a 48-point barrage from Jamal Murray.
But after the game, we got a peek at the kind of silliness usually confined to baseball diamonds. We got to see one of basketball's unwritten rules get broken.
Right before the clock expired, with the win for Denver guaranteed, Murray launched a three to try and gain entry to the NBA's 50-point club. The shot missed, and the Celtics got mad. Before anyone could even do anything, referee Scott Foster sprinted into the fray — he knew how serious of a crime Murray just committed.
After the game, Kyrie Irving, Boston's star guard, described the shot with an expletive associated with a cattle farm.
Here's an idea: Don't give up 48 points and this isn't a problem. Once someone scores more than 45, all bets are off.
Denver, the youngest team in the NBA, is playing without their first-round pick this year and their top free-agent signing (Laker legend Isaiah Thomas). And they're the only team to beat the Warriors this season.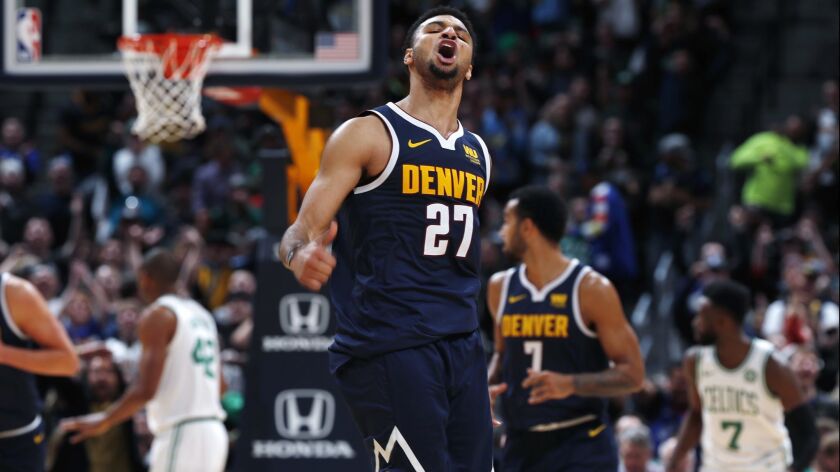 The Raptors keep winning
Just as hot as Denver, Toronto picked up a nice win in Utah on the second night of a back-to-back.
The Raptors, who you'll be reading more about in the near future, essentially blew out the Jazz in Utah, a team that's having some very real struggles right now.
Scouts think Toronto is the second-best team in the NBA right now (the Warriors, who won again, are No. 1), and it's hard to argue.
All the teams that didn't go all in to trade for Kawhi Leonard have to be feeling the sting of regret.
Jimmy Butler check
He's still on the Timberwolves.
The Clippers hang tough
There were moments early in the fourth quarter at Staples Center on Monday night when it looked like the Clippers were going to squander the chance to win a game they, frankly, should've won.
Minnesota, even though Jimmy Butler was playing after sitting in Portland on Sunday, was on the second night of a back-to-back, and they still have plenty of their own internal drama.
But still, Butler got going early in the fourth, and it felt like one more basket for the Timberwolves would swing the game. But the Clippers didn't crumble.
For a team that's trying to compete in the West, every win is going to count. So when the schedule presents you with a chance to take advantage of an opponent with some heavy legs or some internal strife, you can't blow it.
And the Clippers didn't.
Twitter: @DanWoikeSports
---