Column: Can defense still win championships in NBA? Doesn't look like it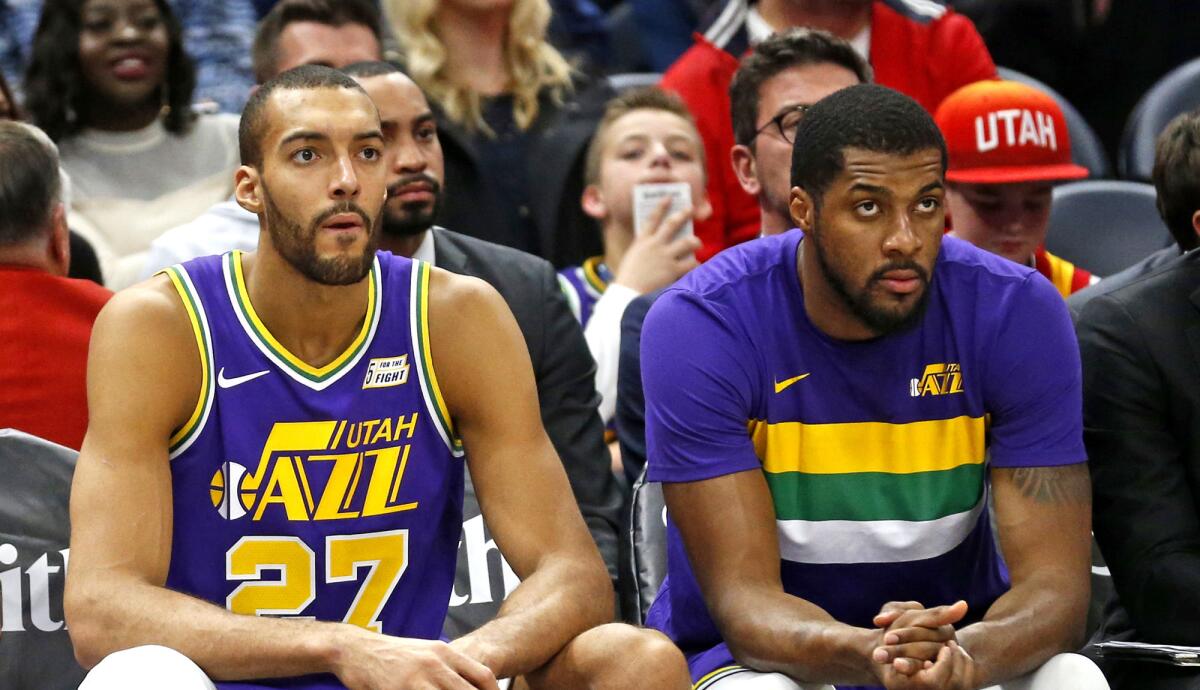 Quin Snyder uttered "LeBron James" with total exasperation after his team lost to the Lakers in Los Angeles last month.
LeBron James was the reason the Utah defense didn't look so good down the stretch. LeBron James was the reason Snyder's team couldn't get a much-needed win against a team the Jazz could be competing with for a playoff spot. LeBron James was just too hard to stop.
But really, if the Jazz coach was being honest with himself, he'd know it's not just James who can give even the best defenses fits. It's teams that shoot a lot of three-pointers. It's the rule changes instituted this offseason. It's better players at younger ages.
Utah, with its highly regarded defense, has gotten off to a slow start because the Jazz are not scoring enough to win games.
"It's not about defense," one longtime NBA scout and assistant said. "This is a scoring league now."
That, more than any other reason, could explain why the Jazz are one of the bigger disappointments 20-plus games into this season.
A surprise run to the playoffs last season had some predicting the Jazz could be the second-best team in the Western Conference. They returned virtually the same cast that went to the second round behind one of the league's best defenses.
They were anchored by an exquisitely talented rim protector in Rudy Gobert. They had a top-line rookie guard, Donovan Mitchell, ready to build on a star-making first season. They kept tough-as-nails role players like Joe Ingles — all under the umbrella of Snyder's coaching, which is top notch.
But with the arrival of December, the Jazz haven't been able to recapture last season's magic, looking like a possible playoff casualty in the loaded West. While things can change quickly in the conference — 14 teams are within 5 1/2 games of first place (in the East, it's five) — Utah might have some fundamental flaws.
Multiple Western Conference scouts have written off the current Jazz roster as simply not having enough offense to creep back to the top of the standings. There's concern that players like Royce O'Neale, who were so important in their playoff push, aren't good enough to stay in the Jazz rotation.
It's partly why the team traded for sharpshooting Kyle Korver this week, sending out a versatile defender in Alec Burks, who would be valued on most rosters. But is a 37-year-old forward enough to bolster an offense that's among the lowest scoring and inefficient (fourth worst in offensive rating)?
The bigger question: Can any team win with defense in the modern NBA?
"It's kind of tough. And I don't think it's just us," Utah forward Derrick Favors told the Times. "I think there are a couple of teams in the league that still need to adjust to it. But you just have to evolve with it and find a way to play through it. We definitely have to evolve with the league and we definitely have to put points up on the board. But we still have to keep the defensive identity we had. We have to find that balance."
Memphis' early-season success is probably the best template for Utah, though center Marc Gasol and point guard Mike Conley are much more advanced offensively than Jazz counterparts Gobert and Ricky Rubio. For optimisim, one can look to Utah's 2017-18 season, when the team opened 19-28 before reeling off 11 straight wins and taking off.
The team most likely to bounce back from a slow start is the Boston Celtics, who also stumbled into the regular season to extinguish any good feelings from last season's run to the Eastern Conference finals.
The Celtics' problems appear to have more to do with re-integrating Gordon Hayward and Kyrie Irving, who were injured as Boston pushed Cleveland to a Game 7 last spring.
Most scouts think that situation will get sorted out — too much talent is rarely that big of a problem, though there can be exceptions.
The Jazz's early struggles look like they could be more permanent, with a roster built for defense that is defending at the least-efficient level during Snyder's five seasons.
Even the most defensive-minded Utah players seem to know something has to give.
"It's hard. The game is evolving. We have fans watching highlights, more fans watching highlights on social media. The NBA likes that," Gobert said. "But you still need to play defense and we still have to play physical. It's on us to be smart and try to adapt."
Twitter: @DanWoikeSports
Get our high school sports newsletter
Prep Rally is devoted to the SoCal high school sports experience, bringing you scores, stories and a behind-the-scenes look at what makes prep sports so popular.
You may occasionally receive promotional content from the Los Angeles Times.