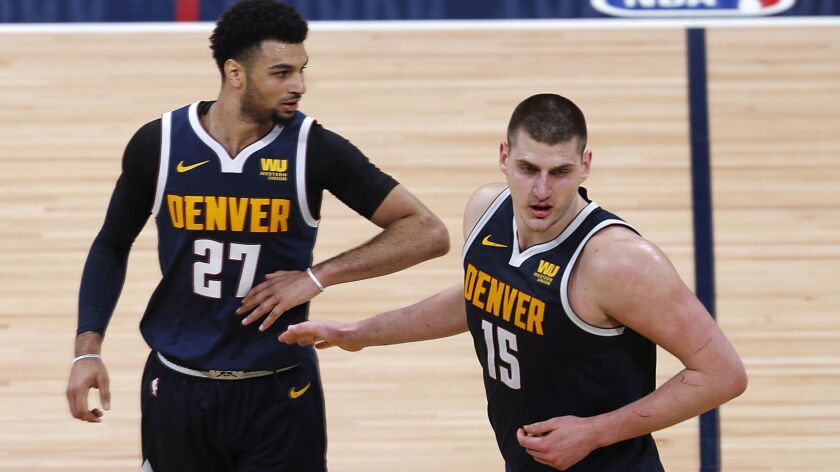 Denver Nuggets vs. Portland Trail Blazers
How the teams match up for their Western Conference semifinal playoff series:
2. DENVER
54-28 (Home 34-7; Road 20-21)
1st round: def. San Antonio 4-3
3. PORTLAND
53-29 (Home 32-9; 21-20)
1st round: def. Oklahoma City 4-1
Season series: Denver won 3-1
Key stats: Denver center Nikola Jokic nearly averaged a triple-double in the first round, the first player in more than 50 years to average at least 23 points, 12 rebounds and nine assists. … The four games between these two teams were all decided by single digits. … Damian Lillard made 48.1% of his three-point attempts against the Thunder. … The Nuggets and Trail Blazers led the league in offensive rebound percentage (30.8) this season.
Outlook: A very evenly matched series between two teams that pundits probably haven't fully appreciated this season. Jokic's first playoff series was a massive success, his Game 7 triple-double an exclamation point. He'll be trouble for Enes Kanter (questionable with a separated shoulder) and the Portland frontcourt. But Lillard and CJ McCollum are big problems for defenses, and if the Trail Blazers can get contributions from their role players, they're tough to beat. Same goes for Denver when guard Jamal Murray gets going, though Portland has defended him well this season (39.1 FG%, 30.8 3FG%) in the three games he played.
Dan Woike's prediction: Trail Blazers in seven.
SCHEDULE
Gm 1 Monday at Denver, TNT, 7:30 p.m.
Gm 2 Wednesday at Denver, TNT, 6 p.m.
Gm 3 Friday at Portland, ESPN, 7:30 p.m.
Gm 4 Sunday at Portland, TNT, 4 p.m.
Gm 5 May 7 at Denver, TNT, TBD
Gm 6 May 9 at Portland, ESPN, TBD
Gm 7 May 12 at Denver, TBD, TBD
Sign up for our daily sports newsletter »
Twitter: @DanWoikeSports
---