Reporting from Oakland —
A pump fake and dribble to the left, rise, release and swish.
Trevor Ariza's smooth stroke from the right corner happened during a defensive breakdown for the Golden State Warriors in Game 2 of the Western Conference finals, because a good defensive possession doesn't end with an open Ariza three-pointer.
"We have to have guys that can guard and make threes and be locked in and make threes in big moments," Houston Rockets coach Mike D'Antoni said. "He definitely fills that role."
It's a role every team in the NBA thirsts for — a 6-foot-8, long-armed wing that can knock down open three-point shots on one end while defending on the other. It's a skill set that supersedes offensive schemes or any roster-building philosophy.
Any coach would love to have a player who does all that — except for one.
More than a decade ago when Ariza was a second-year player, his coach with the New York Knicks, Hall of Famer Larry Brown, thought Ariza shouldn't shoot from the perimeter. Like ever.
"He told me not to even look at the basket or shoot the ball," said Ariza, 32. "I was definitely afraid to shoot. I just wouldn't. I would not shoot."
More than 4,000 three-point attempts later, Ariza's long-distance shooting is one of the reasons Houston finished the season with the NBA's best record and the Rockets are in position to take a 2-1 series lead Sunday at Oracle Arena.
And none of it would've happened had it not been for a minor three-player trade that saved his career.
Ariza, a star at Westchester High, left UCLA after one season before landing with the Knicks in the second round of the 2004 draft. In his second season there, he quickly found himself in Brown's doghouse, with the coach even calling him "delusional" midway through the year after Ariza expressed confusion about falling out of the Knicks' rotation.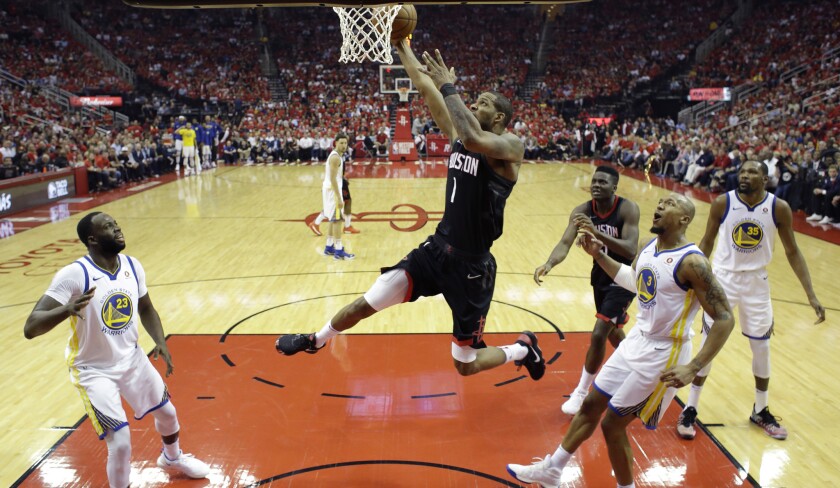 He was soon traded to Orlando, but the damage had been done. He refused to shoot and couldn't find regular playing time with the Magic.
Ariza played 37 consecutive games in his second season without taking a three-point shot. After being traded to the Magic, he attempted 12 threes in 89 games with Orlando, missing all of them.
But on Nov. 20, 2007, Ariza found himself heading back to Los Angeles in a trade to the Lakers for Brian Cook and Maurice Evans. At the time the move seemed minor, but it saved Ariza's career.
"It's crazy," he said Saturday.
With the Lakers, Ariza was still scared to step beyond the three-point line. But teammates like Kobe Bryant and current Lakers coach Luke Walton insisted.
"He was afraid to shoot the ball," Walton said. "The crazy thing about Trevor is that he was a good shooter. We'd do the shooting drills before practice and then we'd get into a scrimmage, he'd be wide open, and he'd pump fake and try to drive. We constantly told him to shoot it."
It took time — he tried only eight from deep in his first 20 games with the Lakers before attempting threes in four consecutive games. A broken foot in practice cost him the rest of the regular season, but his confidence was on the mend.
"It took for me to get to the Lakers and for my teammates to help me get through that mental block that I had," Ariza said. "Anytime I was open, anytime it even looked like I might be open, they always told me, 'Shoot the ball. We don't care if it goes in or if you don't make it. Just shoot it.'
"They saw the work I put in to try and get better at it, and me, if I'm going to be on the court and not be aggressive, it's not going to help the team."
The next season Ariza played in all 82 games and helped the Lakers win their 15th NBA title, beating his former Magic team in five games. Ariza started each game that postseason, making 10 of 24 from three-point range in the NBA Finals.
"It felt great because I was playing against the team that traded me, that didn't think I was good enough to play for them," Ariza said. "So, playing in the Finals, hitting big shots against them, it was like smushing a cake in somebody's face."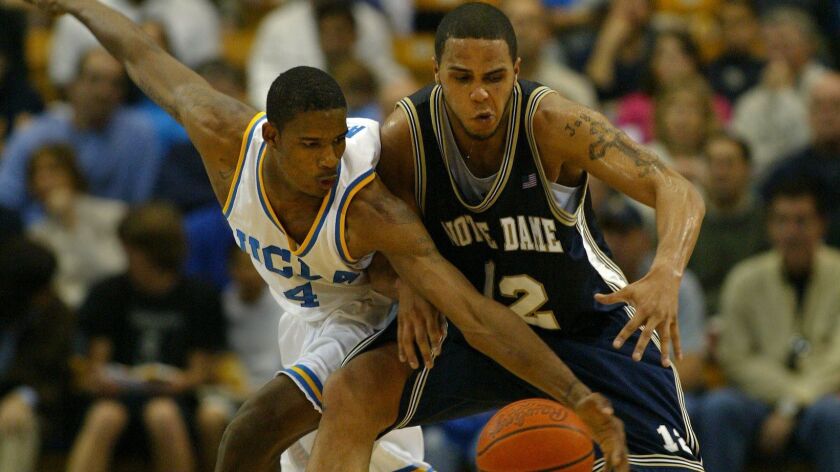 That season, Ariza's last with the Lakers, ended with a bus ride from Staples Center to the Coliseum, where 90,000 fans were waiting to celebrate the title and chant his name, making him feel like an international soccer star.
"Hometown kid, L.A., playing with Kobe? That's probably a dream come true," said James Harden, Ariza's current teammate and fellow Angeleno.
It was.
"When you're living it, living in it, you really don't realize how special it is or how important it is to do it, to be in that situation. I was just playing. I wasn't worried about playing for the Lakers, playing with Kobe, playing at home," Ariza said. "'But when I look back, [expletive], that's a real-life dream.
"And to win a championship for your home town — it's like you're stamped. It gets you a lot of love at home."
Ariza and Pau Gasol are the only players left from the 2009 team still in the NBA, and Ariza's championship experience is valued within the Rockets' team dynamic.
"Our team is based off communication. The things I see, the things I've been through, I just share," he said. "Our team is so hungry, so thirsty, to get an advantage, to get to another level, we all just embrace each other's thoughts and comments."
The Rockets are seven wins away from the best feeling in basketball, one Ariza experienced in his backyard.
In 2009 after the Lakers won the title, Ariza stood on top of a double-decker bus that moved down Figueroa Street from Staples Center to the Coliseum. The bus was surrounded by purple and gold, fans and faces that had been with Ariza since the very start.
He had won a championship. And, he finally had started his career.
"That's why that time there was so important for me," Ariza said. "It gave me the ultimate confidence that you need to play in this league."
Staff writer Tania Ganguli contributed to this article.
Twitter: @DanWoikeSports
---