Sports media: NBA All-Star game is as puffed up a piece of preening as Westminster Dog Show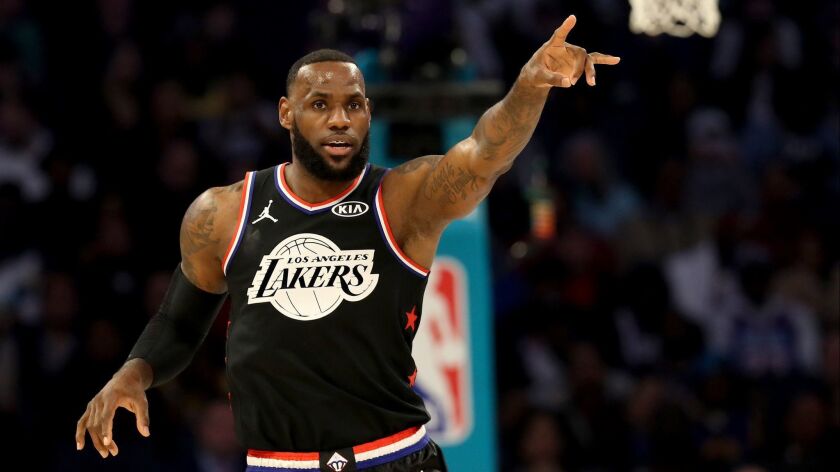 In a post-Grammys/pre-Oscars prime-time TV slot, the NBA All-Star game embraces all the trappings of self-congratulatory excess.
As much as we want to keep encouraging it, we're doomed to soon reach a point of no returns.
Aside from the puffed-up exhibition game, this was just the latest edition of the LeBron Choice Awards. Because TNT still apparently knows its formula for drama.
Sporting a Lakers logo across his chest for the first time in this exercise, LeBron James took the court with the teammates he had picked during a televised draft. He got to dress them in black. Then, he demanded they not play defense, just defend his honor and consider joining him in L.A. ASAP.
It all made for wonderful window dressing during a Sunday night presentation for February TV sweeps.
"The NBA game in general is getting overlooked by speculation and everything," Team LeBron member Kevin Durant said during the weekend's festivities in Charlotte, N.C. "It's the soap opera, and we're all actors just trying to play our roles."
At least Durant acknowledged as much as one of the latest media moguls running a full-court press of brand awareness.
The NBA All-Star game, when it's not in L.A., often can go sideways, which usually forces the broadcasting crew to laugh along with the antics.
If you weren't into the TNT feed, aside from Marv Albert's miscalls with Reggie Miller and Chris Webber, there was a more unserviceable TBS offering of a "Players Only" branded feed with Greg Anthony trying to post up on Charles Barkley and Kevin Garnett.
Then there was a brief interlude to hear a Cosmote Sport feed with Greek broadcasters describing the exploits of Giannis Antetokounmpo. Honestly, we could have listened to that all night.
Like the Grammys, the All-Star game had musical interludes (with necessary audio cuts). Like the Oscars, there could have been more controversy about who didn't get enough live TV time. Unlike the Super Bowl, it promised scoring. And there was more preening than the Westminster Kennel Club Dog Show.
Still, we'd have liked to see TNT sideliner Kristen Ledlow coax more barks from players and fewer clichés.
On a day in TV sports when were we treated to a spectacular crash-filled and overtime Daytona 500 under the lights on Fox, going opposite the frosty field scrambling to finish the weather-delayed Genesis Open from Riviera Country Club on both Golf Channel and CBS, we went to bed knowing we made the right decision to stick with the NBA fest.
At least until halftime when we were convinced Albert probably wasn't coming out for the second half, longing for the day when this was taken more seriously and didn't require ear plugs.
Famous Last Words?
In a Washington Post story about Sinclair Broadcast Group's agreement to partner with the Chicago Cubs' new regional channel in 2020, Sinclair chief executive Chris Ripley dismissed pessimism when compared to the Dodgers' egregious distribution the last six years after launching SportsNet LA with a miscalculated 25-year, $8.35-billion deal.
"We don't have the same financial pressure as they did," Ripley said. "Plus, Chicago really is a Cubs town. [The Dodgers'] fan base isn't as strong or as concentrated."
Get back to us in six years and let us know how this isn't working out.
A full house
Josh Lewin, the San Diego-based UCLA radio voice on football and basketball, has volunteered to be part of an experiment by the Boston Red Sox on their WEEI-FM/Entercom radio game coverage this season.
Lewin, working mostly "west of the Mississippi," he said on Twitter, will be one of eight play-by-play men rotated in to join Joe Castiglione, who stays on for his 37th season. Lewin will end up doing 55 to 60 Red Sox games, as will former Angels broadcaster Mario Impemba, who was let go by Detroit. Sean McDonough, Chris Berman and Dave O'Brien also are included.
Could the Dodgers or Angels consider an arrangement like this?
For as many voices as the Red Sox collected, they still cut loose Tim Neverett after three years in December. He has since hooked on with the Dodgers as a fill-in for TV and radio.
Lewin, 50, said he will continue to work with Entercom's San Diego affiliate on Padres pre- and post-game shows in his first year after leaving the New York Mets' radio booth following a seven-year run.
Also…
"Cult to Culture: Photographs by LeRoy Grannis," an exhibit at the Long Beach Museum of Art celebrating the late artist's iconic surf work, is worth paddling out for a visit before its run ends April 21.
The first of all 30 Angels exhibition game telecasts starts Saturday on Prime Ticket, alternating with Fox Sports West through late March. Saturday also starts the first of 20 Dodgers exhibitions on SportsNet LA, with all weekend games and a few others. The Dodgers don't air every game on their own 24/7 channel because team officials insist it's not worth the expense. Maybe the fan base just isn't strong enough to demand it?
---
Get the latest on L.A.'s teams in the daily Sports Report newsletter.
You may occasionally receive promotional content from the Los Angeles Times.