Steve Kerr is defined as a person by much more than basketball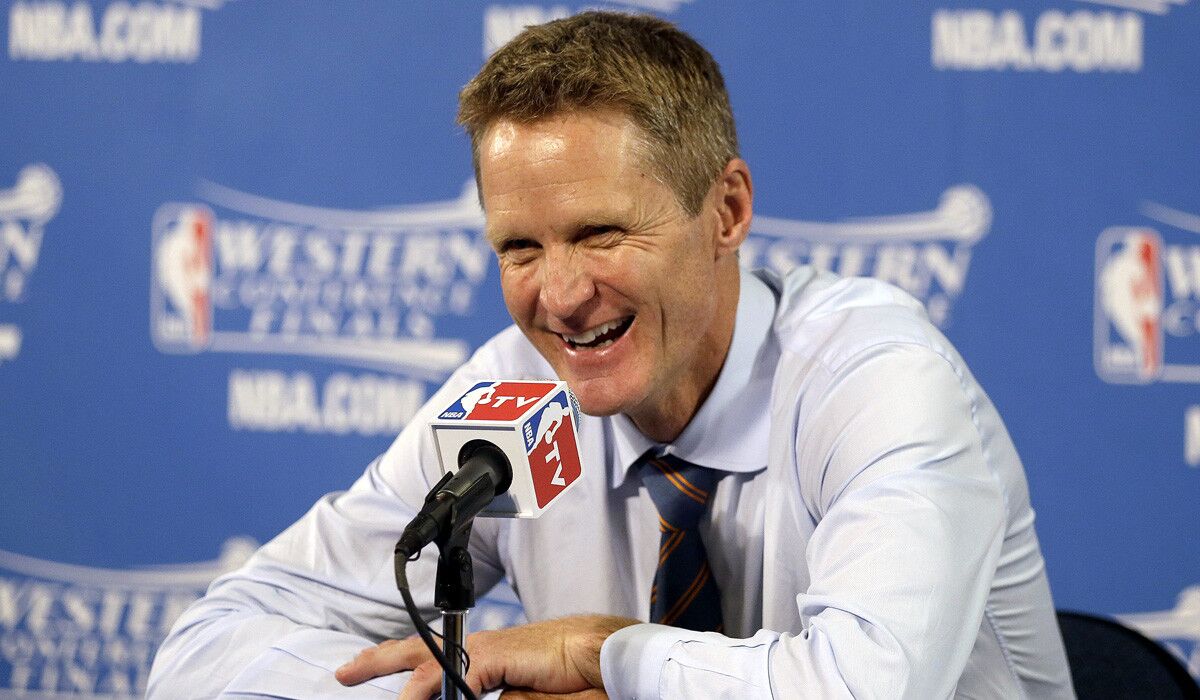 Most who follow the NBA know about Steve Kerr, the coach of the destiny-driven Golden State Warriors, in the traditional jock-makes-good way.
The surface resume goes something like this: Sharp-shooting guard at Palisades High plays at University of Arizona and is among the stars of Lute Olson's golden years there as coach in the mid-1980s.
It continues like this: He reaches the NBA, gets to the Chicago Bulls and is part of the Michael Jordan era. Remember that game-winning jump shot in 1997 in Game 6 of the NBA Finals against the Utah Jazz? Vintage Kerr. Cool, calm, collected and all net.
Then there is his fortuitous move to the San Antonio Spurs and more NBA titles. When he is finished with his pro career, he has played in nearly 1,000 games and started only 30 of them. Yet, he has been part of five titles and everything about him says, and still does say, he is a winner.
But there is so much more.
And for those who don't know the rest, or have forgotten, it is time to retell. Something as monumental as an NBA Finals series deserves that context.
He was not born on a surfboard in Southern California. Nor was basketball any sort of family priority, as in successful jock father urges son to follow that path.
Kerr was born Sept. 27, 1965, in Beirut. His father, Malcolm, was also born there. Malcolm's parents joined a relief group in Turkey in 1919 and eventually moved to Lebanon, where they became teachers at American University of Beirut. To Malcolm, and his eventual wife, Ann Zwicker Kerr, whom he met in Beirut while she was an Occidental College junior studying abroad, Beirut was home.
The sunny beaches of Southern California became their temporary home when Malcolm, an internationally renowned author and expert on Arab affairs and politics, became chairman of the political science department at UCLA. That was from 1962 to 1982, but with numerous family trips back to the Middle East.
In 1982, Malcolm was offered his dream job — president of American University in Beirut. It was more than just a lofty job, signifying ultimate academic success.
It was dangerous.
Americans were not welcome in Beirut then. The Palestine Liberation Organization had been moved out, but other extremist groups had moved in. In October 1983, 299 American and French soldiers died in a bombing of barracks near the Beirut airport. Also, Kerr's predecessor at the university had been kidnapped and held hostage.
At his daughter Susan's Southern California wedding in the summer of 1983, Malcolm told her, with only limited tongue-in-cheek humor, that he had a 50-50 chance of getting bumped off.
And so, when 18-year-old Steve, a freshman at Arizona, received a call in the middle of the night Jan. 18, 1984, the shock had to be tempered by a lack of total surprise.
His 52-year-old father had been shot in the head twice in the hallway on his way to his office. The gunmen used silencers. Soon, a pro-Iranian group calling itself Islamic Holy War, called an international news agency and took credit for the killing.
It was an international incident. Malcolm had written prolifically, and with compassion, about the Arab view of the world. His loss was considered devastating in academic and political arenas because he, unlike many whose job it was to keep the peace, understood better than almost all of them the best ways to do that.
When he arrived to take his job, Malcolm had been given a bodyguard. Soon, he dismissed him, saying it was somewhat unseemly for a college professor to have one.
He ended up being shot in the same building where he had met his wife. He died in the same hospital in which he was born.
His only sin was that he was an American.
Two nights after getting the phone call, the skinny freshman, who wouldn't have even been at Arizona had not his father written a letter to Olson that touted his lightly recruited son, played in a game against rival Arizona State. Olson said he was amazed, but also understood the therapeutic nature of playing. Kerr's first shot was from 25 feet. It went in.
In Kerr's senior season, in an ugly incident that can only be explained by alcohol or frat-boy mentality, a group of Arizona State students began shouting at Kerr during warmups: "PLO, PLO" and telling him to join the Marines and "go back to Beirut."
Kerr was so shaken he went to the bench and sat quietly, with tears in his eyes. Then the game started and he made six consecutive three-point shots.
Eleven years ago, Kerr made a speech that perfectly represents who he is, and why he is what he is. That includes the ever-present wry humor that was, according to much written about him, a Malcolm Kerr trademark.
In his speech, Kerr said, "My parents literally showed me a whole world that existed beyond typical American culture. They gave me an education in understanding people, in being compassionate and respectful. They taught me that people may speak or dress differently, or have customs or beliefs foreign to me. It was important to not only understand those differences, but to embrace them as well."
And then the humor.
"That came in handy years later," Kerr said, "when Dennis Rodman became my teammate with the Bulls."
An NBA title for son Steve won't bring Malcolm back. Nor will it matter one iota in U.S.-Arab relations.
Still there is an unavoidable sense that the values of Malcolm and Ann Kerr are getting a large and public platform in the person of their son, Steve.
Which is something good to dribble around in our minds, as we watch.
Get our high school sports newsletter
Prep Rally is devoted to the SoCal high school sports experience, bringing you scores, stories and a behind-the-scenes look at what makes prep sports so popular.
You may occasionally receive promotional content from the Los Angeles Times.