Raptors defeat the Warriors in their first NBA Finals game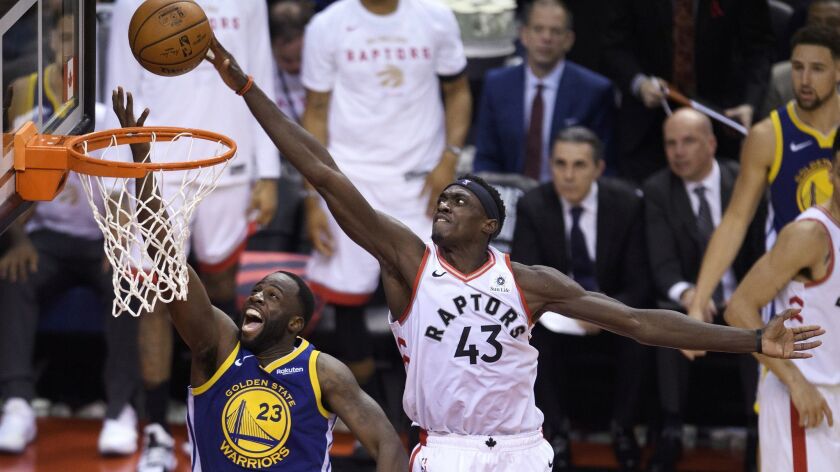 Reporting from TORONTO —
"We the North" isn't just a rallying cry or a catchy slogan. It's an introduction.
See, when you play "the North," you have to deal with the cyborg that is Kawhi Leonard. You have to deal with Kyle Lowry throwing his body in your way. You have to deal with a power forward, Pascal Siakam, who uses finesse, quickness and athleticism instead of "power." You have to deal with Marc Gasol's next-level instincts and Danny Green's history of shotmaking. You have to deal with Fred VanVleet having the best two weeks of his life.
In "the North," you have to deal with fans who have never tasted winning like this and are now insatiable, who used to obsess over wrist shots and now love jump shots. They chant "M-V-P" at Leonard and howl when Lowry makes a hustle play. You have to deal with Drake wearing a Dell Curry jersey and talking a lot of trash.
It's a team in a city that feels like they're playing for an entire country, the anthem being sung in unison and the maple leaf flag being passed from one section to another.
"We the North" the Raptors told the Golden State Warriors during Toronto's 118-109 Game 1 victory Thursday. And if the two-time defending champions weren't sure what they were in for before, they sure know now.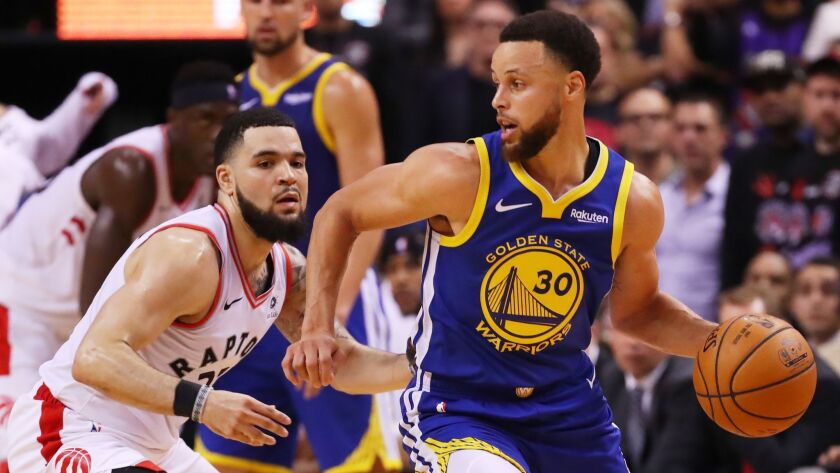 "We really didn't feel like we knew this team very well," Golden State coach Steve Kerr said.
For the Warriors, this is a brand-new position, a new set of challenges against a new group of players. For 12 consecutive series, including trips to the Finals against the same opponent, the Warriors always opened the series with a win.
By and large, they knew what to do with LeBron James. They knew what to expect from Kevin Love. That's who they saw for four straight NBA Finals, a challenge they conquered three times.
And the Raptors? They're practically strangers.
The Warriors were slow to rotate out onto Gasol, who scored 20 points and made a couple of big shots from the perimeter, just like he did late in the Eastern Conference finals. Draymond Green, who said he considers himself the best defender ever, couldn't stay in front of the spinning Siakam, who scored 32 points.
It all looked so new.
"It's obviously a different feel," Green said.
Before the game, Kerr predicted a long series in part because of his team's unfamiliarity with their challenger.
"That's a huge element. We hardly know Toronto's team and even if you include the two games this year, players from both sides were out, so you can't glean a whole lot from those two tapes. So this series, unlike the last few years, will be against an unfamiliar foe," Kerr said before the game. "Same goes for them."
Except that's not true.
Toronto knows the Warriors. Everyone knows the Warriors. Everyone knows that Stephen Curry (32 points) and Klay Thompson (21) are a blink away from hitting a jumper. Everyone knows that Green plays with mostly unmatched emotion and unmatched defensive will and versatility. Everyone knows the ball zips around with great pace and precision, that guarding the Warriors is a tremendous stress test.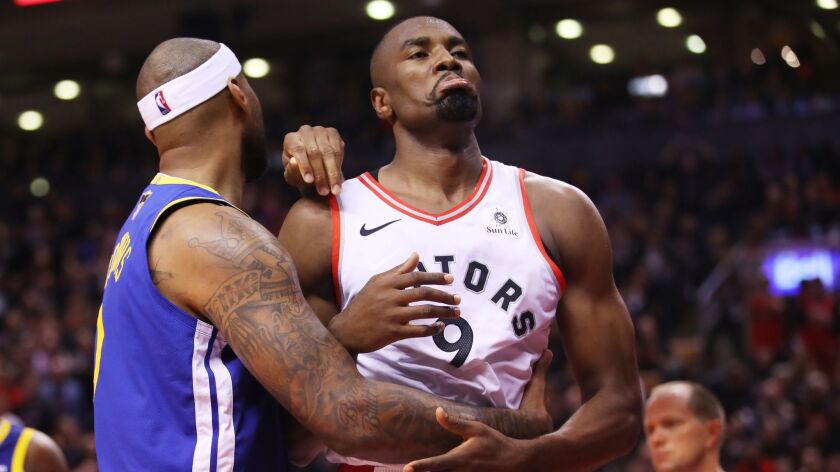 And, everyone should know that the Warriors are a much better team with Kevin Durant.
The arguments on the other side point to the team's tremendous record with Curry on the court and Durant off of it. They point to the style of play, how the Warriors rely mostly on trust in one another and their superior system.
But on a night like Thursday, when the Raptors are a bit of a secret and the Warriors are a known quantity, and Golden State got DeMarcus Cousins back for eight minutes, they certainly could've used Durant.
While some view the forward as a "luxury" item — a view that could push him out the door in free agency (and maybe even to the Clippers) — he would have been a necessity in Game1.
It would've been Durant, not Jordan Bell, in front of Leonard on his first basket. It would've been Durant, not Alfonzo McKinnie, doing more when Andre Iguodala left the game with a sore leg..
"It doesn't matter until he's out there," Kerr said after.
And if he's out there, it will matter.
But if he's not — and it's unclear when, and if, he will be — the Raptors should have the Warriors a little worried about the new position they're in.
Sign up for our daily sports newsletter »
Leonard and Lowry combined to make only seven of 23 from the field Thursday and it didn't matter. Not when the Warriors turned the ball over 17 times, helping Toronto score 24 points in transition.
Siakam was a huge part of it, making 14 of 17 of his shots in his NBA Finals debut. His 32 points were a career playoff high.
"Kawhi didn't have his best game to his standardsm but other guys stepped up. Siakam obviously had the game of his playoff life," Thompson said. "Give him credit, running the floor. So we'll have to get back on defense next game and really limit their transition points, make them beat us in the half court. Yeah, we did a good job of limiting Kawhi, but it's not Kawhi Leonard, it's the Raptors."
They know who they are now. Whether they've got enough to beat them? The Warriors can't know for sure.
Twitter: @DanWoikeSports
---
Get our high school sports newsletter
Prep Rally is devoted to the SoCal high school sports experience, bringing you scores, stories and a behind-the-scenes look at what makes prep sports so popular.
You may occasionally receive promotional content from the Los Angeles Times.