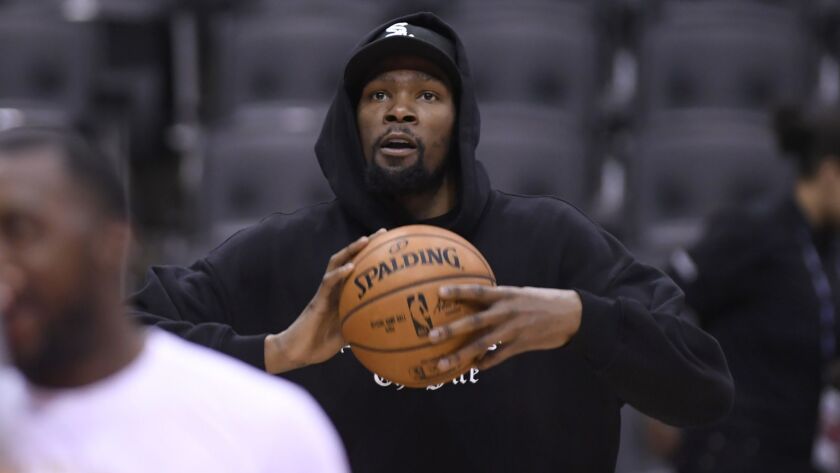 Reporting from Toronto —
The team leading the NBA Finals, one that is almost as good as the championship itself, talked about the right kind of fear. The star of the team facing the almost impossible deficit, Stephen Curry, literally whistled his way to work.
Sunday, the day before what could be a decisive Game 5, was a study in the two sides of a 3-1 lead, with the Raptors trying not to get ahead of themselves and the Warriors laser-focused on one victory — not three.
Toronto, trying to clinch its first title on its home court, is still the massive favorite after two terrific performances in Oakland. After Game 4, when the Raptors wore down the back-to-back defending champions, no one celebrated the win, the team walking back to the locker room stone-faced.
"It comes with experience. It comes with IQ. It comes with knowing that we haven't accomplished anything yet," Raptors guard Danny Green said. "It comes with appropriate fear of knowing what that team is capable of."
The Warriors may be able to finally show what they are capable of. All-Star forward Kevin Durant, who hasn't played since midway through the Western Conference semifinals, returned to practice Sunday and was listed as questionable, significantly increasing the chances he's on the court Monday night.
Sign up for our daily sports newsletter »
"What he's going to do today he hasn't done," coach Steve Kerr said before practice. "He's doing more today and then we'll know more after that."
Durant's return could be the kind of thing that shifts a series, that negates all the statistics that favor teams with a 3-1 lead. In the last 40 years, only nine teams have overcome 3-1 deficits, and only one, the 2016 Cleveland Cavaliers, did it in the Finals.
The Warriors were there for that, just like they were a round before when they overcame a 3-1 deficit to eliminate the Oklahoma City Thunder.
"The same message that was applied then should be the same message that is applied now. … Let's take it one game at a time," Warriors forward Draymond Green said. "You go out, you play every possession like it is your last and understand what's at stake. You give everything you got and you live with the results."
It's a brain teaser for both teams. The Raptors have to imagine that they don't have time to waste, that they're not in control.
"Knowing that teams are going to be fighting for their lives, their back is against the wall, they have a lot more to lose," Danny Green said. "We got to play as if we're down in the series and our backs are against the wall, that this is our last game."
But it won't be their last game if they lose. It's why their focus is more about completing the journey to four wins to close the series as quickly as possible.
"We haven't done anything," Toronto guard Kyle Lowry said. "We still got to get one more win. It's the first to four. You got champions coming in here and they're going to play their butts off and play extremely hard. For me, we still got to focus on us and take it one possession at a time."
For the Warriors, the trick is to view things as three individual, unrelated games. The only way they can win a Game 7 is by winning a Game 6. And the only way they can play a Game 6 is by winning Monday.
"I don't think we need to reinvent the wheel by any stretch — these huge adjustments or anything," Curry said. "Can you see the picture and envision what we need to do out there and turn that into reality by executing it? We have high-IQ guys that I feel like won't be rattled by the pressure of that situation, because a couple missed shots here and there, you can start to think like, 'Oh, this might not be our night,' or stuff like that. That can't creep in.
"It has to be, in spite of whatever happens, Game 5 just get the job done, no matter how pretty or ugly it is."
Twitter: @DanWoikeSports
---