Prep Rally: Who are the high school basketball players of the year?
Hi, and welcome to another edition of Prep Rally. My name is Eric Sondheimer. With one week remaining in the regular season, let's look at basketball player of the year candidates. Of course, it's in the playoffs where individual and team accomplishments count most in determining the best, so there's plenty of time for someone to finish as MVP.
MVP candidates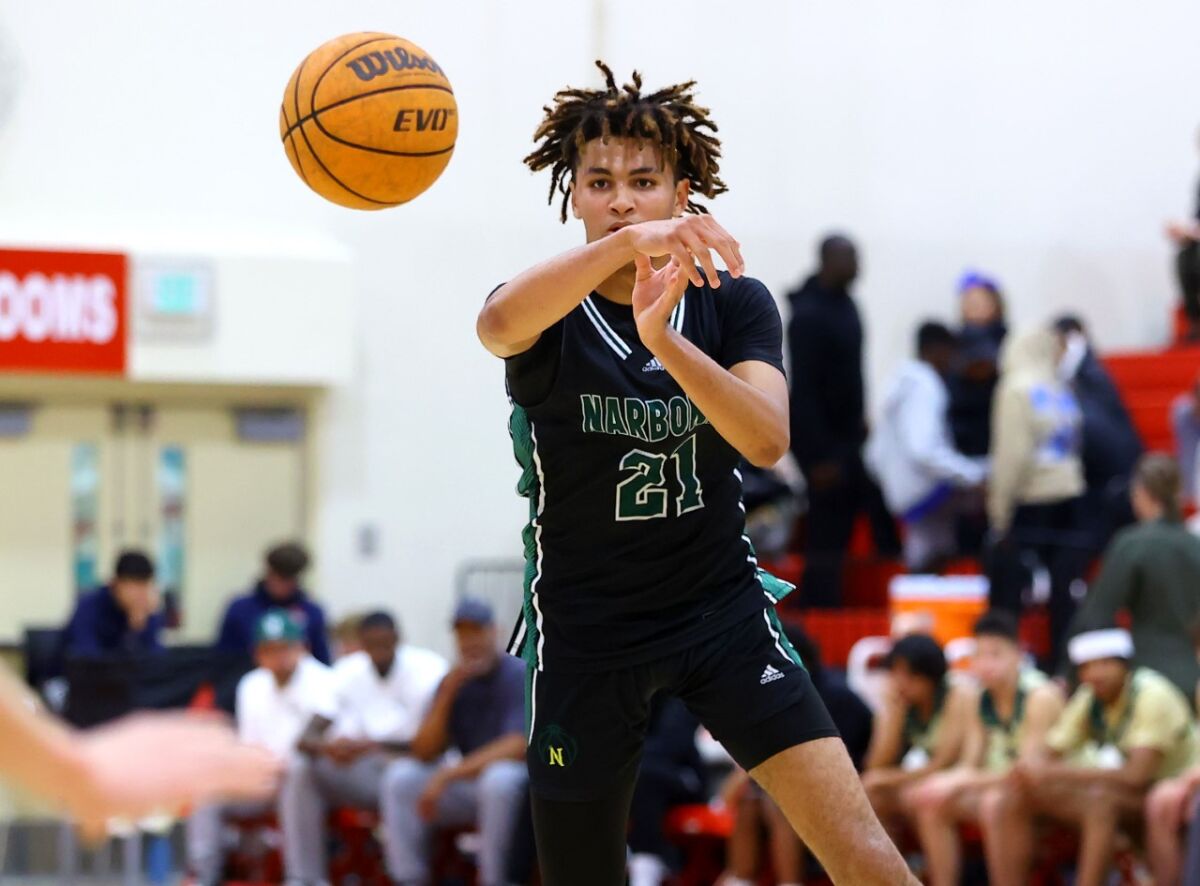 Boys' player of the year candidates:
Jared McCain of Corona Centennial has led the two-time defending Southern Section Open Division champions to a 23-3 record. The Huskies haven't lost to a team from California. He's scoring, passing and playing great defense.
Trent Perry of Harvard-Westlake is a junior point guard who has played with so much consistency and passion that he's helped the Wolverines to a 26-1 record and No. 1 ranking.
Marcus Adams Jr. of Narbonne has become the most dominant player in the City Section. Whether scoring, rebounding or blocking shots, he's showing he's a man among boys.
Andrew Meadow of West Ranch makes multiple contributions each game for a team that has won 25 of 26 games and could be very tough to beat in the Southern Section Open Division playoffs.
Dusty Stromer of Sherman Oaks Notre Dame has demonstrated unselfishness and a willingness to do whatever it takes to lift the Knights, whether that means shutting down the opposing team's best player or attracting defenders around him to free up teammates.
There's also Will Smith of Bishop Montgomery, Brady Dunlap of Harvard-Westlake and Isaiah Elohim of Sierra Canyon.
Girls' player of the year candidates:
Juju Watkins, Sierra Canyon. The McDonald's All-American selection continues to show that she's a once-in-a-generation player with skills to score from anywhere on the court for the unbeaten Trailblazers.
Kennedy Smith, Etiwanda. Only a junior, Smith has led the Eagles to a 24-2 record. She's preparing for a long-anticipated matchup against Sierra Canyon in the playoffs.
Skye Belker, Windward. A top scorer for Windward, Belker's continued development has led the Wildcats to an unbeaten record in the Gold Coast League.
Caia Elisaldez, Mater Dei. The senior point guard has sparked the Monarchs to a 24-2 record.
Chloe Briggs, Ontario Christian. Averaging 26.6 points, Briggs is closing in on the state career scoring record.
There's also Mackenly Randolph of Sierra Canyon, Ava Dominguez of Rosary and Mariah Blake of Westchester.
Get our high school sports newsletter
Prep Rally is devoted to the SoCal high school sports experience, bringing you scores, stories and a behind-the-scenes look at what makes prep sports so popular.
You may occasionally receive promotional content from the Los Angeles Times.
Basketball rewind
Senior guard Kristan Yumul of Oxnard set a Ventura County record by making 11 threes in a win over Rio Mesa. She had 37 points.
Senior Amanda Edwards of San Juan Hills set school records for points and threes by finishing with 36 points and making nine threes in a win over Tesoro.
Juju Watkins of Sierra Canyon scored a career-high 45 points and had 16 rebounds and eight assists in a win over Bishop Alemany.
Ava Dominguez of Rosary scored 30 points and made seven threes in a win over Santa Margarita.
Gabby Kay Robinson of Corona Centennial set a school record with 12 threes and had 48 points in a win over Norco.
Eastvale Roosevelt junior guard Darnez Slater scored 52 points in a win over Corona Santiago, giving coach Stephen Singleton his 200th victory.
A crowd of 7,856 was at UCLA's Pauley Pavilion to see Sherman Oaks Notre Dame defeat Sierra Canyon 66-62. Here's the report.
Marcus Adams Jr. scored 40 points for Narbonne to help the Gauchos clinch the Marine League title with a win over San Pedro. Here's the report. Jason Crowe Jr. of Lynwood scored 46 points in a win over Firebaugh. Long Beach Jordan has clinched its first Moore League title since 2009.
Mercy Miller of Sherman Oaks Notre Dame had 39 points at the Nike Extravaganza. Here's a report from the Nike Extravaganza.
Westchester forfeited its game against Crenshaw on Saturday night when the team was pulled from the court with 1.3 seconds left and Crenshaw leading 63-62. The City Section is investigating. Here's the report.
Here's this week's top 25 boys' basketball rankings by The Times.
McDonald's honorees
As buzz around Bronny James' college commitment continues to grow, the Sierra Canyon boys' basketball senior checked off a major high school honor, tabbed to play in the McDonald's All-American game March 28 at Houston's Toyota Center.
James joined Sierra Canyon girls' star Juju Watkins as Trailblazers represented among a group of 48 total named to the men's and women's rosters — the first time, according to historically available rosters, that a Los Angeles-area school has named All-Americans on the men and women's side in the same year. Corona Centennial four-year senior Jared McCain was also tabbed for the men's game.
Here's the report.
Kobe's prodigy
Stephen Curry has his mouthguard. Amalia Holguin has her gum.
By this point in her freshman season at Newport Beach Sage Hill, defenders have started pressing so close in Holguin's airspace, they could guess the flavor. It's usually mint. Sometimes orange. Holguin started with gum in the sixth grade; didn't like mouthpieces but had to be chewing something. So she pops in a new piece before every quarter.
"Keeps it fresh," Holguin said, grinning.
In a mid-January game against Orange County power Santa Ana Mater Dei, Holguin is hounded every time she touches the ball, picked up full-court, face-guarded. She goes coast to coast for a layup, hits a deep three.
All the while, she chomps her gum.
Sage Hill coach Kerwin Walters doesn't want robots, he says. He wants "swagger." And Holguin has it, flinging one-handed, cross-court passes, cashing threes with a slingshot form reminiscent of Chino Hills-era Lonzo Ball. She creates highlights. She makes mistakes. But her confidence is extraordinary, never a hint of frustration passing over the 14-year-old's face.
"By the end of her time in high school," Walters said earlier in the season, "she'll be one of the best guards that's ever stepped on the court."
You can't teach confidence. But you can mold it. And more than four years after she walked into her first Mamba Academy practice, Holguin's mentor still motivates every day. In every drill. One more rep for him.
Kobe Bryant's lessons still echo in her head.
A profile of Kobe's last prodigy.
Arenas stars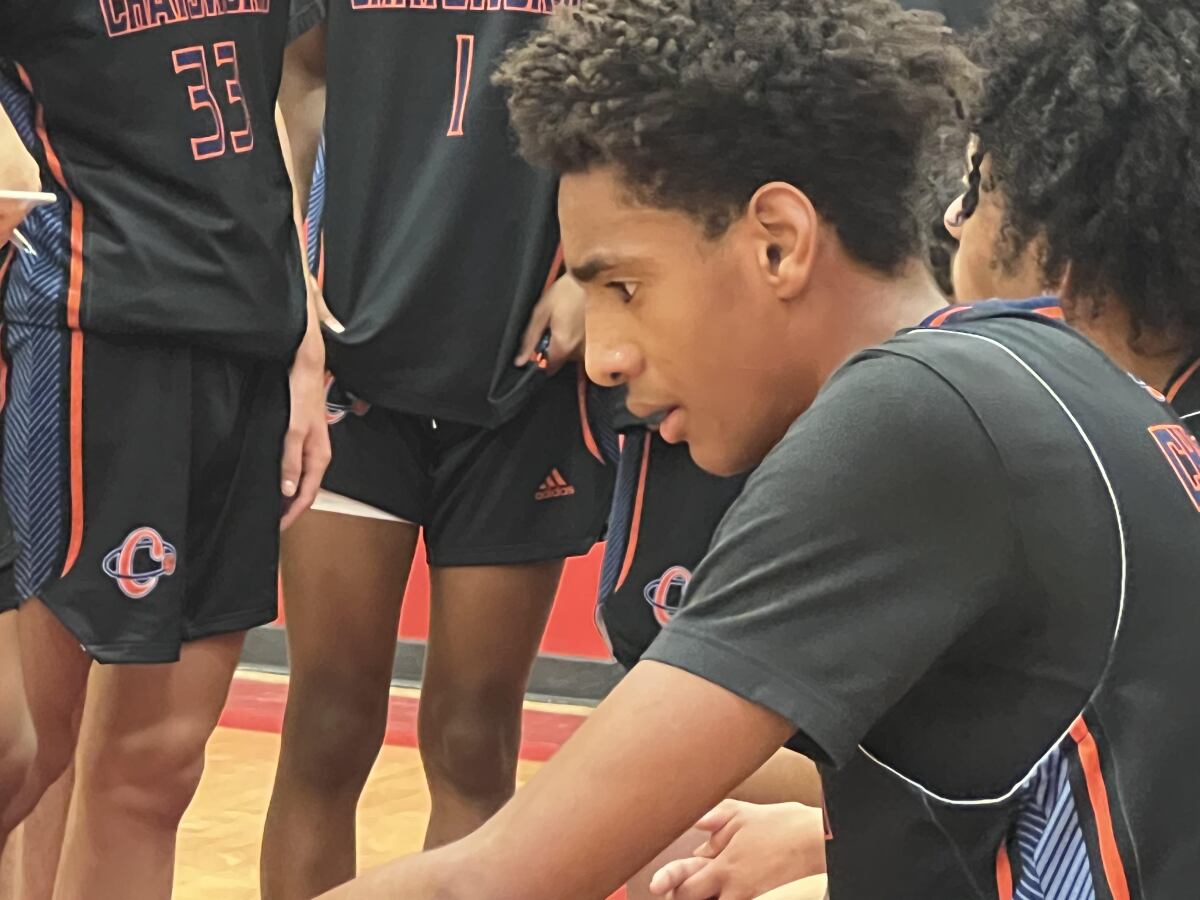 "Jesus Christ."
That was the reaction blurted by former NBA guard Gilbert Arenas as his 15-year-old freshman son Alijah launched a 25-footer from the top of the key for Chatsworth High against Taft. The ball swished, three of his son's 36 points in a 110-75 loss to Taft.
There's an interesting experiment underway. Gilbert was an All-City player at Grant, made it to Arizona, then the NBA. His son could have gone to any basketball power in town but his dad decided it would be good for him to experience the ups and downs associated with playing for a team that didn't have stars throughout the lineup, forcing him to learn to be aggressive. So game by game and practice by practice, the 6-foot-4 Alijah is gaining insight playing for a team that's struggling with a 5-18 record.
Here's a report
'Crafty' Julien Gomez
"Crafty."
That's the word being used to describe 6-foot-3 sophomore Julien Gomez of La Mirada, one of the top high school basketball scorers in Southern California with a 26.6 scoring average.
He takes it as a compliment, because it means all the different ways he has explored to make baskets is paying off.
"I'm happy people call me crafty because me and my coach having been working on all my craftiness, working on my handle, working on my shot," he said. "It just feels nice people are finally seeing the work I put in."
Leave him open for a three-point attempt and it's swish time. Guard him closely and he knows how to put the ball on the floor, drive and use either hand to score. Send him to the free-throw line and it's swish time again.
Here's a look at Gomez and several other players who have thrust themselves into attention.
Baseball
For the first time in years, Orange Lutheran is going to need to re-tool its batting lineup. There's only three returning starters. But the Lancers have much better pitching depth and the three returnees are standouts.
It starts with third baseball Casey Borba, a Texas commit and the son of head coach Eric Borba. He showed power last season and figures to keep progressing. There's also standout junior center fielder Derek Curiel, an LSU commit, and Texas commit Evan Miranda, a pitcher. Junior Ben Reiland is an outfielder/infielder committed to Oklahoma State.
Among the Lancers' transfers are Vinny Hudson, a junior pitcher from Ayala, and Gabe Fraser, a junior infielder from Huntington Beach. Orange Lutheran is expected to join Santa Margarita as the top teams to challenge title favorite JSerra.
Corona coach Andy Wise keeps shaking his head seeing what sophomore shortstop Billy Carlson can do with his glove and bat. "He's a freak," Wise said. Carlson is committed to Vanderbilt and part of a shortstop class in Southern California that is clearly the strongest position for the 2023 season.
All-City pitcher Oscar Lopez looked in midseason form for El Camino Real in a winter game against Mira Costa. He struck out four of the seven batters he faced.
New coach at JSerra
JSerra might have come up with the football coaching hire of the year when Victor Santa Cruz was recruited to become the Lions' new head coach.
The 50-year-old had been defensive coordinator at Hawaii after being Azusa Pacific's all-time winningest coach with an 84-69 record for 14 seasons. He spent five years coaching high school football in the 1990s at Oceanside, then left for the college ranks. Now he's ready to take on the high expectations of coaching in the Trinity League.
He was interviewed during "Friday Night Live" about his vision for JSerra. Here are some of his responses.
Transfer football tracker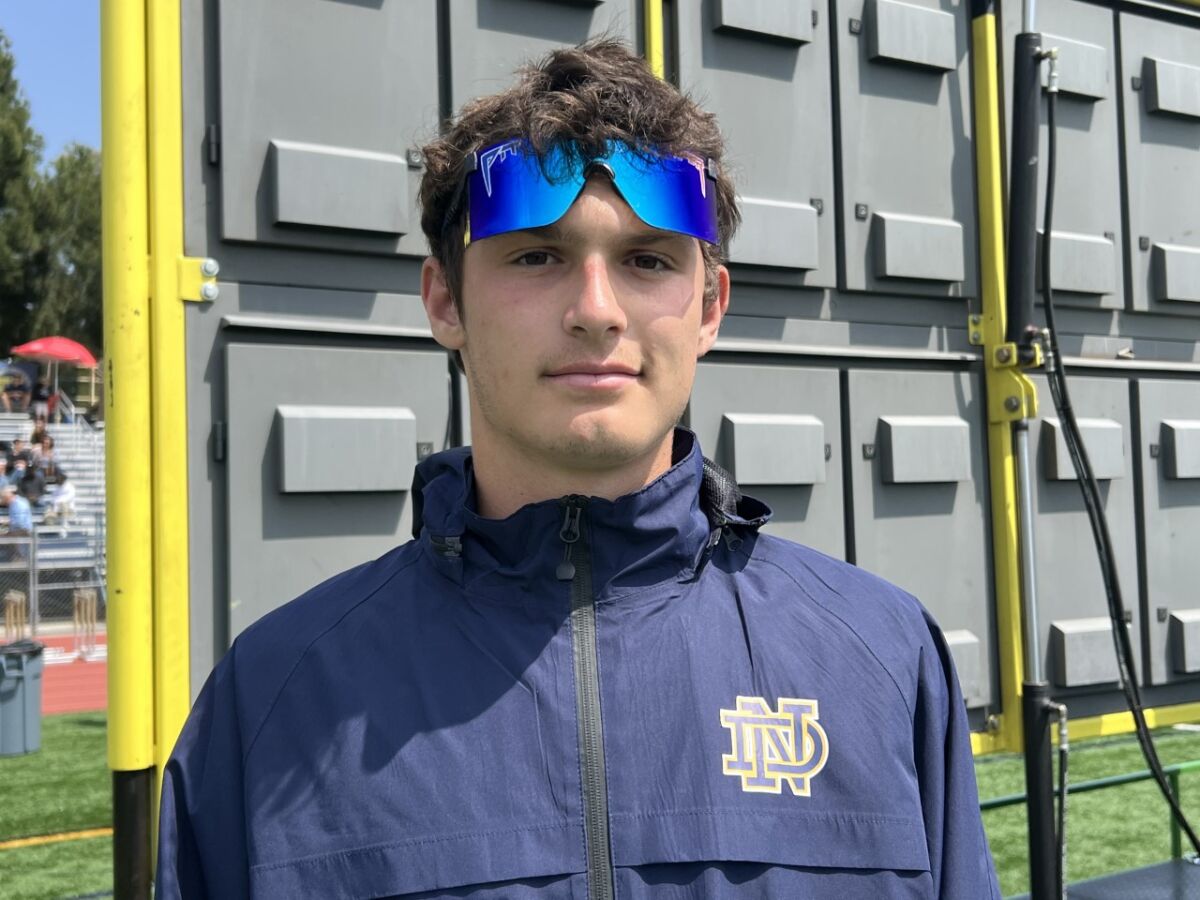 Unlike the college transfer portal, there's no official high school transfer portal even though there are hundreds of sports transfers in Southern California each year.
Considering the number of top players moving around, it's time to launch a transfer tracker for Southern California football.
According to CIF rules, players who transfer and physically move along with their family are eligible immediately at the new school. If a player transfers and doesn't move, there's a sit-out period of close to 50% of the season. The date athletes become eligible after sitting out is Sept. 22 for the City Section and Sept. 25 for the Southern Section.
Here's the link to the new transfer tracker that will be updated as the transfers are confirmed each week.
Soccer
Mira Costa has been on a quite a soccer run the last few seasons. This year's boys' team won the Bay League championship with a dramatic goal.
The Mustangs are 19-3-2 overall and 8-0 in league.
JSerra is looking like the No. 1 team in Southern Section Division 1 at 11-1-1 and 6-1-1 in the Trinity League.
In the City Section, Birmingham is on the verge of winning the West Valley League after a 5-0 win over El Camino Real. The Patriots are 13-1-3 and 5-0-2. They end the regular season in a showdown game against Cleveland on Friday.
In girls' soccer, Corona Santiago continues to be the team to beat at 17-1-1 and 7-1 in league. Roosevelt handed the Sharks their first defeat last week 3-1. Roosevelt is 15-4-3 and 6-1-1.
Girls' flag football champs
They screamed. They cried. They embraced
As a final pass fell incomplete Sunday afternoon, clinching a 19-18 win over Long Beach Poly and the first-ever girls' championship for Gardena Serra High girls' flag football, the Cavaliers poured out every drop of emotion from swelling their hearts.
Good luck finding a postgame celebration in any sport that contained as much sheer joy. Some of the girls had trouble catching passes early in the season, Serra coach Monique Adams said, and they turned into lightning-quick athletes within a few months. Some of them are like Serra's Kaylah Holmes, who grew up roughhousing with her brothers and has been yearning to play football since she was 5 years old.
Here's a report on the championship game against Long Beach Poly played at Redondo Union.
Notes . . .
Joshua Knight is the new football coach at Don Lugo. He comes from Baldwin Park, where he was the offensive coordinator. . . .
The City Section Board of Managers has rejected a proposal to revise schools in the East Valley and Valley Mission Leagues, leaving them intact for another four years. . . .
Tony Delgado is the new softball coach at Bishop Amat. . . .
Former Pasadena assistant Robert Maxie is the new football coach at Baldwin Park. . . .
Juan Viramontes has resigned as football coach at Katella. . . .
Former Cal Lutheran football coach Ben McEnroe is the new head coach at Thousand Oaks. . . .
Cathedral announced that Brother John Montgomery is stepping down after 25 years as principal and will be replaced by Arturo Lopez, who is the school's soccer coach and vice president. . . .
Adam Uballez is the new football coach at Bosco Tech. . . .
Lalo Diaz has taken over as distance coach at Sherman Oaks Notre Dame after serving for many years at Loyola. . . .
Football/track standout Rodrick Pleasant of Gardena Serra is scheduled to make his college announcement on Wednesday morning in the school gym. Oregon, USC and UCLA are the finalists. Wednesday is another letter of intent day for high school seniors. . . .
St. John Bosco defensive lineman Sua Lefotu has committed to Nebraska. . . .
Temecula Valley has named John Bonaventura as football coach. . . .
Wrestling dual meet championships nearing the finals. Here's the schedule for the City Section and Southern Section. . . .
Garden Grove Pacifica outfielder Alysa Del Val has committed to Oregon State for softball. . . .
Gardena Serra track sprinter Brazil Neal has committed to Oregon for women's track.
From the archives: Trent Irwin
Few high school receivers had better hands than when Trenton Irwin was catching passes at Hart, so it's no surprise he has made to the NFL catching passes from quarterback Joe Burrow for the Cincinnati Bengals.
Irwin became a standout receiver for Stanford.
Here's a 2012 story about Irwin when he was a sophomore at Hart.
Here's a 2014 story about Irwin becoming a state record holder.
Irwin has a brother, Shawn, who will be a senior receiver for Hart this fall.
Here's a story from this week with Irwin talking about his football career and days as an actor.
Recommendations
From the New York Times, a story on college athletes raking in the money.
From the Los Angeles Times, a story on the retirement of long-time Channel 4 sports anchor Fred Roggin.
From Spokesman.com, a story on former Lawndale quarterback Gervani McCoy winning the Jerry Rice Award last month for being the outstanding freshman player in the Football Championship Subdivision.
Tweets you might have missed
'
Until next time...
Have a question, comment or something you'd like to see in a future Prep Rally newsletter? Email me at eric.sondheimer@latimes.com, and follow me on Twitter at @latsondheimer.

Did you get this newsletter forwarded to you? To sign up and get it in your inbox, click here.
Get our high school sports newsletter
Prep Rally is devoted to the SoCal high school sports experience, bringing you scores, stories and a behind-the-scenes look at what makes prep sports so popular.
You may occasionally receive promotional content from the Los Angeles Times.