Freshman Alijah Arenas is playing at Chatsworth with father's blessing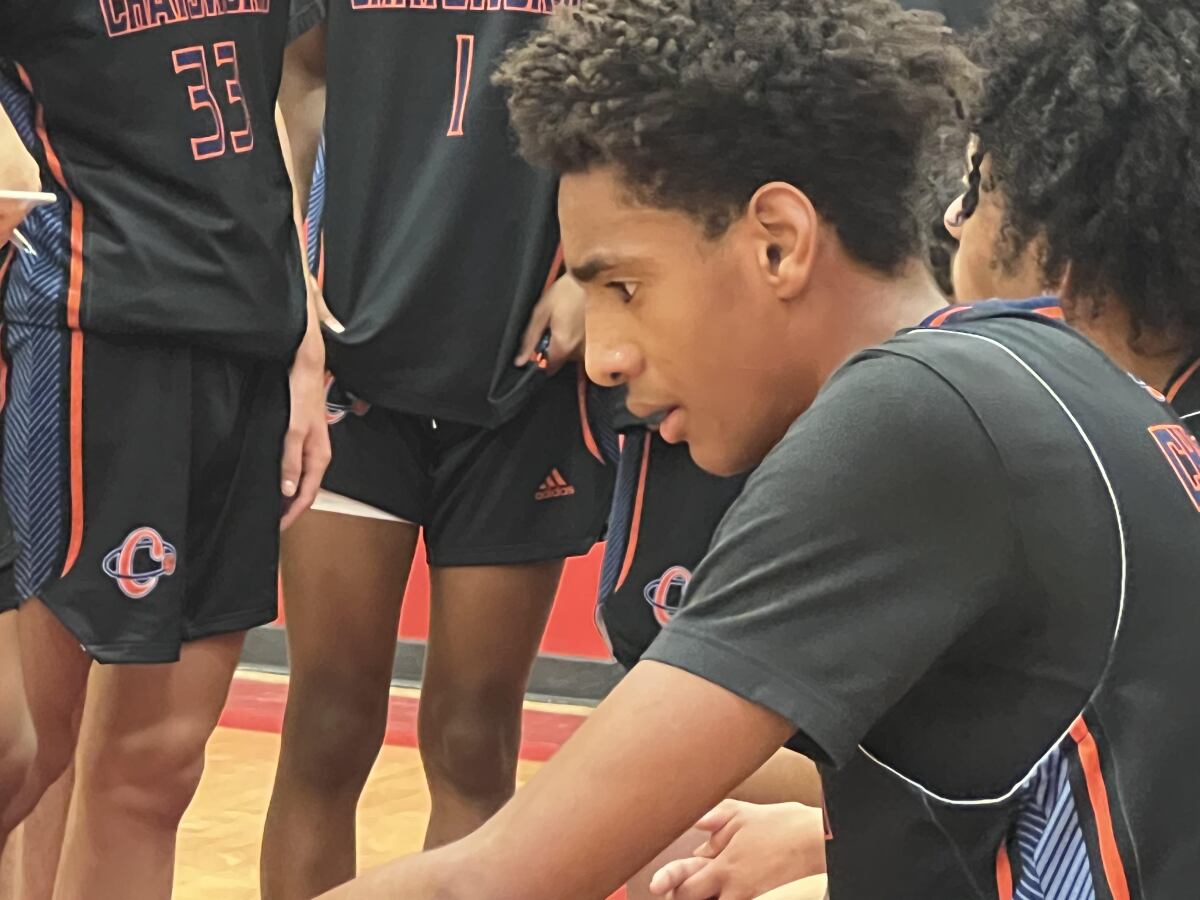 "Jesus Christ."
That was the reaction blurted by former NBA guard Gilbert Arenas as his 15-year-old freshman son Alijah launched a 25-footer from the top of the key for Chatsworth High against Taft on Monday. The ball swished, three of his son's 36 points in a 110-75 loss to Taft.
There's an interesting experiment underway. Gilbert was an All-City player at Grant, made it to Arizona, then the NBA. His son could have gone to any basketball power in town but his dad decided it would be good for him to experience the ups and downs associated with playing for a team that didn't have stars throughout the lineup, forcing him to learn to be aggressive. So game by game and practice by practice, the 6-foot-4 Alijah is gaining insight playing for a team that's struggling with a 5-18 record.
"It gets rough, but I still try to find out what I can do," he said. "I just want to learn."
The plan is for him to spend at least two years at Chatsworth, then find a situation that will help him explore and expand his game in preparation for taking a shot at a pro career if his talent reaches that point.
Alijah is set to return to AAU ball for the first time in years this summer playing with another talented freshman, Jason Crowe Jr. of Lynwood, for the Compton Magic. Alijah scored 56 points in a game earlier this season. Crowe scored 51. Together they should be quite a duo.
For now, the Chancellors are trying to get better. Taft (13-10) received 31 points from Keyon Kensie Jr. and 26 points from Bishop Brooks. Before the game, former Taft standout Larry Drew Jr. made an appearance in the Taft dressing area.
There wasn't a lot of defense on display by either team. Something to work on for another day. You can count on Arenas and Arenas to work on it. There is one thing Alijah hasn't done: beaten his father in a game of one-on-one.
"I'm close," he said.
Birmingham 87, Cleveland 60: Naseef Lubowa scored 17 points for the first-place Patriots (4-0) in a West Valley League game.
Granada Hills 49, El Camino Real 37: Noah Ramirez finished with 14 points for Granada Hills.
Venice 55, University 32: Tyler Hunt had 19 points and 12 rebounds for Venice.
Narbonne 88, Rancho Dominguez 36: Marcus Adams Jr. had 18 points, 10 rebounds and 10 blocks. Troy Jones and Max Choi added 15 points each.
Brentwood 78, Milken 55: Owen Clark led the Eagles with 14 points.
Damien 72, Upland 48: Nate Garcia continued his impressive play with 33 points.
Etiwanda 86, Chino Hills 53: Zion Booker finished with 18 points for the Eagles.
---
Get our high school sports newsletter
Prep Rally is devoted to the SoCal high school sports experience, bringing you scores, stories and a behind-the-scenes look at what makes prep sports so popular.
You may occasionally receive promotional content from the Los Angeles Times.