Case Keenum is finally 'the guy' at quarterback, taking over reins for Denver Broncos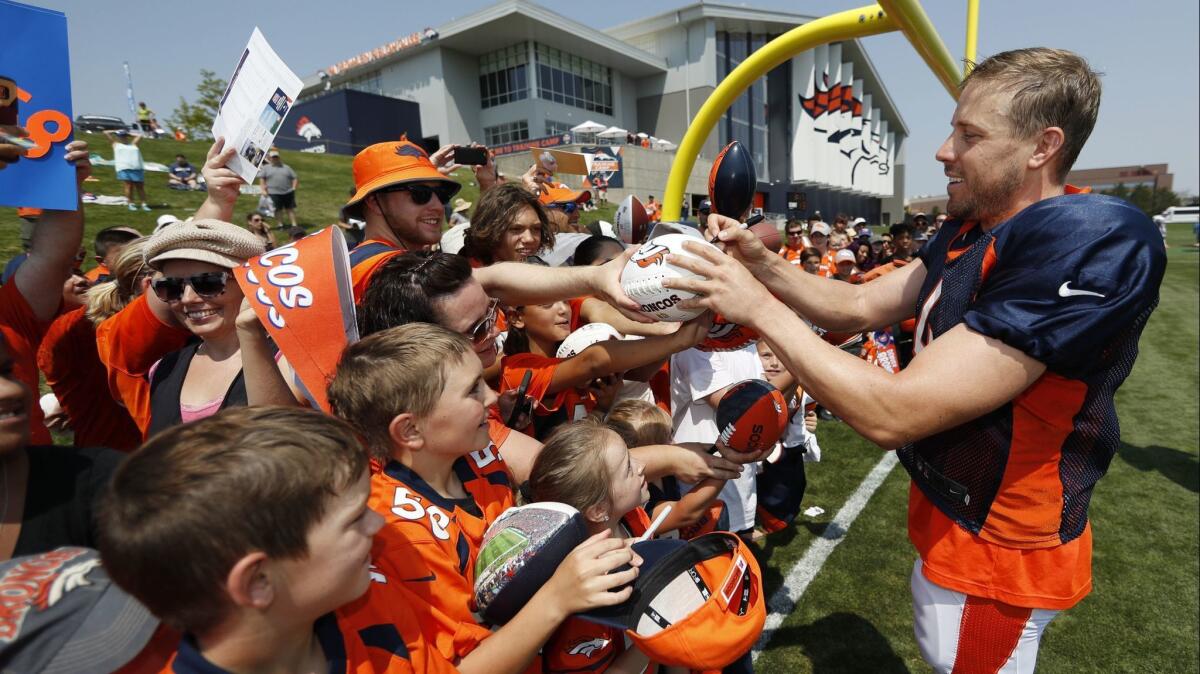 Reporting from englewood, colo. —
Victory was in the cards for Case Keenum — but the play he wanted wasn't.
He couldn't find the play card for the hook and ladder, one of a handful of strategies at the end of a playoff game against New Orleans last season. Ultimately, he ran a different play — a pristine throw to Stefon Diggs — and the "Minnesota Miracle" was born.
Keenum, now quarterback of the Denver Broncos, relives the Minnesota Vikings moment in vivid detail in "Playing for More," his autobiography to be released Sept. 4.
"I'm flipping through the playbook with my receivers, [Adam] Thielen and Stefon Diggs, looking at our special end-of-game options," Keenum writes. "There's a set of plays at the back of the book that we practice every three weeks or so. But I can't find the one I'm looking for. 'Where is that hook-and-lateral? I know it's in here. I just saw it!' We're all trying to come up with something, but there's no perfect play for driving the length of the field in 25 seconds with only one timeout …"
Now we know: There was a perfect play, one forever etched in the minds of millions of fans who witnessed it. With 10 seconds remaining and the Vikings trailing by a point, Keenum threw a 27-yard strike to a leaping Diggs. The receiver dodged a diving defender, spun upfield and ran untouched for a 61-yard touchdown. It marked the first time in NFL history that a playoff game was decided by a touchdown on the final play of regulation.
Football players famously avoid looking too far forward or back — they live in the moment — but this was a monumental occasion that redefined Keenum's career. Although he has changed teams five times in five years, including two stints with the Rams, he forever has a home in Minnesota sports history.
"People ask me about it all the time," Keenum said recently after Broncos practice. "It's a cool story I get to tell about what happened, and it's a cool testament to 11 guys just doing their job, and when an opportunity happens, just taking ahold of it."
The Vikings' quest for their first Lombardi Trophy was derailed a week later, however, when they lost at Philadelphia in the NFC championship game.
"That whole day, that whole week was nuts," said Keenum, who wrote his book with Andrew Perloff. "I don't know if a lot of those guys still got over that play. I think there was some emotional hangover from that play. You can't explain it. We tried to write it in the book, and I still don't know if we got it all."
The co-authors certainly covered a lot of ground. The book tells the story of Keenum's winding odyssey from a small town in West Texas to the University of Houston to an unlikely rise through the pro ranks.
"Case is a laid-back guy, but when it comes to telling his story, the quarterback comes out in him and he meticulously pays attention to every last detail," said Perloff, an on-air personality who goes by McLovin on the "Dan Patrick Show."
A new chapter for Keenum begins where the last one ended. The Broncos open the exhibition season Saturday by playing host to the Vikings, now led by $84-million quarterback Kirk Cousins. It's not as if fans will get much of a look at either quarterback; the exhibition season is mostly about the reserves. Still, it's a noteworthy twist that Keenum will be across the field from the club he led to an 11-3 record in his 14 starts.
Keenum said he harbors no ill will against his (latest) former team.
"No," he said. "I love all those guys. … No hard feelings."
It helps that Keenum finally has a team that's made him the unquestioned leader. In March, the Broncos signed him to a two-year deal worth $36 million, resting their franchise on the shoulders of an undersized overachiever who got one college offer out of high school, and — despite a record-shattering career at Houston — went undrafted.
"Everyone kind of underestimates him because he's 6-1," said John Elway, the Broncos' president of football operations. "He doesn't have the prototypical build when it comes to an NFL quarterback, but he's got everything else. He's very efficient at everything."
For the first time, Keenum isn't simply keeping the starting job warm for someone else.
"That's what's fun about being the guy," he said. "I can go over to a receiver and say, `This is what I'm thinking. What are you thinking?' That's instead of saying, 'Hey, Sam [Bradford] was thinking about this.' Or Matt Schaub, whoever I'm backing up. It's awesome. It feels right."
Follow Sam Farmer on Twitter @LATimesfarmer
Get our high school sports newsletter
Prep Rally is devoted to the SoCal high school sports experience, bringing you scores, stories and a behind-the-scenes look at what makes prep sports so popular.
You may occasionally receive promotional content from the Los Angeles Times.