Frank Reich looks far from a backup plan as coach leads Colts into AFC divisional playoffs
Frank Reich wasn't their first choice. The Indianapolis Colts didn't even have him on their original list of potential coaching hires. They only turned to him in desperation once Josh McDaniels spurned them after accepting the job.
The new Colts coach was asked about this at his introductory news conference.
Reich had — what else? — the perfect comeback.
"The backup role has suited me well in my career," the former quarterback said.
Remarkably, for years, Reich had the distinction of having led his team to the biggest comeback victories in the college and NFL ranks.
Now, after a 1-5 start, his back-from-oblivion Colts are headed into Kansas City with a chance to topple the top-seeded team in the AFC.
Come again?
"Is it a longshot? Yeah," Hall of Fame coach Marv Levy said. "Is it a no way? Absolutely not."
And Levy should know. He was coach of the Buffalo Bills during the 1992 season when Reich, replacing the injured Jim Kelly, led the greatest comeback in league history. The Bills fell behind by 32 to the Houston Oilers in an AFC wild-card game game in Buffalo. But Reich directed a 38-3 run in the second half, guiding his team to a 41-38 victory in overtime.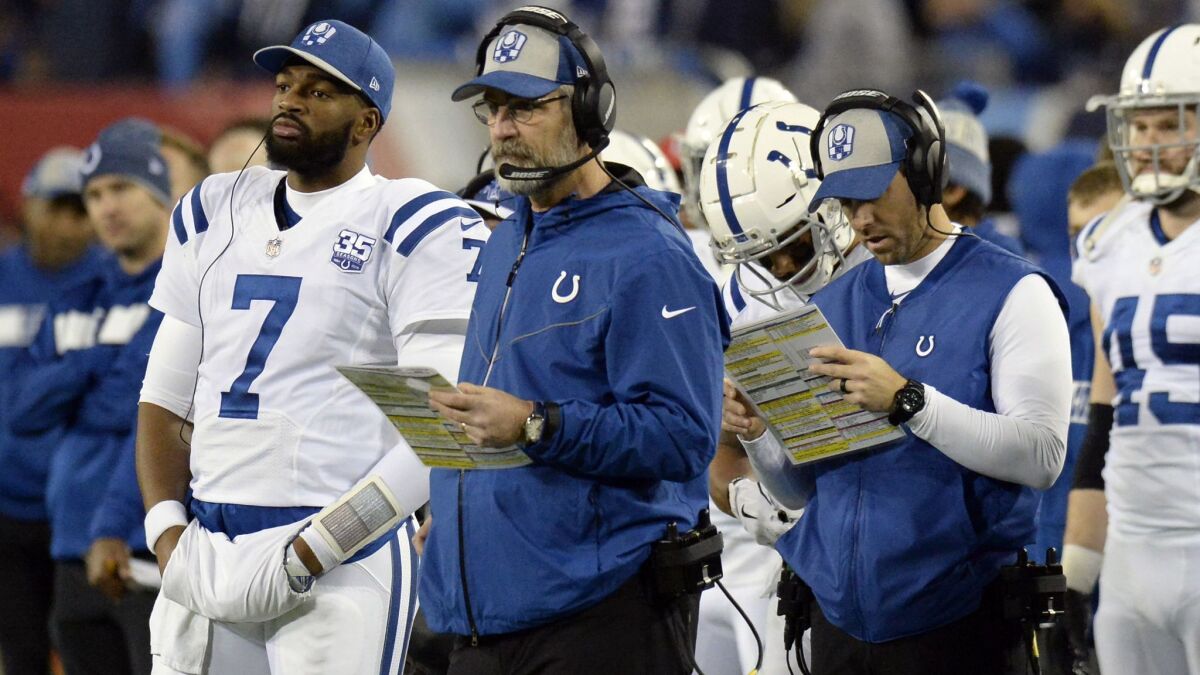 Eight years earlier at Maryland, Reich similarly came off the bench to beat Miami in an equally unbelievable game at the Orange Bowl. The Hurricanes led at halftime, 31-0, before Reich repeatedly directed Terrapin touchdown drives in a 42-9 second half. Maryland won, 42-40, and that Division I comeback record stood until 2006, when Michigan State dug its way out of a 35-point hole to beat Northwestern, 41-38.
Write off Reich at your peril.
Levy essentially wrote that in an email to the Los Angeles Times about 11 months ago as Reich, then offensive coordinator of the Philadelphia Eagles, was preparing his team for the Super Bowl against New England.
Levy wrote that "beyond all of Frank Reich's magnificent teaching and coaching abilities, I feel there is much more that qualifies him for a head coaching position with an NFL team. He is highly intelligent, and he is a person of high character and high ideals."
Eight years after his playing career ended, Reich joined the Colts as an intern under coach Tony Dungy in 2006 and '07. Bill Polian, then the team's general manager who knew Reich from their days in Buffalo, wanted to hire him as a full-time coach.
But Reich was also in seminary school at the time and felt his calling was to be a pastor. He would go on to become the president of the Reformed Theological Seminary and pastor of Covenant Presbyterian Church in Charlotte, N.C.
Eventually, though, Reich's path brought him back to football. In 2008, he called the Colts and said he'd like to return. They promptly hired him.
"He helped Jim Caldwell with the quarterback, he helped me running the scout team, and you could see right away just the way he communicated with everyone," Dungy said of Reich, now 57. "Obviously he's a smart guy and knew a lot of football, but just his organizational and communication skills you could see right away."
There's the road less traveled. Reich's was the road almost never traveled. He worked his way up as an assistant coach with the Arizona Cardinals, San Diego Chargers, and Eagles.
Still, he was an out-of-the-blue choice for the Colts, who were ready to introduce McDaniels as their new coach when the Patriots offensive coordinator pulled out of the job two days after the Super Bowl and the night before his scheduled introductory news conference.
Agent Bob LaMonte terminated his relationship with McDaniels because of that and recommended Reich, also his client, who wasn't on the radar of the Colts front office. It was a mad scramble.
"Frank Reich was the only guy in the world who had no staff, no coach, and a quarterback [Andrew Luck] coming back from injury," LaMonte said. "If Frank wasn't the man that he was, that franchise might not have won a game. It was the middle of February, all the jobs were filled, and no one was left. The Indianapolis Colts were DOA."
If so, that diagnosis was a tad premature. Reich bowled over the club in his interview, and both Levy and Polian wrote impassioned letters on his behalf to Colts owner Jim Irsay.
"He knocked out the interview, and knocked out the team this year," LaMonte said.
In the process, Reich has kept Luck from getting knocked over. That No. 1 overall pick from 2012, who had been hit and sacked more than any quarterback in the league during his first five seasons, was sacked a league-low 18 times this season — including a five-game stretch in which he was not sacked.
The Colts built an airtight offensive line, a punishing defense, and turned Marlon Mack into a reliable between-the-tackles running threat. They have gotten astounding productivity out of receiver T.Y. Hilton, who's running on one good leg.
They have emerged as a dark-horse Super Bowl pick and, naturally, have cornered the market on comebacks.
Luck is a leading Comeback Player of the Year candidate, for instance, and in 2014 orchestrated the second-biggest comeback in playoff history — to Reich's — when he rescued the Colts from a four-touchdown deficit against Kansas City.
So don't count out the Colts, not with Reich on the sideline.
"I knew Frank in due time would be a coach that everybody would rally around," Kelly said. "I know what he was like as my backup and how much input he had on my life, as far as being a player. He's just an amazing guy."
After all, Reich doesn't just preach. He backs it up.
Follow Sam Farmer on Twitter @LATimesfarmer
---
Get our high school sports newsletter
Prep Rally is devoted to the SoCal high school sports experience, bringing you scores, stories and a behind-the-scenes look at what makes prep sports so popular.
You may occasionally receive promotional content from the Los Angeles Times.