Former USC player Antwaun Woods sheds weight and gains important role with Cowboys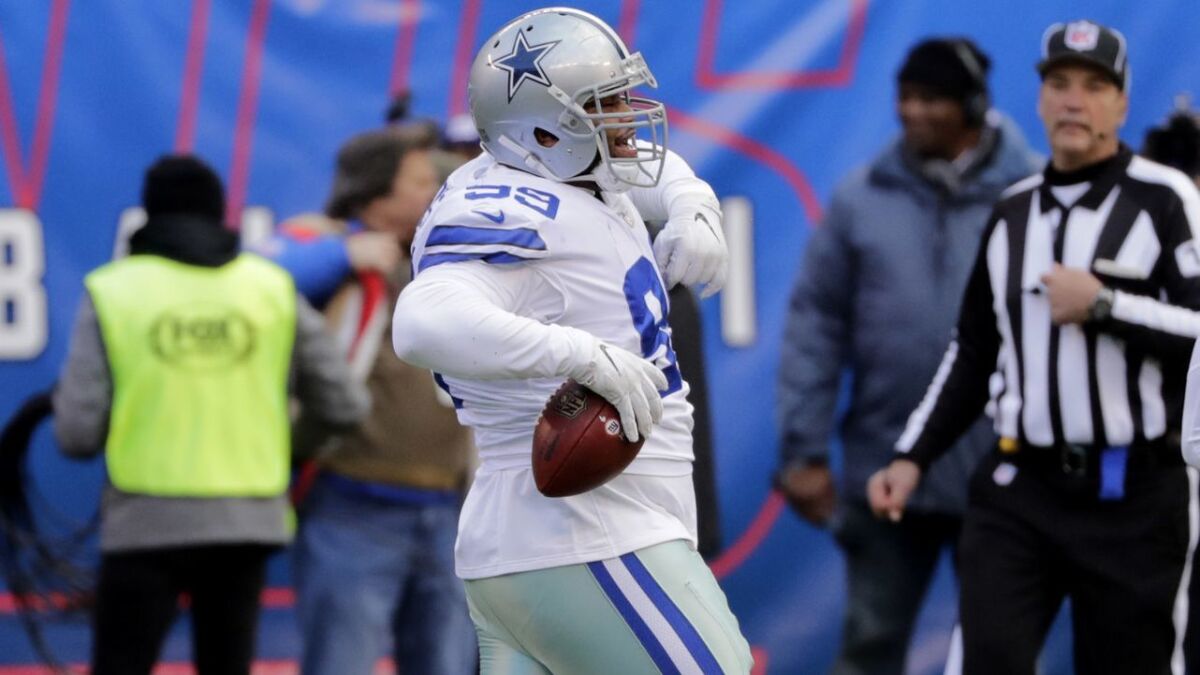 Reporting from frisco, texas —
Antwaun Woods was little more than a training-camp body for the Dallas Cowboys, and a rotund one at that. One of his coaches warned the 6-foot-1, 312-pound nose tackle he was "eating his way out of the NFL," even though the undrafted Woods barely had a foothold in the league as it was.
This summer in Oxnard, when the fourth-string Woods — essentially an anonymous human blocking sled — was not only making plays but had the temerity to trade punches with All-Pro center Travis Frederick during a Cowboys practice, people took notice.
The Cowboys even posted video of the fisticuffs on the team's Twitter account.
"Honestly, when we first got him, we were like, 'Who is this guy?' " running back Ezekiel Elliott said. "He was giving Travis Frederick, one of our best players, hell all camp. Just trying to figure out where this guy came from."
The Cowboys don't question that now, as the trimmed-down Woods anchors the middle of their swaggering defense. He figures to play a key role Saturday night when Dallas faces the Rams in a divisional playoff game, with an eye toward containing star running back Todd Gurley.
Woods didn't come out of obscurity. He played four seasons on USC's defensive line, and earned All-Pac-12 honors. But he was hampered by some injuries, toiled in the shadow of some bigger stars, weathered a torrent of coaching changes, and went undrafted in 2016. He signed as a free agent with Tennessee and spent two seasons on the Titans' practice squad before being released last spring.
So it's highly unusual that he would be in this position now, going from football obscurity to a prominent role on the glitz-and-glamour Cowboys in a matter of months, returning to Los Angeles for a prime-time playoff game — on his college field, no less.
"I never thought it would be this great," said Woods, taking a break from his daily lifting session, and flashing his charismatic smile. "I'm starting for America's Team, and I'm going back to the city I grew up in. My last game in college, I thought that was the last game I'd ever play in the Coliseum."
Now the Cowboys — and the other seven remaining NFL teams — are two wins away from the Super Bowl, which underscores how quickly this dream has come together for Woods. He doesn't have prototypical size, nor does he have a wealth of experience. But, just as he would treat a running back up the middle, he grabbed hold of his opportunity and didn't let go.
Rod Marinelli, Cowboys defensive coordinator, advised him to lose 30 pounds and "don't dig a grave with your teeth." Woods took it to heart.
"I did what I had to do," he said. "I stopped eating late, stopped a lot of bad habits that I had. My wife had to cook for me, a lot of healthy meals. Just putting the extra work in, extra cardio in, getting rid of all my fat-boy habits."
Lo and behold, he lost the weight. And the Cowboys gained an agile, relentless man in the middle who could shed blockers and create havoc in the trenches.
"He's been an A-plus, he really has," Marinelli said. "I don't know if there's many players playing that position as well as he is."
That's not really a surprise to Matt Kerstetter, who coached Woods for four years at Taft High in Woodland Hills and now coaches high school football in Houston. He knew the determination and toughness of Woods, who was raised by his father — massive Big Phil, a bodyguard — and grandmother in South Los Angeles.
Kerstetter knew of Woods' big heart, how he fulfilled his language requirement at Taft by taking sign-language classes so he could talk to deaf friends on campus. The coach also knew of his stubbornness, how as a sophomore Woods refused to change his socks to match the rest of the team, and therefore had to sit out the homecoming game.
"Antwaun will be the first one to tell you he was no saint when he was younger," Kerstetter said. "He was a little bit of a knucklehead when he was in middle school and got into a little bit of trouble from time to time, but from ninth grade on, when he was at Taft as a freshman, always very likable. Got along with everybody."
Of course, NFL defensive tackles are not paid to get along with everybody, not when they're doing their job. Woods, reportedly making a relatively modest $480,000 this season, has the requisite surliness on the field.
"He's got that big old smile, and kind of that teddy-bear approach to him when you just talk and hang out," Kerstetter said. "But he does have a switch that he flips. And when he flips it, look out."
That points back to the tangle with Frederick at training camp. Woods might have been fourth on the depth chart, but he was making the most of every snap he was on the field. And when he threw that first punch, players from both sides joined the fray. It was a spontaneous mosh pit of big bodies bashing into each other.
"All you needed to see was how many defensive guys jumped in on his side," Kerstetter said. "If he's a camp body, man, they're just going to let this thing play out. But because he had already earned the respect of so many guys on that defense, when you see so many guys jump in there, they're like, 'No, that's our boy. That's our dude.'"
Woods texted his old high school coach the next day with big news: He was starting for the Cowboys.
Follow Sam Farmer on Twitter @LATimesfarmer
---
Get our high school sports newsletter
Prep Rally is devoted to the SoCal high school sports experience, bringing you scores, stories and a behind-the-scenes look at what makes prep sports so popular.
You may occasionally receive promotional content from the Los Angeles Times.