Cam Fowler, a six-year veteran at 24, is a bright spot for Ducks in lead role on defense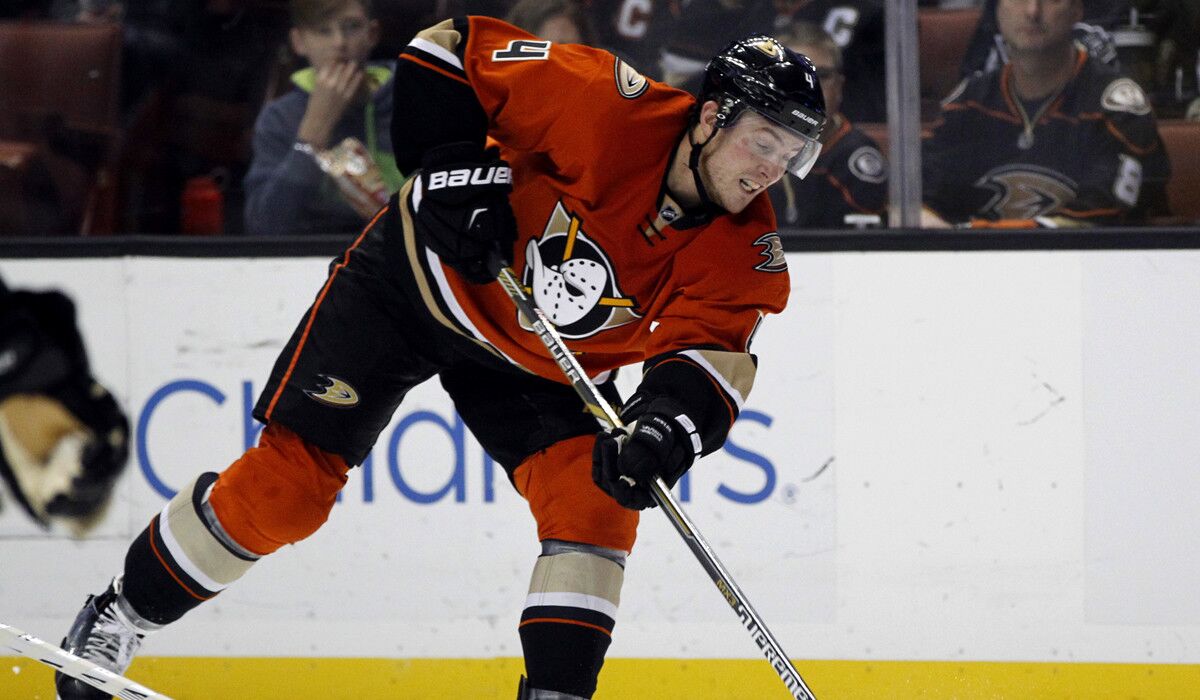 Cam Fowler is a long way from his Cinnamon Toast Crunch days.
During his rookie season with the Ducks, Fowler lived with former Ducks defenseman Scott Niedermayer and his family. He was a wide-eyed 19-year-old, and one of his grocery requests was the sugary cereal, as well as a supply of chocolate milk.
Fowler looks back at those days and shakes his head.
"It has gone by really fast, but at the same time, that does seem like a long time ago," Fowler said. "But, man, to be sitting here in my sixth NHL season — and I just turned 24 years old. I'm just very thankful and blessed to be in this situation. But I have to pinch myself sometimes at how fast it's gone."
Wheaties would seem to be more appropriate for Fowler, the Ducks' most tenured defenseman and one of their few bright spots in a disappointing season that resumes Thursday in Buffalo, the opener of a four-game trip. Fowler does not wear an alternate captain's "A" but is a go-to voice of the team.
It was that maturity that got the attention of Kevin Bieksa when arrived in Anaheim via a trade with Vancouver in the off-season.
"Right away I come in, and obviously I'm the senior defenseman, and I'm kind of watching all the D-men and how they act and their body language," Bieksa said. "I thought right away that Cam got it. I thought he's got a great mentality. He's even-keeled. He tries to stay positive. He's accountable. He gets mad at himself first before everybody else, which I think is a great quality to have."
The thinking was that Bieksa, 34, would assume the leadership role previously held by François Beauchemin, but it's been Fowler at the forefront on and off the ice. He leads Anaheim in ice time (22:56), plays in almost all situations and isn't afraid of cameras and microphones when the Ducks fail.
Failure has happened a lot on the offensive end. Defense is their redeemer, and Fowler heads that charge. He's not a Norris Trophy candidate, but Fowler is the closest thing the Ducks have to a No.1 defender.
"You look at every team, you have a vocal defenseman; you have [Drew] Doughty [of the Kings], you have [Duncan] Keith [of Chicago] ... those are high-end defensemen," Andrew Cogliano said. "But I think Cam wants to be there and I think Cam can get there if he keeps doing what he's doing."
Ducks Coach Bruce Boudreau and assistant Trent Yawney pulled Fowler aside at the end of last season and asked him to be more of a leader. Fowler embraced the challenge.
"When 'Beauch' left, I kind of felt like, 'OK, it's my time to take that extra step forward,' " Fowler said. "Even though I'm a younger player in the league, I have experience and it's my sixth season and it's time to `make the necessary adjustments to kind of grow into that role, and that's what I've been trying to do."
It's been an arduous road for Fowler to get to this point. During his second season, the Ducks changed coaches and Fowler muddled through a minus-28 rating.
He needed the next couple of seasons to build his confidence, and it culminated with his selection to the U.S. team for the 2014 Olympics. Fowler was the second-youngest player on the roster at 22.
"I think that kind of got the ball rolling," Fowler said. "I've said this before: I've always been hard on myself and lacked a little bit of confidence in what I could do on the ice and was worried about making mistakes. Once I got over that, I'm just able to play without the fear of messing up."
Fowler didn't have any fear when he engaged in his first fight three games into the season, against Brad Richardson of Arizona. Fowler had never fought at any level and has never accumulated more than 20 penalty minutes in a season. But he needed to defend a teammate.
"Cam showed up, and guys respect that," Bieksa said.
Fowler also didn't have any fear subjecting himself to teammate Ryan Kesler's dry humor for a reoccurring Ducks video segment called "Between Two Zambonis."
Kesler, as host of an irreverent talk show, gave Fowler a "sippy" cup and a bib and made him sing, "Mary Had A Little Lamb." It was the kind of piece that wouldn't be appropriate with a Hall of Fame member such as Niedermayer. That's partly why it seems remarkable that Fowler recently passed Niedermayer for fourth on the franchise's games played list by defensemen, at 372.
Fowler, born during Niedermayer's rookie NHL season, is old enough to have perspective about his tenure.
"Any time I talk to a guy that's played in the league for 15 to 20 years they say, 'Enjoy it because it goes by really fast,' " Fowler said. "I kind of understand what they're talking about now."
Khudobin to Gulls
The Ducks announced goaltender Anton Khudobin, who had been waived Monday, has been assigned to the San Diego Gulls, the club's primary development affiliate in the American Hockey League. Khudobin, 29, posted a 3-3-0 record with one shutout, a 2.70 goals-against average and .908 save percentage in eight games for the Ducks this season.
Get our high school sports newsletter
Prep Rally is devoted to the SoCal high school sports experience, bringing you scores, stories and a behind-the-scenes look at what makes prep sports so popular.
You may occasionally receive promotional content from the Los Angeles Times.