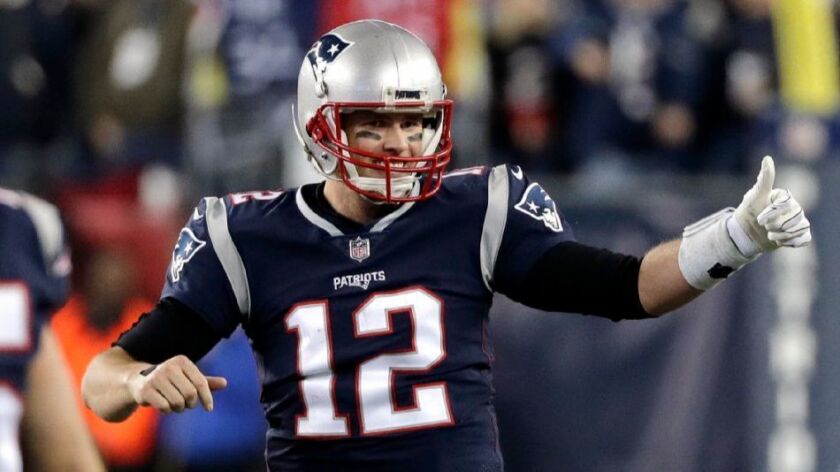 Reporting from foxborough, mass. —
The music started blaring not long after Tom Brady left a postgame stage on the field.
The Beatles' "I Want to Hold Your Hand" rocked the New England Patriots faithful at Gillette Stadium, a not-so-veiled play on the story line that dominated the run-up to the AFC championship game.
Brady, the Patriots' ageless quarterback, suffered a hand injury early in the week, putting the entire region —and the national media — into four days of, well, hand-wringing about the future Hall of Famer's status.
There turned out to be no cause for concern.
A year after engineering the greatest comeback in Super Bowl history, Brady on Sunday stared down a more pedestrian 10-point, fourth-quarter deficit against the Jacksonville Jaguars.
Brady and receiver Danny Amendola connected for two fourth-quarter touchdowns as the Patriots earned a return trip to the Super Bowl with a 24-20 victory before a crowd of 65,878.
The Patriots will play the Philadelphia Eagles, 38-7 winners over the Minnesota Vikings, in Super Bowl LII on Feb. 4 at U.S. Bank Stadium in Minneapolis.
"It's just been a great year," Brady said. "It'd be really great if we take care of business in a couple weeks."
Despite playing with stitches in his throwing hand, Brady completed 26 of 38 passes for 290 yards as the Patriots earned their 10th Super Bowl berth — and eighth of Brady's career.
"Tommy's the best," said Amendola, who caught seven passes for 84 yards. "He's the toughest guy I've ever met."
Coach Bill Belichick downplayed Brady's heroism. "Tom did a great job and he's a tough guy," Belichick said. "We all know that, all right? But we're not talking about open-heart surgery here."
Brady, 40, has won five Super Bowls — he's been the Super Bowl most valuable player four times — including last year's historic comeback victory over the Atlanta Falcons, when he brought the Patriots back from a 28-3 third-quarter deficit.
But Brady's availability for Sunday's game was questioned after running back Rex Burkhead inadvertently ran into Brady and ripped a gash on his right hand Wednesday. The NFL world was transfixed about whether Brady would play with a glove to protect the stitches.
"I thought, 'Of all the plays, my season can't end on a handoff in practice,' " Brady said. "We didn't come this far to end on a handoff."
Brady did not practice Thursday and was limited Friday, but his red Under Armour gloves were omnipresent in video and photographs from the practice field and a news conference, where Brady declined to discuss the condition of his hand.
When Brady arrived at the stadium early Sunday, cameras showed him with his hands in the pocket of his parka, his bag slung over his left shoulder. The images set off another round of feverish speculation because Brady typically enters the stadium carrying his bag in his right hand.
With a phalanx of photographers and camera operators awaiting his entrance onto the field, he came out for warmups with no glove on his right hand, only some black tape covering the stitches.
"I just wrapped it up and tried to cover it up and see if [I could] go out there and play," Brady said.
The Jaguars, who came into the NFL as an expansion team in 1995, were trying to advance to the Super Bowl for the first time. But penalties hurt them and helped Brady work his magic at the end of the first half and the end of the game.
The Jaguars overcame an early 3-0 deficit with a Blake Bortles touchdown pass to veteran tight end Marcedes Lewis and a touchdown run by running back Leonard Fournette, but Brady cut the lead to 14-10 by driving for a score in the last two minutes of the half.
The Jaguars increased the lead to 10 with Josh Lambo's 54-yard field goal on the first possession of the second half and another field goal early in the fourth quarter.
No problem, according to Patriots linebacker Kyle Van Noy.
"We're not even trippin'," Van Noy said of his team's mind-set at that point. "We've been in that situation before."
A potential turning point came on the ensuing possession when Brady faked a handoff and then threw to his right to Amendola. The receiver took a few steps and then threw a pass across the field to running back Dion Lewis, who ran for 20 yards before linebacker Myles Jack stripped the ball away.
But the Jaguars went three and out, giving Brady another chance.
"You don't want him to have the ball at the end of the game with opportunities to go out there and do what he did," Marcedes Lewis said.
Brady drove the Patriots 85 yards in eight plays, connecting with Phillip Dorsett on a flea-flicker for 31 yards and Amendola for a nine-yard touchdown that pulled the Patriots to within three.
With rocker Jon Bon Jovi seated in a stadium suite, his song "Livin' on a Prayer" blasted on the stadium speakers, the crowd roaring and singing along.
With just over five minutes left the Patriots' defense forced another punt and Amendola returned it to the Jaguars' 30-yard line.
Brady hit on passes to running back James White and Amendola and then executed a quarterback sneak. Two plays later he fired a pass to Amendola, who toed the line in the back of the end zone for a 24-20 lead with 2:48 left.
"Tom did what he does," Jaguars cornerback Jalen Ramsey said.
Teammates, who casually refer to Brady as the GOAT (Greatest of All Time), were not surprised.
"He's the GOAT, man," Patriots safety Duron Harmon said. "He did GOAT-like stuff. … Some people didn't think he was going to play but all he did was go out here and show people why he's the best quarterback of all time."
The Jaguars moved the ball to the Patriots' 43, but Bortles, who threw for 293 yards, had a fourth-and-14 pass broken up by cornerback Stephon Gilmore with 1:47 left.
The Patriots ran out the clock and began celebrating their third trip to the Super Bowl in the last four years.
As Brady walked into a hallway beneath the stadium, he put his arm around a teammate as they congratulated each other on earning a chance to play for another Super Bowl title.
"We're going to get one more," Brady said.
Follow Gary Klein on Twitter @latimesklein
---