Commentary: Is Colin Kaepernick being frozen out in the NFL? Depends on who you ask
He's the most talked-about NFL player, yet free-agent quarterback Colin Kaepernick doesn't even have a team.
He remains a polarizing figure, a martyr to some, malcontent to others, and lightning rod for virtually everyone since he took a knee during the national anthem in the name of protesting social injustices.
Earlier this month, Seattle Seahawks cornerback Richard Sherman told USA Today that the former San Francisco 49ers star "may not be the best, but he's better than a lot of these dudes starting."
"Now if you told me this guy threw eight pick-sixes last year and played like a bum, had no talent, that's one thing," Sherman told the newspaper. "But [Tampa Bay backup] Ryan Fitzpatrick, [Baltimore backup] Ryan Mallett or whoever is playing for the Jets right now — whoever is starting for the Jets is terrible — have jobs. You're telling me fans would rather you lose and put a worse player out there because a guy took a stand? That's where it's so troublesome to me."
Pointing out Kaepernick had 16 touchdown passes and four interceptions in Chip Kelly's offense last season, Sherman said the reason the quarterback doesn't have a job is the protests. "What is it about?" Sherman said. "It's not about football or color. It's about, 'Boy, stay in your place.'"
While I do believe the kneeling protest and others — the Fidel Castro T-shirt, the socks depicting police officers as pigs — have completely dissuaded some NFL owners from signing Kaepernick, I do not believe owners have colluded with each other on that. With most, if they felt he was a player they needed to win, they would sign him.
What's more, I think Kaepernick will be in the league by midseason, if not earlier, depending on which quarterbacks get hurt — something that always happens.
But this is a complex and multifaceted issue, one that in many ways transcends sports. For different perspectives I spoke to six people in and around the NFL for their views. That group is composed of:
Warren Moon, the first African American quarterback in the Pro Football Hall of Fame;
John Wooten, longtime chairman of the Fritz Pollard Alliance, an advocacy group for the hiring of minorities for coaching, scouting and front-office positions;
Hall of Fame receiver Tim Brown, a team captain for the majority of his career with the Raiders;
An NFL team personnel executive who spoke on condition of anonymity in order to be as candid as possible;
Former New York Giants receiver Phil McConkey, a graduate of the Naval Academy who served four years as a helicopter pilot, and whose father was a police officer in Buffalo, N.Y.;
Legendary player agent Leigh Steinberg.
Warren Moon
Certain teams don't want to deal with the backlash of bringing him in. There is going to be a lot of controversy, a lot of distraction for their players to have to answer those types of questions. In training camp, teams just want things to be as normal as they possibly can be. That's part of it.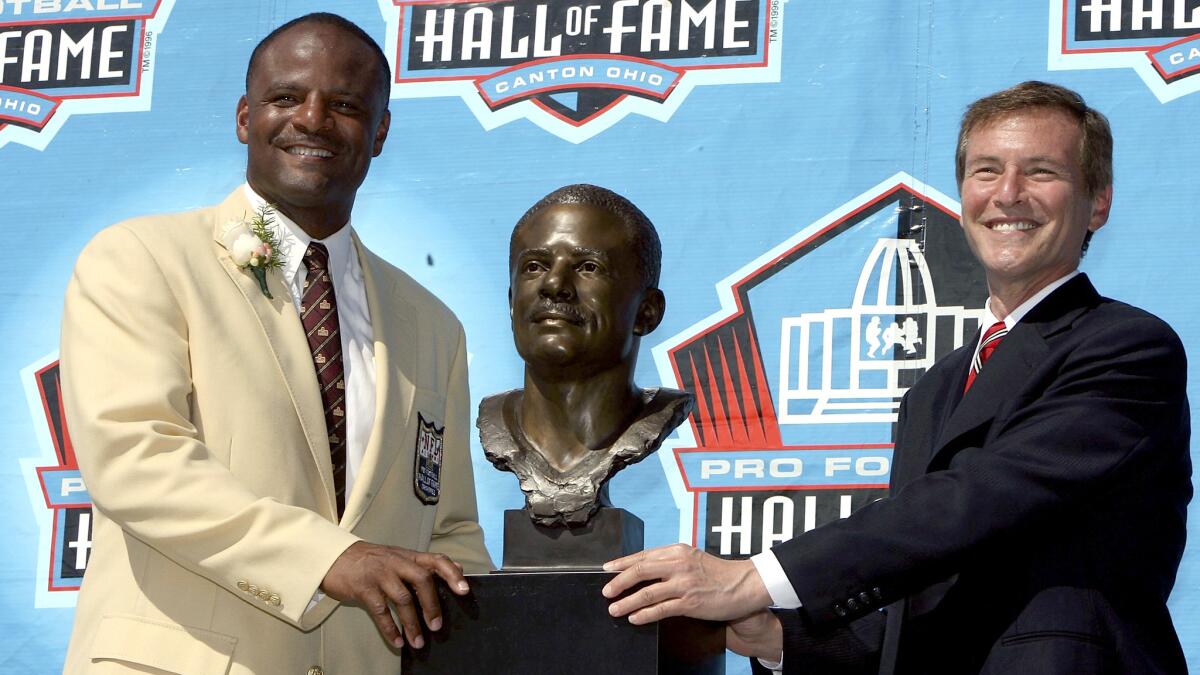 You've also got to remember there's a lot of quarterbacks that teams are trying to develop right now. You look at what happened in the draft. There were four quarterbacks who went in the first two rounds this year. That eliminates four teams right there, because you're not going to bring in a backup and put him ahead of one of these first- or second-rounders that you just signed to develop.
And then there's certain offenses that he just can't play in. He's just not good enough to play in those types of offenses where you have to really go through your read progressions, throwing the ball down the field.
But I still think as soon as one of these starters goes down — and that's one of the reasons the Seahawks brought him in, not so much to have him as a backup. They brought him in to see how Colin Kaepernick was, see how dedicated he was to football. Because if something happened to Russell Wilson and they needed a veteran to come in and win games, then they would go after somebody like him. Because of his experience and he fits into some of the things they do offensively.
What happens a lot of times is the first three weeks or so, when teams come out of training camp, and now all of a sudden these defenses are blitzing and doing all these exotic things you haven't seen in the preseason, that's when quarterbacks start getting hit the most. That's when quarterbacks go down early.
John Wooten
I think that whatever he did, he did it in terms of trying to protest what was happening to black people in this country for years and years and years. Not just here recently. But just the way it's been.
I doubt if there's a black man over 45 years old who has not had a shotgun or a pistol pointed at his head from a policeman. Including the guy you're talking to right now. Because that is the way things happen, and as I told my son . . . "If you're stopped, or a policeman approaches you, you put your hands up, and you say, 'Yes, sir,' and, 'No, sir.' Do not get into, 'Well, why did you stop me? What's going on?' Because if you are lying there dead, there's nothing I can do. So you get your hands up and keep them up until the incident, or whatever, is resolved."
Now, you can say that's a shame that black kids and people have to put up with that, but that's the way that is. Because I felt that Kaepernick was dealing with that, as to what he was trying to do, I approached his people telling them that we can help him. We can help him just as we did Muhammad Ali in 1967, when Jim Brown said, "Get the guys together. We've got to go and help the champ."
We talked to his agent, who said that he had already said what he had to say. I said, "He hasn't said it to the American public. He needs to speak to them, and more so, he needs to speak to the owners and the coaches and the general managers and say, "This is what I was trying to do. I understand it. I said what I had to say. I will forever stand on what is right in this country, because I love this country."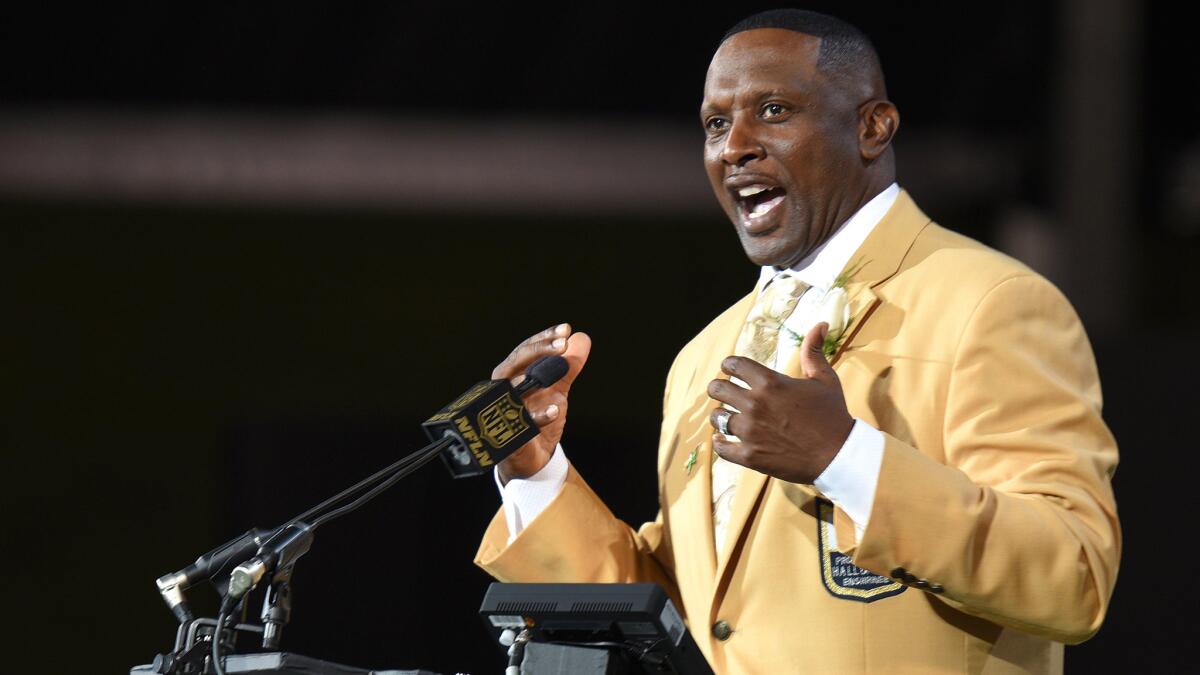 Tim Brown
Obviously if he's good enough to play in the league, he should be in the league. Yeah, he's probably gone down a little bit in the last few years, but he definitely should have a job in the NFL with some of these other quarterbacks that are out there, no doubt about it.
But I think this is a valuable lesson for him. You're not bigger than the NFL. Certain things you really need to talk to people about before you do. This was big enough that he should have sought the advice of teammates, coaches, ownership, former players, somebody, before he did what he did.
He just put himself in a position where it's me versus the world, and sometimes you lose that battle. His message probably got through, so I guess he's happy about that. He's had several guys around the league join him. But it could have possibly cost him his career.
If he would have spoken to me about it, I would have advised him not to do it. My feeling is, don't do it during a football game without the ownership knowing. If I was ownership, I would have said, "Hey, man, you certainly have a right to do whatever you want to do, but can you wait until the game is over with and do that outside the stadium? Protesting the national anthem is not one of the things I pay you to do"
When you take those hard stances, you've got to be ready for the consequences. There are a lot of people who are on his side right now, and I get it.
NFL team executive
The main thing is, no one wants the distraction. Is this guy good enough to bring in and be a distraction? I would say maybe if your guy got hurt. Maybe he'd be a guy we'd bring in. But, one, he'd be a distraction. Two, you've got to change everything you do on offense.
Does he really love ball? Does he really work at it? I don't know that. He's not a natural type of pocket passer. He throws a very hard ball to catch. He throws a lot of fastballs, not a lot of touch. He was good when they had a good offensive line to run the ball like crazy, and the best defense in the league. So there are multiple issues to signing him. He's not good enough to tolerate, basically.
Teams are pretty sophisticated. We have Twitter people who give us that stuff. They're not real fired up on that. Who are you going to offend? You're going to offend half your fan base? Anywhere you go, you're going to offend the police. Miami, you're going to offend the Cuban community, with him wearing the Castro shirt. It's a lot of [stuff]. It's not just one thing.
Phil McConkey
I think you're going to get diversity of opinions from military people. The majority of them will say, 'Hey, that's why we do it, for people to have the right to express their views freely.' So as a military person it really didn't offend me. But I have a dad who's a cop, and I know how loving and compassionate my dad is. It's a really tough situation.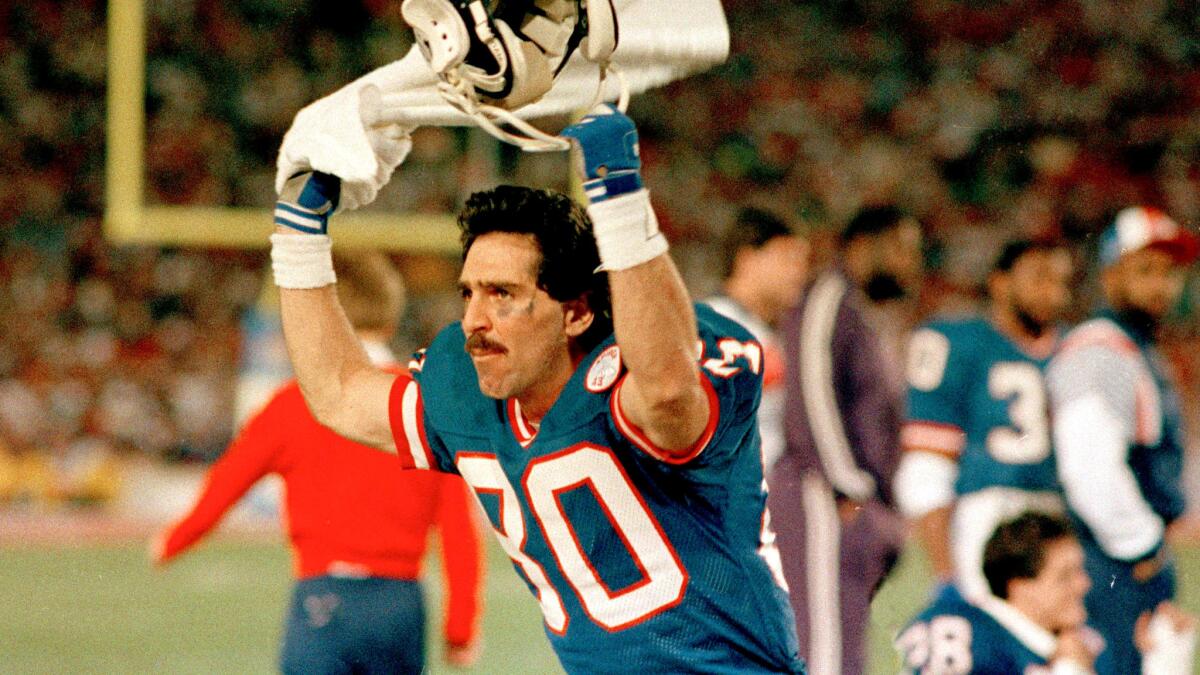 Me personally, all I could think about was distractions. I looked at it from the perspective of being inside of a locker room. Some teams are fine with it, I guess. Seattle, they have a lot of outspoken guys.
I want my quarterback, especially my starting quarterback, to have every bit of his fiber into this game. All the preparation during the week. I don't want his mind on something that's very controversial, that's going to bring attention to the team, and everybody's going to be talking about that.
There are 52 other guys on the team. What do they think? That, I think, is the bigger reason he's not on a roster.
Leigh Steinberg
I admire the courage of Colin Kaepernick in raising an issue. As a practical matter, placing him has some difficulties. Because does he really want to start over again at a minimum salary? And the answer seems to be no.
Where's the best opportunity for Kaepernick to rebuild his career? I don't represent him, but I will tell you that many times we take reduced one-year contracts to put someone in the ideal position to succeed.
Doing his stance on the flag was one thing. Had he been my client I would have advised him to do that outside the stadium. There are numerous ways to express free speech, and I encourage players to express themselves.
They can write an article. They can march in a rally. They can donate money. They can give interviews. Doing it in a stadium is a slippery slope to me.
Follow Sam Farmer on Twitter @LATimesfarmer
Get our high school sports newsletter
Prep Rally is devoted to the SoCal high school sports experience, bringing you scores, stories and a behind-the-scenes look at what makes prep sports so popular.
You may occasionally receive promotional content from the Los Angeles Times.