Raiders fans going through different stages of grief after being jilted
Five months ago, Dr. Death stared at the carpet in a Phoenix hotel room and sighed.
Instead of the familiar hard hat with foot-long spikes, black wig, bulky shoulder pads under a No. 26 Raiders jersey with "Dr. Death" written on the back, Ray Perez wore an untucked white dress shirt and dark slacks.
The superfan with the unmistakable alter ego wore the costume in lobbies of high-priced hotels when NFL owners met, appeared on the cover of Sports Illustrated last fall and became the silver and black-painted face of efforts to keep the Raiders in Oakland.
Perez adjusted his iPad to start a live video stream, took a deep breath, shook his head, wiped away tears. Earlier that day, NFL owners approved the Raiders moving to Las Vegas to play in a $1.9-billion domed stadium near the Strip. He never believed it would actually happen.
"This isn't just a football team that's leaving us," Perez told the online audience that eventually grew to more than 15,500 people. "It's our culture and our identity. I ask you to be respectful for many of us who are grieving. To many of us, this was family and they're gone. I come on here probably as my last time as Dr. Death."
The vote started the unusual, slow-motion divorce between the team and one of the league's most rabid groups of fans. While the Rams and Chargers left their former cities for Los Angeles immediately after league owners greenlighted the moves, the Raiders will play the next two — and possibly three — seasons in Oakland.
At the same time, they're soliciting $100 deposits for season tickets in Las Vegas. The main image on their website is a colorful rendering of the stadium that's scheduled to be finished in 2020.
Even the rendering is a reminder of the team's wandering eye. The basic design was first used for the stadium the Raiders and Chargers wanted to build in Carson, touted in 2015 as being inspired by "the history and enthusiasm of football in Los Angeles." Now it's their future home in Nevada, helped by $750 million in public funds from a tax on hotel rooms.
"[It] strikes me as akin to one spouse telling the other, 'I found someone else — someone I love more — and I am leaving you to move in with my new love — oh, but I'll be living here with you while my new love and I build our dream home together,'" former Raiders chief executive officer Amy Trask wrote in an email. "I don't believe there's a one-size-fits-all answer nor do I believe there should be."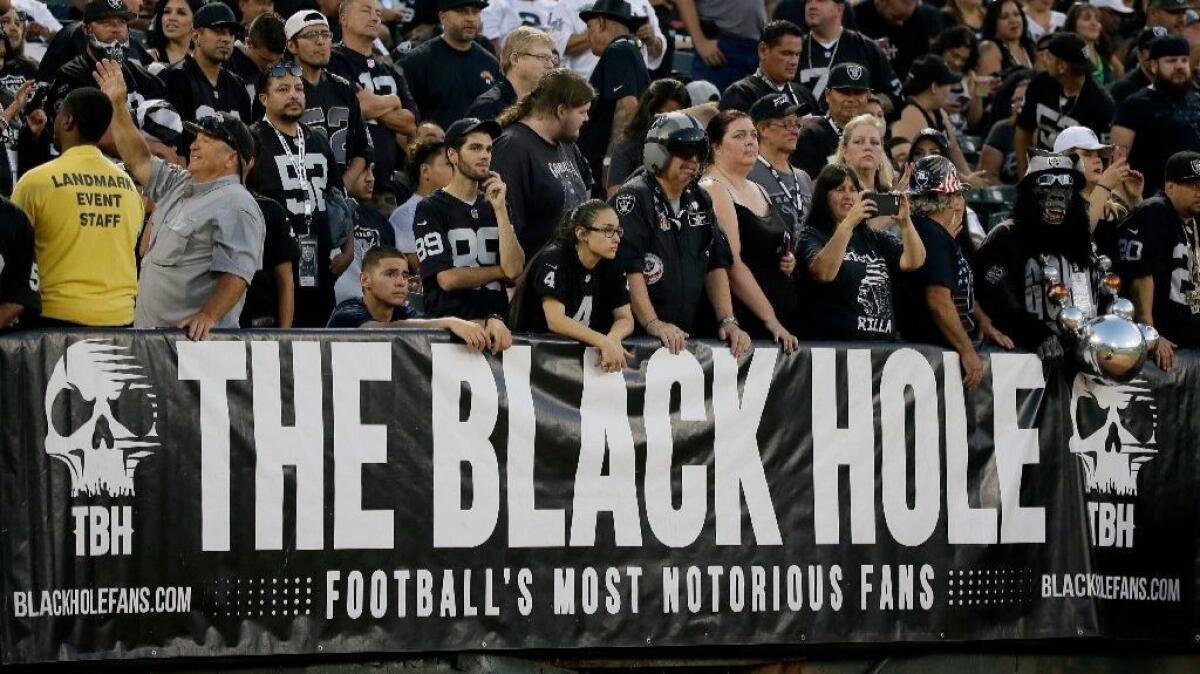 Even though the parking lots surrounding the Oakland-Alameda County Coliseum feel the same as always — pounding music, pop-up tents flying Raiders flags, costumes better suited for Halloween — the looming move has opened a chasm among Raiders fans.
Before a recent preseason game in Oakland, Chris Franceschi wore a viking helmet, grapefruit-sized silver skulls across shoulder pads, a necklace adorned with miniature Raiders helmets and a mask that resembled a famished zombie with poor dental hygiene. The mask muffled his voice.
"It's disrespect to the fans," Franceschi said of the move. "Everyone has worked so hard to get these tickets and then they just want to leave us. I'm always going to be silver and black until the day that I die, but that doesn't mean I'm going to buy any sort of Las Vegas Raiders anything."
Nearby, Salene Castaneda had a different view.
"It's like a death, but at the same time it's really a testament to real Raider fans," she said. "It's Raider Nation. It's not the Oakland Raiders. We need to stay with our team despite what city they're in."
Pro Football Hall of Famer Ronnie Lott, who fronted a last-ditch plan to keep the Raiders in Oakland, wrote in an email "We love Raiders ball in Oakland," but he doesn't hold out hope the team will change its mind on the move.
Some, like Dr. Death, have put their costumes in a closet and sworn off the team. Others feel betrayed by the plan to abandon the country's sixth-largest market for the 40th, but pledge to attend games as long as the Raiders play in Oakland. And a third group remains hell-bent on supporting the franchise and owner Mark Davis, no matter the home.
"If it is something that ties you to the community and the history and legacy of the team, then moving and taking away the links to the community is a devastating move that may not be forgiven," said Edward Hirt, a psychology professor at Indiana University who studies sports fandom. "But if your fanship is more detached from those factors and you are more interested in team success, specific players or coaches, you can see a very different response from those fans."
Whatever discontent exists about Las Vegas among Raiders supporters hasn't extended to ticket sales. The Raiders sold all 53,250 season tickets for this season and have a waiting list for next season. About 1,000 season tickets were canceled in the aftermath of the Las Vegas announcement.
The Raiders have options to play at the Oakland Coliseum this season and in 2018. The home for the third season before the Las Vegas stadium is completed isn't clear.
But the awkwardness of the situation seems to crop up everywhere. When each season-ticket holder received five lapel pins from the team as a gift earlier this year, they included ones that read "Loyalty" and "Family." It prompted a flood of online derision even as the Las Vegas Review-Journal published a step-by-step guide for how to be a Raiders fan.
Edward Toomey understands the conflicted emotions. The video game producer from South San Francisco attended Oakland City Council meetings to push for a new stadium and believed it when team officials promised him they wouldn't move.
After the vote, Toomey deleted the NFL-related accounts he follows on Twitter. He remembered the heartbreak when the Raiders left Oakland for the first time during their move to L.A. in 1982. He canceled his NFL Sunday Ticket subscription. He tossed everything with a Raiders logo, other than a collage from the game when his 7-year-old daughter performed as a Junior Raiderette and an autographed photograph of legendary Raiders quarterback Kenny Stabler.
"I'm done," Toomey said.
He swears he'll never set foot in Nevada as long as the Raiders play there. He has little patience for supporters who will follow the team there.
"Part of Raider Nation is like North Korea and Kim Jong-un," Toomey said. "They worship [Mark Davis]. He can do no wrong. It's like a cult. It's crazy. They'll go anywhere.
"There should be some sort of retribution the people of Oakland should get for all the time and money that was wasted to try and get the Raiders a stadium. The Raiders never wanted to stay."
Dr. Death canceled his season tickets and is making plans to spend fall Sundays at his Sacramento home as Perez: reading, Netflix, maybe a trip to the gym. Even the Raiders acquiring beloved Oakland native Marshawn Lynch during the offseason couldn't change his mind. Perez expects fights to break out at the Coliseum this season if people wear gear emblazoned with "Las Vegas."
At first, the vote approving the move after months of the Raiders flirting with Las Vegas felt like a relief to Perez. He finally had an answer. But the relief quickly transformed into depression. He decided to retire Dr. Death. He touted the benefits of a new stadium in Oakland to any reporter, league official or passer-by who would listen during league meetings. The words carried the zeal of an evangelist. Now, all that's left is lingering anger and loss.
"I know for a fact that the culture you get in Oakland will not be duplicated anywhere else. There's just no way," Perez said. "I've had fans tell me I'm fake or not a real fan for jumping ship. But you're an addict if you can't not go to a game. ... It was part of my life for 25 years. I don't want to disqualify that. It sucks. But I need to move on. I'm not going to be mistreated like that."
During the video broadcast from the Phoenix hotel room, Perez stopped speaking several times to compose himself. He stepped off camera for a minute. The tears kept coming.
"I can no longer in good conscience support an organization led by Mark Davis," Perez told viewers. "Right now, the Raiders are pretty much saying that we're all replaceable. I'm not replaceable. You, at home, you're not replaceable."
The 12-minute video ended. Dr. Death did too.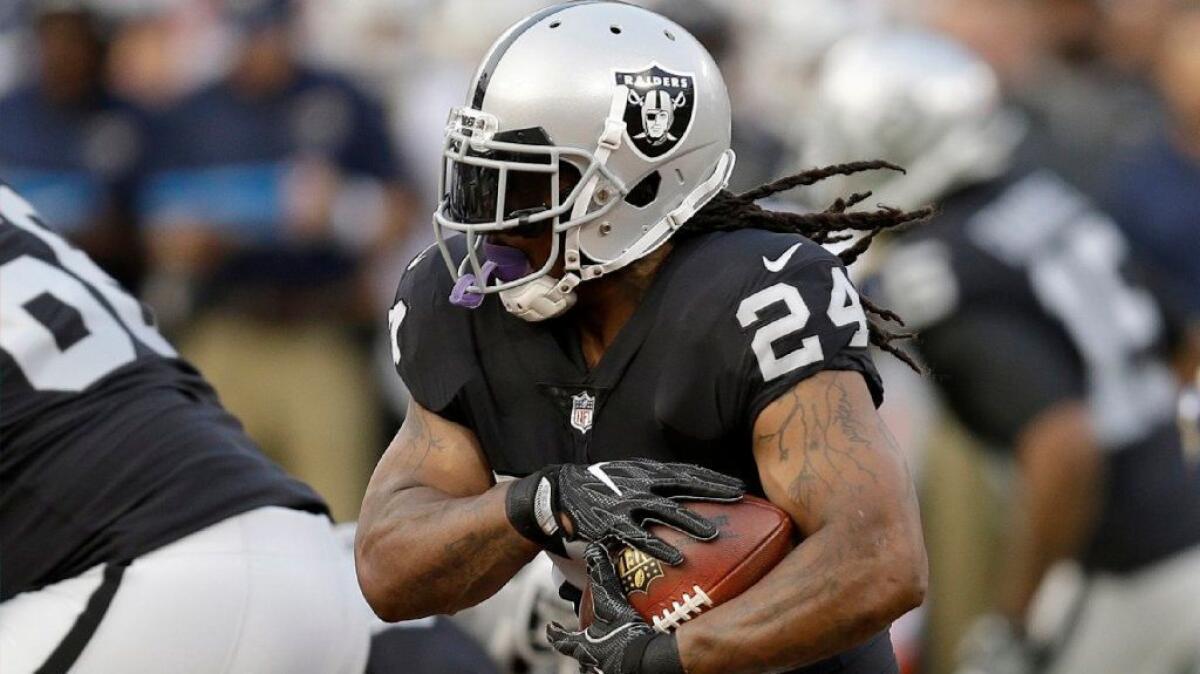 Times staff writers Gary Klein and Lindsey Thiry contributed to this report.
Follow Nathan Fenno on Twitter @nathanfenno
Get our high school sports newsletter
Prep Rally is devoted to the SoCal high school sports experience, bringing you scores, stories and a behind-the-scenes look at what makes prep sports so popular.
You may occasionally receive promotional content from the Los Angeles Times.