Column: Falcons quarterback Matt Ryan has shown toughness and grit since his Boston College days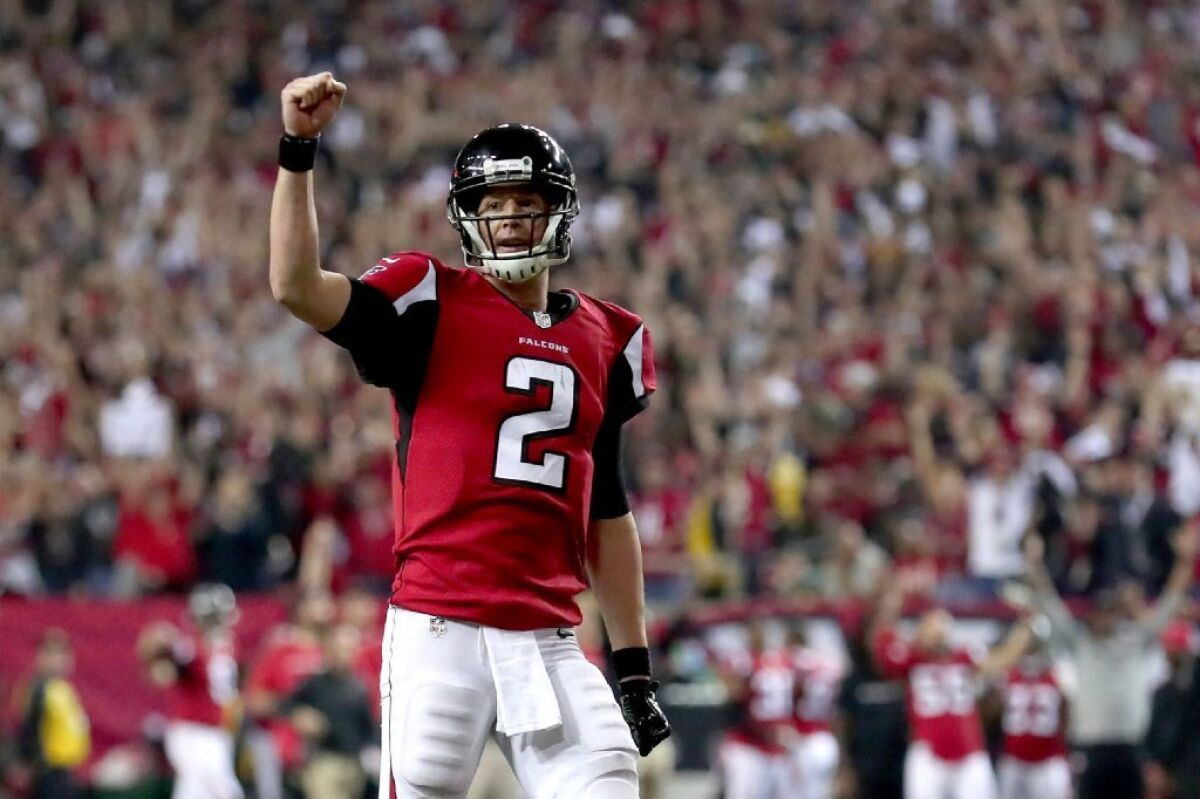 Reporting from Houston —
It was the kind of hit that would have other quarterbacks questioning why they ever picked up a football in the first place.
Matt Ryan, then a red shirt sophomore at Boston College, took the snap, dropped back, and quickly scanned the field as he rolled to his right. Just as he dumped off a short pass to his running back, Ryan was flattened by 225-pound Clemson linebacker David Dunham, the chest shot hitting him like the butt end of a swinging log. Ryan's head snapped forward violently, his helmet flew off and his chin bounced off his chest.
Video of the hit instantly went viral and now, a dozen years later, has more than a half-million YouTube views. But it's what happened after that video clip that captures the essence of who Ryan is as a quarterback, and helps explain how this season he has lifted the struggling Atlanta Falcons -- 18-30 the past three seasons -- to the NFL mountaintop.
After briefly regaining his composure on the sideline in that 2005 game, Ryan jogged back onto the field and reclaimed command of the huddle.
"He comes back in a play later, his mouth's all bloody, he looks at us and, I don't want to swear, but, `Let's… go,'" left tackle Jeremy Trueblood recalled of that 16-13 overtime victory at Clemson Memorial Stadium, nicknamed Death Valley. "I'm like: `Alright. I can deal with this guy.' He's one tough S.O.B."
That toughness was on display for the nation the last two weeks, when Ryan directed the Falcons to playoff victories over Seattle and Green Bay to set the stage for a Super Bowl LI showdown against the New England Patriots. Time after time, with pass rushers bearing down on him, he stepped into throws and made key completions with seemingly no regard for his body. In many cases, the leveled quarterback has to monitor the reaction of the home crowd to know if the play is successful.
"You're on the ground kind of listening to see what happens," said Ryan, 31, in his ninth season.
Both Ryan and his Super Bowl counterpart, Tom Brady, the New England Patriots quarterback he studied closely when they were both in Boston, have unwavering focus and an undeniable grit.
"I'm not going to get into comparing the two guys; that's not fair to either," Falcons Coach Dan Quinn said. "But what I can tell you is that both of them are unbelievable competitors, and when the guy can stand there, I'm right about to take the shot and that's staring right down the face of it, and for years both of these guys know this is going to hurt, but I'm going to put it in the right spot."
A leading NFL most-valuable-player candidate, Ryan finished the regular season with a league-best 117.1 passer rating, and in his last six games has 18 touchdowns and no interceptions. He set club records this season for passing yards (4,944), touchdowns (38), completion rate (69.9%), and completions of 25 yards or longer (42).
The Falcons made the playoffs four times in Ryan's first five seasons, then slipped to 4-12 and 6-10 in the final two seasons under Mike Smith. Last season, Quinn's first, Atlanta started 5-0 but lost eight of its last 11. The franchise rebounded strong this season, going 11-5, setting a club scoring record with 540 points, and leading the league in scoring with an average of 33.8. The Falcons are loaded with weapons, none more dangerous than Ryan.
All these accomplishments come as little surprise to the people at Boston College, who watched Ryan ascend from gangly kid out of Penn Charter, a small private school in Philadelphia, to a solid, 6-foot-4, ultra-dedicated college standout who went third overall to Atlanta in the 2008 draft, selected earlier than any other Boston College player in any sport.
What he did for that university rivaled the impact of Heisman Trophy winner Doug Flutie, who captured the national spotlight a quarter-century earlier. Ryan was 3-0 in bowl games, 3-0 in overtime games, beat four top 20 teams on the road – Georgia Tech, Notre Dame, Virginia Tech, and Clemson – and as a senior won both the Manning and Unitas awards as the nation's top college quarterback.
"People always say the Doug Flutie era sparked everything," said Barry Gallup, a longtime fixture on the Boston College coaching staff, and now associate athletics director. "Our applications went up about 33%, just going from a regional school to a national school. It's the same thing with Matt now."
At the Yawkey Athletics Center on campus, there's an entire display case dedicated to Flutie, including his jersey, Sports Illustrated cover, and Wheaties box. There is a corresponding case that honors Ryan and Carolina Panthers linebacker Luke Kuechly, the 2013 Defensive Player of the Year. Their college jerseys were retired at a joint ceremony in November, with Matt's uncle, former Boston College quarterback John Loughery, unveiling his nephew's jersey.
Gallup will never forget that, while the Falcons had their bye on the weekend of that ceremony, Ryan passed on staying Saturday night in Boston and instead took an evening flight back to Atlanta so he could conduct a Sunday workout with the skill-position players on what was considered a day off. The Falcons were playing Arizona the following Sunday, so the meticulous Ryan wanted to be practicing at the precise time the Cardinals were playing their game.
"You talk about professionalism," Gallup said. "He's married, and his wife, Sarah, is with him. They could have gone to a relaxing dinner and gone back Sunday, and he's back working instead."
It seems everyone at the school has a Ryan story that illustrates his toughness, competitiveness and dedication.
During the 2006 season, Ryan suffered a broken bone in his left foot. Longtime trainer Steve Bushee informed him he had two choices for treatment: a cast, or surgery to insert a screw that would hold the bones together.
"He looks at me and goes, `No, we're not doing either of those. I'm playing,'" Bushee said. "He said, `It's already broken, so I'm not going to break it worse, right? So if I can deal with this, I can play?' And the doctor, Diane English, and I looked at each other and said, `Well, we haven't really ever had anyone ask us that before, but you know what, we'll make it happen.'"
So Ryan spent the rest of the fall practicing in a walking boot, and playing on Saturdays with an orthotic brace cradling his foot. He didn't flinch, leading the Eagles to a 10-3 record and a victory over Navy in the Meineke Car Care Bowl. It was only after the season that the information was publicly disclosed.
Early in college, Ryan's choirboy appearance belied his hard-edged competitiveness.
"Freshman year, Matt was this skinny dude we used to make fun of – scrawny, super-pasty, Irish Catholic-looking dude," said Ryan Poles, his college roommate and left guard. "His image was always of this fragile kid. But on the practice squad, when we were giving a look to the first-team defense, his goal was to absolutely torch them. It would drive the defensive coaches nuts. They would have such a horrible feeling going into the game because Matt was ripping them apart. And as he started getting confidence, he'd be talking crap during practice.
"So then you've got this kid who looks like that and then has this fire inside of him, and you're like, `Holy smokes, this kid is going to be a player.'"
Ryan grew up in the New Jersey shore town of North Wildwood, the third of four children: Motts, Kate, Matt, and John. Motts, whose real name is Michael, played quarterback at Widener, near Philadelphia; John at Brown.
"Motts is a few years older, so if there's football going on in the yard, Matt's in there playing with Motts' crowd," said their father, Mike. "They were three or four years older. So you either sink or swim. Matt elected to swim."
Just as he puts pressure on himself to perform, Ryan expects a lot of the people around him. Father Tony Penna, associate vice president and director of campus ministry at Boston College, learned that on a rainy Tuesday night more than a decade ago.
Penna was supposed to deliver a talk on campus about the nature of evil. It was in a big auditorium, and he expected a crowd. Because of the foul weather, nobody showed up. Nobody, that is, except Ryan and his buddy.
"I said, `We're not going to give the talk. It just doesn't make sense,'" Penna said. "But Matt asked me to sit down and give him a summary of the talk. I'm thinking, here's a first-year student, on the worst night in the world, who comes to a serious talk, and he's going to get something out of it. I wanted to go home, but he drew the best out of me. I was just going to go home. He has the capacity to draw the best out of people in the moment."
There's a strange and somewhat conflicted feeling around Boston College these days. This is a place that's crawling with Patriots fans, people who want to see their favorite team win a fifth Lombardi Trophy. Yet on the other side is Ryan, universally respected on campus as a player and person.
"This is the best Super Bowl," Penna said. "We can't lose."
Follow Sam Farmer on Twitter @LATimesfarmer
Get our high school sports newsletter
Prep Rally is devoted to the SoCal high school sports experience, bringing you scores, stories and a behind-the-scenes look at what makes prep sports so popular.
You may occasionally receive promotional content from the Los Angeles Times.