Ask Farmer: Why are more teams choosing to defer after winning the coin toss?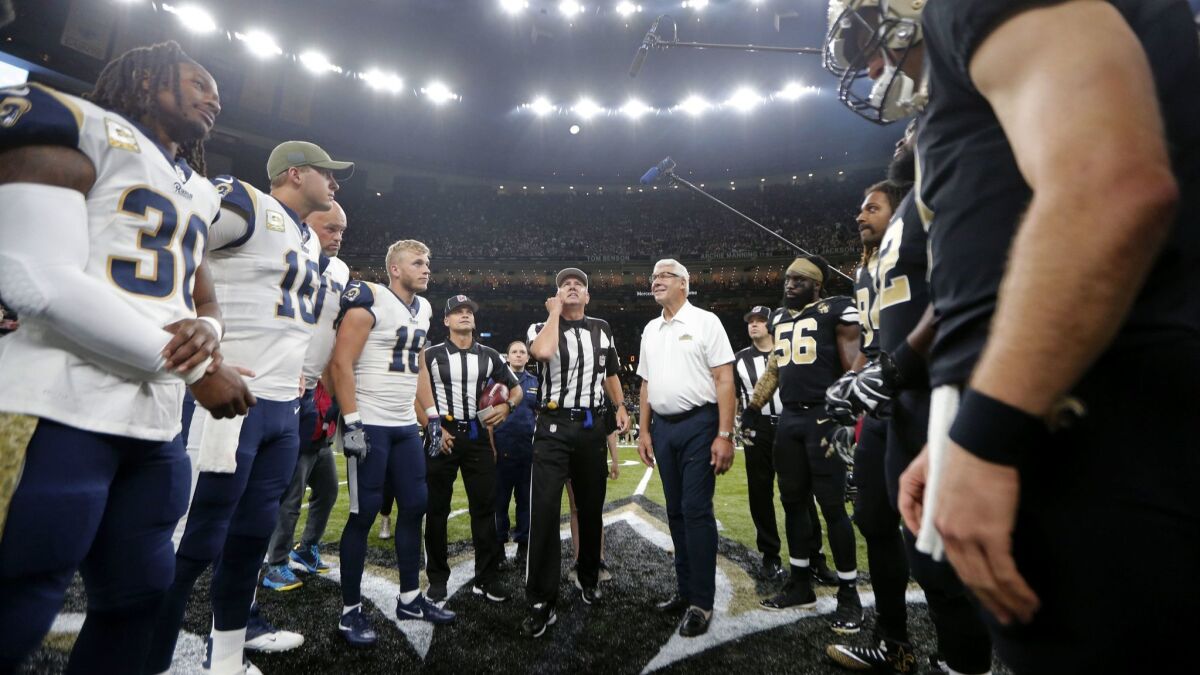 Have a question about the NFL? Ask Times NFL writer Sam Farmer, and he will answer as many as he can online and in the Sunday editions of the newspaper throughout the season. Email questions to: sam.farmer@latimes.com.
Why do the Rams always defer after winning a coin toss? Why let their opponent have the chance to dominate the first quarter and put Rams behind so that they are forced to play catch-up? The Rams' offense is so potent that they should start the game with the opportunity to score first.
Kirk Ah-Tye
Santa Barbara
Farmer: It seems that more and more teams choose to defer if they win the coin toss. For the rationale, I turned to former St. Louis Rams coach Mike Martz, among the more innovative offensive minds in NFL history.
"Offensively, when you take the ball at the beginning of the game, you have an idea how the defense is going to play you, but you really don't know," Martz said. "By deferring, it allows you to open up the second half after a full half of seeing what the adjustments are. So now you can come back out knowing exactly what you're going to see, and begin the game that way.
"People will come up with a different plan for you, maybe something that you're not prepared for. So instead of trying to adjust on the fly with the first series, you go ahead and let them start off. Then you get the ball and make your adjustments. Now, when you get the ball in the second half, you've made all your adjustments that you want to do, so you should get a real good solid series coming out."
However, Martz said he wouldn't defer.
"You just want to get out and go," he said. "I want to press them and see what their adjustments and changes are going to be. To me, you want to set a pace and go."
So he prefers an offense impose its will, instead of going through a feeling-out process.
"If teams have changed a great deal for you, which happens, and guys come out with scripted plays based on what other teams have done," he said, "then you get into a lot of bad plays early."
::
When a player is injured at practice or a game, who pays costs for short- or long-term medical care? Do players continue to collect a game check while inactive?
Chuck Klein
Ventura
Farmer: If a player gets hurt doing a football-related activity, he's covered by the team, no matter when it occurs. So if he ruptures his Achilles in an offseason workout, he's covered.
If a player suffers an injury doing something unrelated to football, he's placed on the reserve/non-football injury list. Then it's at the discretion of the team whether the player is paid.
And, yes, players collect a game check even when deactivated.
Follow Sam Farmer on Twitter @LATimesfarmer
---
Get our high school sports newsletter
Prep Rally is devoted to the SoCal high school sports experience, bringing you scores, stories and a behind-the-scenes look at what makes prep sports so popular.
You may occasionally receive promotional content from the Los Angeles Times.