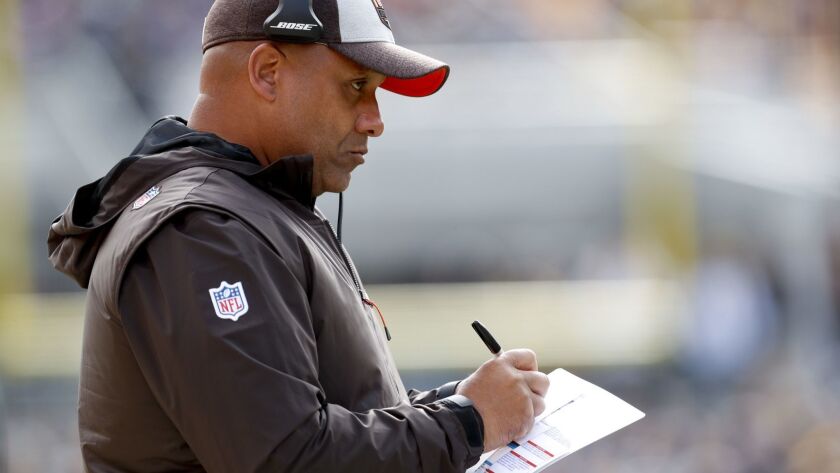 Have a question about the NFL? Ask Times NFL writer Sam Farmer, and he will answer as many as he can online and in the Sunday editions of the newspaper throughout the season. Email questions to: sam.farmer@latimes.com
What happens to the playbook when coaches and players leave? Is the playbook the team's property or the coach's or does it depend? What is the protocol for all of this?
Wes Correll
Irvine
Farmer: That's some valuable information when one or two pivotal plays can tip the scales in a game. I turned to former quarterback Dan Orlovsky, who not only played for five franchises in his 13 NFL seasons — Detroit (twice), Houston, Indianapolis, Tampa Bay and the Rams — but also saw the league go from paper playbooks to electronic ones.
"When it was paper playbooks, you had to turn those in when you left," Orlovsky said. "You get to keep your notebook that you keep your own notes in, but as far as the playbook, it was, 'Bring it to us.' You would give it to whoever was meeting with you — a player-ops person, a position coach, whatever.
"With the iPads, I've seen guys not even get them, because of the fear of transmission of information or pictures nowadays. Sometimes guys will get them with just that week's game plan on it. When you get an iPad, you're given a personalized password, usually connected to your name."
Teams also have the capability to remotely erase the information on the tablets if the devices were to go missing.
"I've been to places on road games where it's been brought up to the whole team multiple times, very clearly and communicatively, 'Do not leave any parts of any playbook hanging around in your hotel room. No paper, no nothing,'" he said.
::
How are NFL fines calculated? When Aaron Donald was fined for two infractions, it was for $10,026 and $13,369. Is it based on a percent of one's salary? Otherwise wouldn't it be a flat-dollar amount based on the type of infraction?
Steve Shaevel
Woodland Hills
Farmer: Those fines were jointly determined by the NFL and NFL Players Assn. as part of the collective bargaining agreement signed in 2011. They were round numbers at the time, with minimums such as $7,500 for a flagrant facemask, $15,000 for a leg whip and $20,000 for spearing. But per the CBA, those fines are increased by 5% each season, hence the seemingly arbitrary amounts.
According to Sportrac.com, players have been fined 110 times this season for a total of $1,925,487. The largest fine ($112,000) was to Cincinnati's Vontaze Burfict for a helmet-to-helmet hit to Pittsburgh receiver Antonio Brown in Week 6. That's more than double the next-most-expensive fine.
The smallest fine this season was to Denver running back Phillip Lindsay, who had to pay $2,500 for unsportsmanlike misconduct in Week 3. He was ejected for throwing punches in a pile against Baltimore.
---