Just like every season, a pile of NFL coaches are in danger of losing their jobs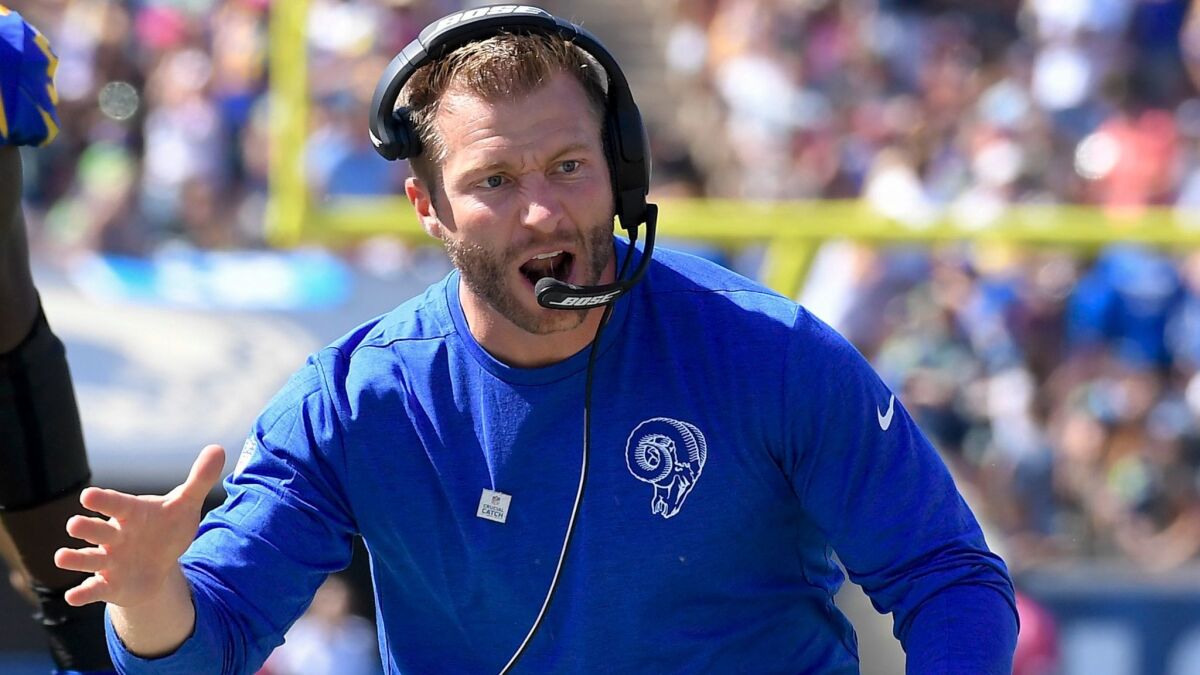 Like your NFL team's new coach? Think he's doing a solid job?
He'll probably be fired.
Not now, but in a few years. That's how the business goes, with expectations constantly growing and patience forever shrinking. Roughly a quarter of the league's 32 teams have a new head coach to start a season. There are six new coaches this season — the Rams and the Chargers, Denver, Buffalo, Jacksonville and San Francisco — and that's slightly less turnover than usual.
In 2009, there were 11 new coaches. All of them were eventually fired.
In that regard, this season will be no different. Some team owners already are preparing to make a change while others are waiting to watch what happens during the final five games.
There's little doubt the days are numbered for New York Giants coach Ben McAdoo, Chicago's John Fox and Indianapolis' Chuck Pagano. And in Arizona, few would be shocked if two-time coach of the year Bruce Arians retired after the season.
Changes also could be in the works in Tampa Bay, Cleveland, Cincinnati, Dallas and with the New York Jets.
What is different this year is the Rams' Sean McVay has raised the bar, turning around a franchise that was 4-12 last year — its 10th consecutive losing record. The Rams are 8-3 and expecting so much more.
That catches the eye of other owners who will be scanning the horizon for their McVay, suddenly swayed by the notion that hiring a 31-year-old coach isn't such a bad idea after all. Of course, if it were merely a youth infusion that did the trick, teams would have discovered that long ago.
So far, results of this year's new coaches are mixed. McVay is a coach-of-the-year candidate; the Chargers are surging under Anthony Lynn and could wind up winning the AFC West; Doug Marrone's Jaguars are 7-4 and tied atop the AFC South; Buffalo has been up and down under Sean McDermott; both the Broncos (Vance Joseph) and 49ers (Kyle Shanahan) are cellar-dwellers, although San Francisco is clearly taking a long view, having signed the coach and general manager to six-year deals.
It's the time for speculation, and there are going to be a lot of names tossed around over the next two months in terms of coaching candidates. Some will be real, others will be smokescreens.
Will Michigan's Jim Harbaugh come back to the NFL? He could be a potential fit in Chicago or Indianapolis — he was a quarterback for both — or as a dark horse candidate in Arizona.
What about Jon Gruden? Is he ready to leave the ESPN booth and come back to coaching? Those who know him best say he would not be driven by money as much as who is the owner and who is the quarterback. He likes living in Tampa, and it's conceivable he could return to the Buccaneers.
What if Gruden were to return to the Raiders? There, he could work with Derek Carr and know that owner Mark Davis wouldn't meddle. Plus, with the Raiders moving to Las Vegas in a couple of years, Gruden could have all the tax benefits he enjoys in Florida. OK, so the Raiders might be happy with Jack Del Rio. But if Gruden were available ...
Philadelphia is the best team in the league right now, and a lot of teams are going to want some of that Eagles magic. That means defensive coordinator Jim Schwartz could get another head coaching chance, and teams are likely to look at offensive coordinator Frank Reich and quarterbacks coach John DeFilippo.
Although Detroit has dropped off defensively from last season, Lions defensive coordinator Teryl Austin figures to be in the head coaching mix this offseason, as does Jacksonville defensive coordinator Todd Wash, whose defense is ranked No. 1.
Just as there wasn't a lot of talk about McVay at this time last year, there will be other candidates who gather momentum during the next two months and pop up on the radar screen.
Teams that could change coaches this offseason, from most to least likely:
Chicago — The Bears are headed for their third consecutive season of double-digit losses under Fox, who is 12-31 overall. The franchise has invested so much in rookie quarterback Mitch Trubisky, it will be looking for a McVay-type coach.
New York Giants — The Giants, under McAdoo, are a disaster this season and are dealing with the fallout of benching Eli Manning in favor of Geno Smith. Asked this week if McAdoo's job is safe, Giants co-owner John Mara said: "Nothing's guaranteed in life" and said the Giants "obviously have some decisions to make this offseason."
Indianapolis — The Colts, who have been without quarterback Andrew Luck all season, are 3-8 and have lost six games in which they've led or been tied in the second half. Patience for Pagano is wearing thin.
Cleveland — Record-wise, Hue Jackson should be at the top of this list. There are indications, though, that Browns owner Jimmy Haslam might plan to keep him. Still, 1-26 with no relief in sight?
Arizona — The Cardinals have struggled the last two seasons, and the colorful Arians, 65, could wind up on a Sunday studio panel next season.
Tampa Bay — The Buccaneers were supposed to be good this season. Instead, Dirk Koetter's squad has done a face-plant. Tampa Bay is 4-7 and winless in the NFC South.
Cincinnati — For the first time since 2010, Marvin Lewis doesn't have a contract heading into the next season. Barring the 5-6 Bengals making a run and getting to the postseason, it's more likely than not that Lewis is gone. Remember, Cincinnati is 0-7 in the playoffs under Lewis.
Dallas — Granted, the Cowboys don't have running back Ezekiel Elliott, and left tackle Tyron Smith has been hurt, but the team has been circling the drain. Before their victory Thursday night over Washington, the Cowboys had lost three in a row by 20 points or more. Has Jerry Jones finally run out of patience with Jason Garrett? "No one understands any better where we need to improve than Jason does," the team owner said on 105.3 radio in Dallas this week. "I think what you're seeing this week is what good coach- ing will bring us. This is where you call on good coaching."
Denver — In each of the last five seasons, at least one of the new coaches has been one-and-done. Last season, it was Chip Kelly in San Francisco. The year before that, it was his 49ers predecessor, Jim Tomsula. If the trend continues, Joseph could be the coach shown the door. The Broncos have been abysmal.
Twitter: @LATimesfarmer
Get our high school sports newsletter
Prep Rally is devoted to the SoCal high school sports experience, bringing you scores, stories and a behind-the-scenes look at what makes prep sports so popular.
You may occasionally receive promotional content from the Los Angeles Times.