NFL combine notes: Washington prospect Kaleb McGary has tackled a lot of adversity
Reporting from indianapolis —
To hear Kaleb McGary tell it, his life is a country song.
The 6-foot-8 offensive tackle from the University of Washington has had more than his share of heartache in recent years, troubles that have toughened him and ramped up his hunger to succeed.
"Football has been tremendous for me," McGary said at the NFL combine Thursday, already having talked to the Rams, among other teams. "During some of the rough patches in my life, especially my junior year of high school when I was dealing with all that stuff that happened with my family, it basically became the only place that I had to run to that I could ignore how difficult the world was around me. Football became kind of a haven for me."
In brief, after a dip in the economy, the bank foreclosed on the family farm in southern Washington, and McGary's father was diagnosed with multiple sclerosis. The McGarys moved to Fife, between Seattle and Tacoma, and lived in a recreational vehicle parked beside the home of Kaleb's late grandparents.
"The house was unlivable because my grandfather and grandmother were hoarders during their lifetime," he said. "So, if you can imagine 60 years' worth of hoarding, it was quite literally stuff from the ground to the ceiling. So, for the last two years of high school, I lived in an RV with four other people."
Eventually, McGary's parents cleaned out a second RV and moved into that, so they could have a little more space. But that was destroyed by an electrical fire that burned down half the house. The parents were awakened by the sound of ammunition exploding in the inferno.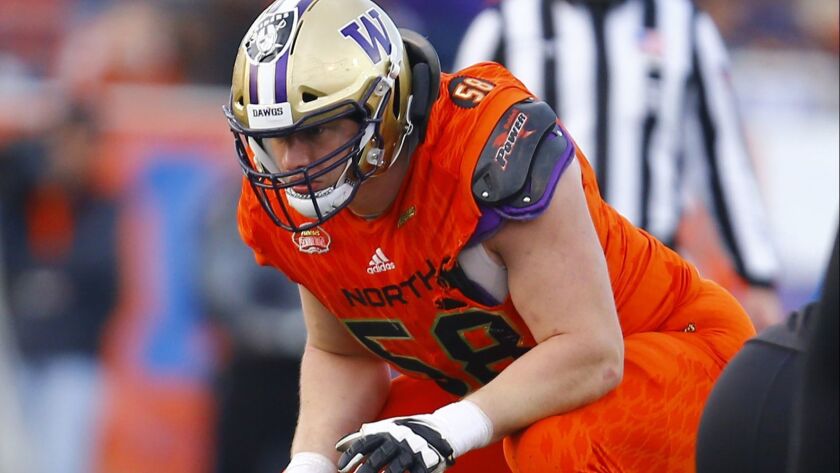 After jumping through all sorts of hoops that dealt with NCAA compliance, the family was able to set up a Go Fund Me account and raised $16,000 for repairs. It didn't go far.
"As soon as the money ran out, labor dissipated, material," he said. "Everything just ground to a halt, really. So we've been kind of stuck for a little while. Slowly but surely, piece by piece, I believe they have now repaired a room in the upstairs and the half of the house that was not burned that they have moved back into now. So they are in a house, sort of. Half a house."
McGary was a stalwart at right tackle for the Huskies since 2015, never missed a game because of injury, and earned the Morris Trophy last season as the top lineman in the Pac-12 Conference. He had multiple procedures early in his college career to correct a heart arrhythmia. Current projections have him being selected in the second or third rounds.
As for the struggles he and his family have endured, he said those have given him a sense of perspective.
"Fortunately, nothing tragic happened," he said. "Yeah, it was pretty crappy at the time and scary and all that, but no one died. Everything that can't be replaced made it. Nothing that couldn't be replaced was lost."
The insider
With news of Jason Witten leaving the "Monday Night Football" booth to come out of retirement and resume his career as a Dallas Cowboys tight end, it raises a lot of questions. One of them is, how will opposing teams feel about giving him all that access in production meetings, perhaps letting him in on some of their secrets and strategies?
Meh, no biggie.
That's the way Seattle coach Pete Carroll and others feel about that possibility. They shrugged at the suggestion.
"He's a tight end, not a quarterback," Carroll said. "He's obviously got a few more catches in him. I think it's great."
Mark Dominik, former general manager of the Tampa Bay Buccaneers, said he wouldn't be bothered by Witten hearing some inside information from the 2018 season.
Sign up for our daily sports newsletter »
"When you're in those production meetings, you're getting some insights about the players and the organization, but I don't think you're gaining a competitive advantage, like, 'This is how they're going to attack this opponent, because this is what they said a year ago.' Wouldn't bother me. He's an experienced player who knows what he's doing."
Wrap him up
It's good that the Oakland Raiders have three first-round picks — Nos. 4, 24, and 27 — because they have plenty of needs. One of them is help at cornerback, and coach Jon Gruden is looking for one who will be fearlessly adept at tackling.
"Everybody gets enamored with the coverage ability, the length, the speed and all that stuff," Gruden said. "You have to be able to tackle these guys in one-on-one situations. We had a guy walk in our room last night, a receiver out of Ole Miss, his name is [D.K.] Metcalf, I mean he looked like Jim Brown. He's the biggest wideout I've ever seen."
Metcalf is nearly 6-4 and 228 pounds.
"You have to ask yourself, who is tackling this guy?" Gruden said. "So, if you're a 175-pound corner and you're tackling a 235-pound back or a 230-pound wideout or a tight end, you have to ask yourself, 'Is this what I want to do?' You have to find guys that can tackle big time. I think sometimes that is overlooked."
Follow Sam Farmer on Twitter @LATimesfarmer
---
Get our high school sports newsletter
Prep Rally is devoted to the SoCal high school sports experience, bringing you scores, stories and a behind-the-scenes look at what makes prep sports so popular.
You may occasionally receive promotional content from the Los Angeles Times.