The Times' Sam Farmer gives a tour before the start of the 2019 NFL draft.
After months of anticipation and countless mock drafts, Thursday's NFL draft ushered in a new class players poised to be game-changers for their respective teams for years to come.
Engulfed by the glitz and glamour that accompanies every draft, the game's top young players got a final chance to be celebrated for their collegiate accomplishments before making the transition to NFL rookie.
Thirty-two players found out which NFL teams they'll be playing for this season. The second and third rounds will take place Friday, with rounds four through seven set for Saturday.
1. QB Kyler Murray | Arizona Cardinals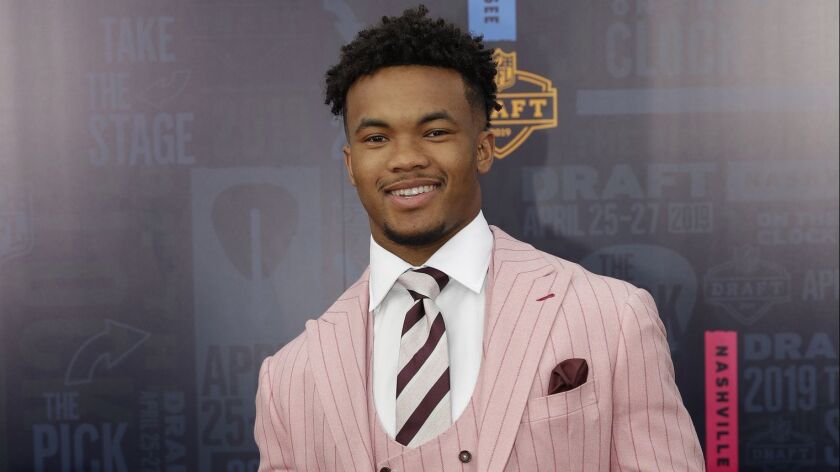 Kyler Murray, who sat for two seasons behind Baker Mayfield, matched that future Cleveland Browns star with a Heisman Trophy of his own. Murray set a school record last season with 5,362 yards of total offense, scoring 54 touchdowns.
Sam Farmer's take: This is the fifth time the Cardinals have selected a quarterback in the opening round. None of the other four had a winning record.
2. DE Nick Bosa | San Francisco 49ers
The younger brother of Chargers first-round pick Joey Bosa, Nick had 29 tackles for loss and 17½ sacks in his Ohio State career. A core-muscle injury in his third game ended his 2018 season.
Farmer's take: The Bosa family joins Archie, Peyton, and Eli Manning as the only such trio to all go in the first round. Bosa and Dee Ford impressive bookends.
3. DT Quinnen Williams | New York Jets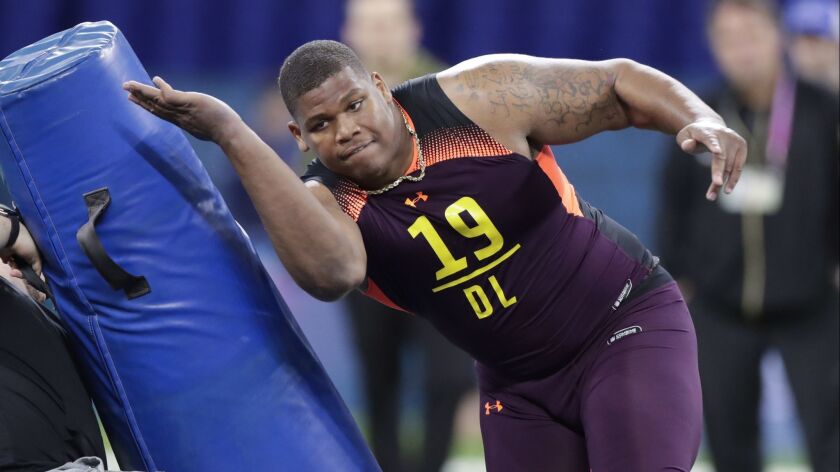 Won the Outland Trophy as the top interior lineman in college football. Finished the 2018 season with 71 tackles (19.5 for loss) and eight sacks. Regarded by many scouts as the top prospect in the draft.
Farmer's take: Adding the dominant Quinnen Williams to Leonard Williams, C.J. Mosley, and Jamal Adams makes the Jets an imposing defense up the middle.
4. DE Clelin Ferrell | Oakland Raiders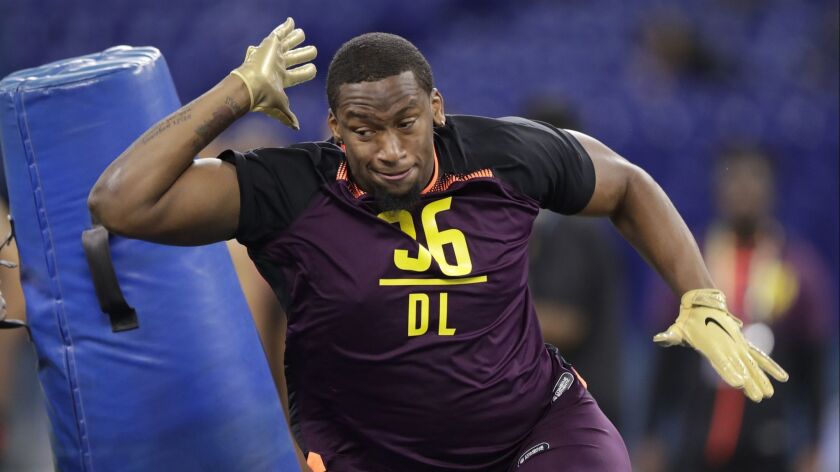 A key component to Clemson's second national championship in three years, Ferrell had 55 tackles last season and career highs in sacks (11½), tackles for loss (20), and three forced fumbles.
Farmer's take: Taken earlier than most people thought. Raiders had just 13 sacks last season and need to get after the QB. One winning season in last 16.
5. LB Devin White | Tampa Bay Buccaneers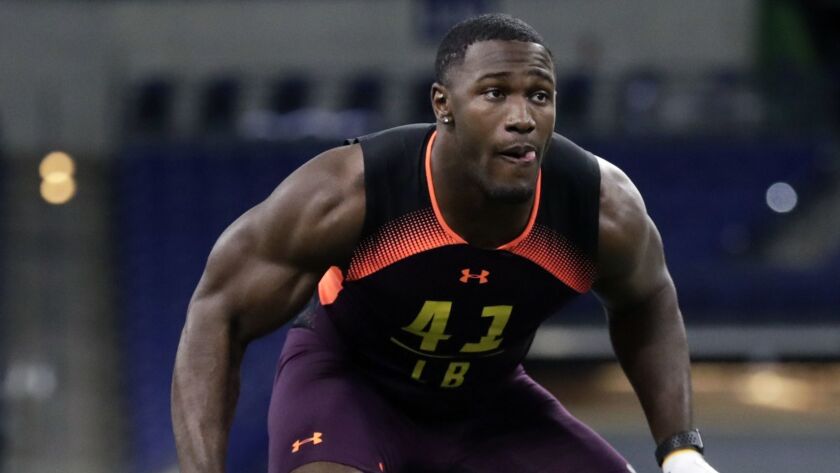 Winner of the Butkus Award as college football's top linebacker, White was probably the best at his position the past two seasons. A huge hitter, he broke up six passes last season and forced three fumbles.
Farmer's take: Tampa Bay lost Kwon Alexander to San Francisco, so the Bucs picked up another three-down, sideline-to-sideline defensive quarterback from Louisiana State.
6. QB Daniel Jones | New York Giants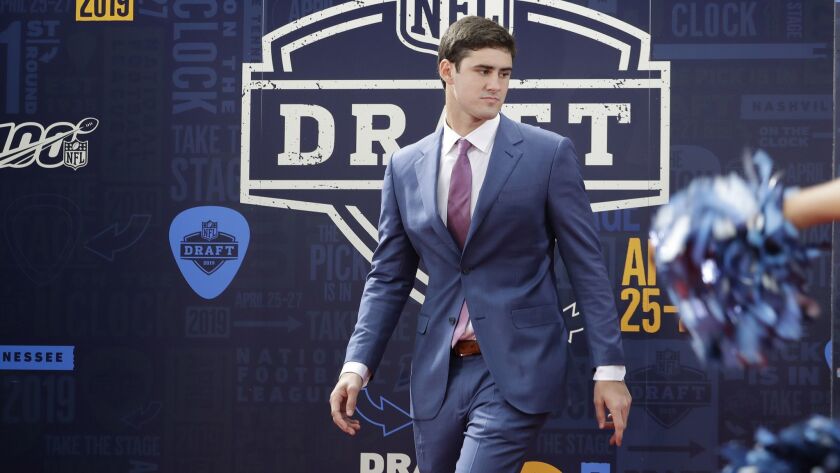 Coached by David Cutcliffe, who also coached Peyton and Eli Manning. Not just a drop-back quarterback, Jones is an athlete who can run and even had five punts in college.
Farmer's take: The Giants weren't going to wait around for their eventual Eli Manning replacement. Had New York waited, Washington could have picked the QB first at No. 15.
7. LB Josh Allen | Jacksonville Jaguars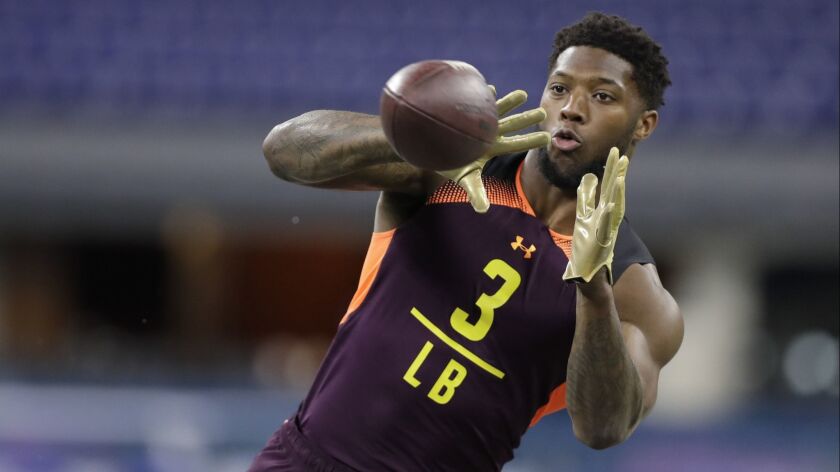 Josh Allen won the Nagurski, Bednarik and Lott IMPACT awards as the nation's top defender. Had 17 sacks, 21.5 tackles for loss and five forced fumbles last year.
Farmer's take: Allen slips a bit in the draft and the Jaguars pounce, even though they badly need an offensive tackle. Eleventh time in 12 years Jacksonville drafts in the top 10.
8. TE T.J. Hockenson | Detroit Lions
Last season's John Mackey Award winner as the top tight end in the nation, Hockenson had 49 catches for 760 yards and six touchdowns. He might be even better as a blocker. A rare find.
Farmer's take: With all the Patriots-trained brass, Gronk Lite is a natural pick. Hockenson said he couldn't block when he got to college. Then he packed on 30 pounds and voila.
9. DT Ed Oliver | Buffalo Bills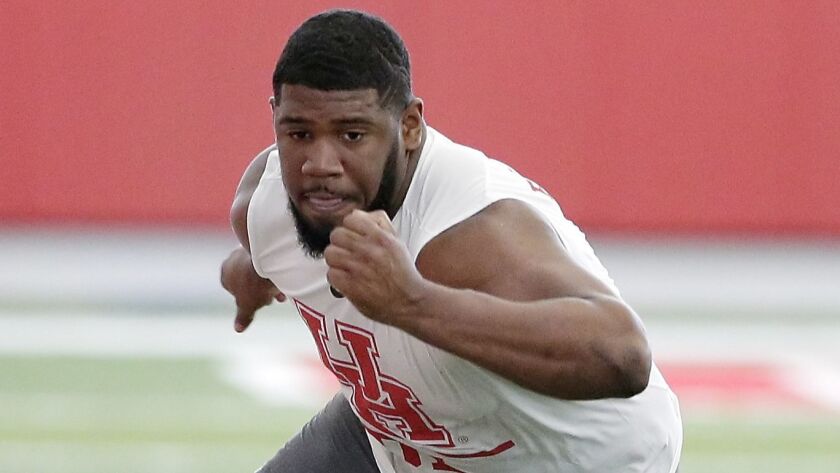 Oliver stayed at home for college and racked up 53 tackles for loss during his career. While it isn't fair to compare him to Defensive Player of the Year Aaron Donald of the Rams, Oliver has his same compact, muscular build and has a reminiscent style.
Farmer's take: The Bills mulled moving up for a defensive tackle, yet they didn't have to budge to get their guy. Huge, with Kyle Williams retiring.
10. LB Devin Bush | Pittsburgh Steelers (pick acquired via trade with the Denver Broncos)
Slightly undersized at 5-11, Bush was a disruptive force for the Wolverines. His father, Devin Sr., played at Florida State and played eight seasons as an NFL safety.
Farmer's take: Since losing inside anchor Ryan Shazier, the Steelers have been looking for their man in the middle. John Harbaugh to brother Jim: Gee, thanks.
11. OL Jonah Williams | Cincinnati Bengals
Agile and uncommonly quick-footed for a 6-5, 301-pound man, Williams switched from right to left tackle after his freshman year.
Farmer's take: Andy Dalton could have gotten blindsided by Cincinnati taking a quarterback. Instead, the Bengals have his back -- for the time being.
12. DE Rashan Gary | Green Bay Packers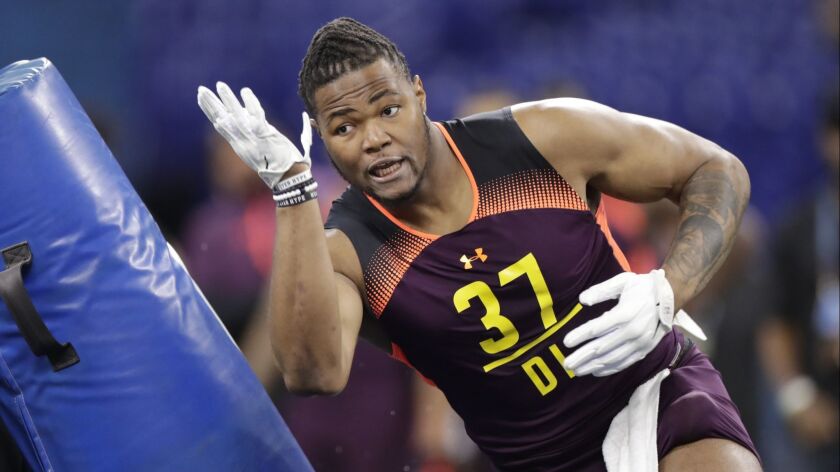 Rashan Gary was frequently double- and triple-teamed in college, and that was reflected in his modest numbers. He had 9½ career sacks.
Farmer's take: The Packers were tied for 29th in the league in sacks last season. Defensive coordinator Mike Pettine looking to retool a defense that finished 22nd in points allowed.
13. DT Christian Wilkins | Miami Dolphins
Although he's built like a classic nose guard at 6-3, 300 pounds, Wilkins can and has played all over the defensive line. He never missed a game at Clemson and was an Academic All-America selection.
Farmer's take: D-line coach of the Dolphins also coached Wilkins at Clemson. First three AFC East teams pick defensive tackles. Greetings, Tom Brady.
14. G Chris Lindstrom | Atlanta Falcons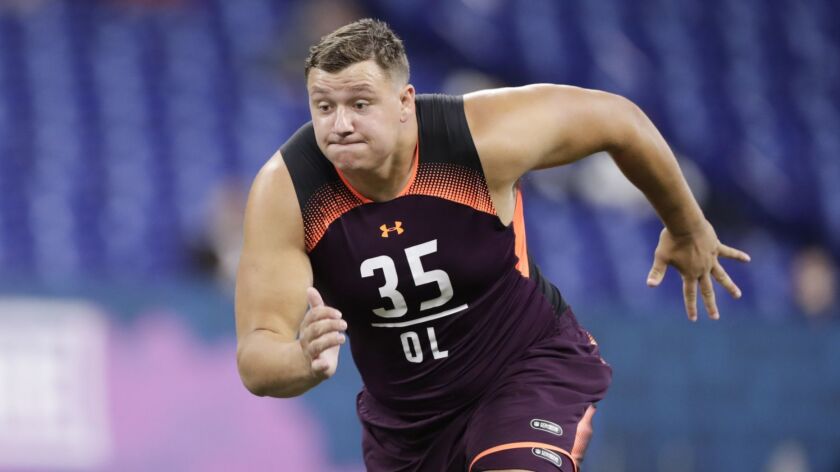 Chris Lindstrom started his final 48 games in college. He played both tackle and guard, but figures to be a guard in the NFL.
Farmer's take: Falcons signed free-agent guards James Carpenter and Jamon Brown, but clearly they didn't feel as if they had enough at the position.
15. QB Dwayne Haskins | Washington Redskins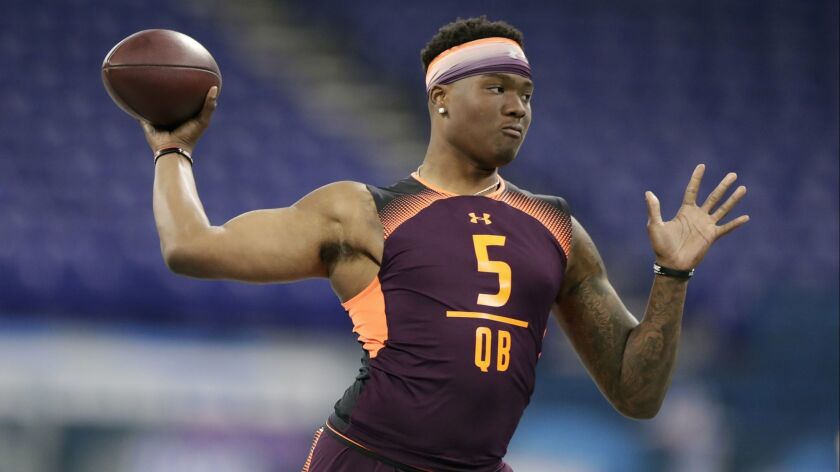 Dwayne Haskins, who led the Buckeyes to victory in the Rose Bowl, broke the Big Ten records held by Drew Brees, with 4,831 yards passing and 50 touchdowns.
Farmer's take: After lots of talk about the Redskins trading up for their Alex Smith replacement, they stay put and take a standout who played high school football in Maryland.
16. LB Brian Burns | Carolina Panthers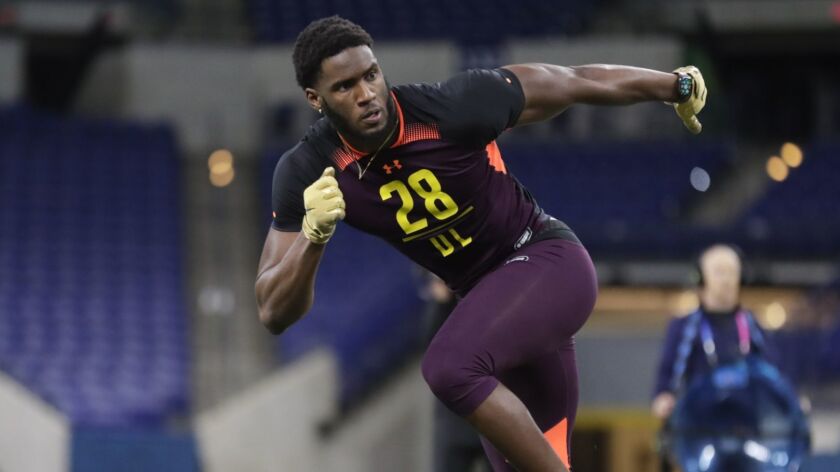 In 33 career games, Burns had 24 sacks and forced seven fumbles. Had 9½ sacks in his first season, the most by a Florida State freshman since 1977.
Farmer's take: With the retirement of defensive leader Julius Peppers, the Panthers need someone who can scream around the edge and get to the quarterback.
17. DT Dexter Lawrence | New York Giants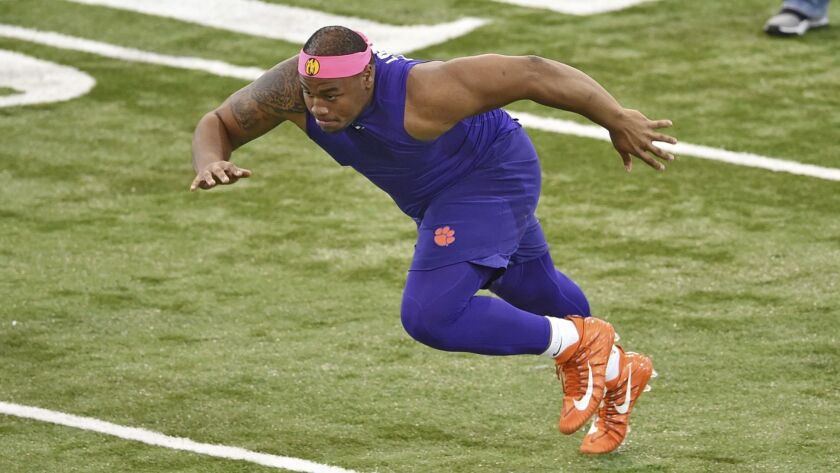 Lawrence is a gigantic run stuffer at 6-4 and 340 pounds. He had one pass knockdown in his first two seasons, but three last season. He blocked two kicks in college. Tested positive for a performance-enhancing substance while at Clemson.
Farmer's take: Three defensive linemen from the same school are selected in the first round, a tribute to Clemson. The Giants saved the biggest for last: he weighs 342 pounds.
18. C Garret Bradbury | Minnesota Vikings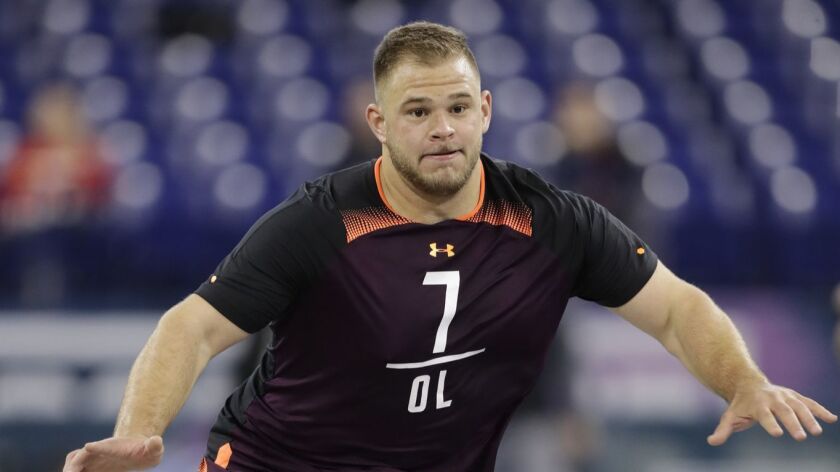 Bradbury won the Rimington Award as the nation's top center. He was recruited as a high school tight end, but quickly warmed up to snapping the football.
Farmer's take: By picking up the best center in the draft, the Vikings cleared the way to move Pat Elflein back to guard. Protection for big-money quarterback Kirk Cousins.
19. DT Jeffery Simmons | Tennessee Titans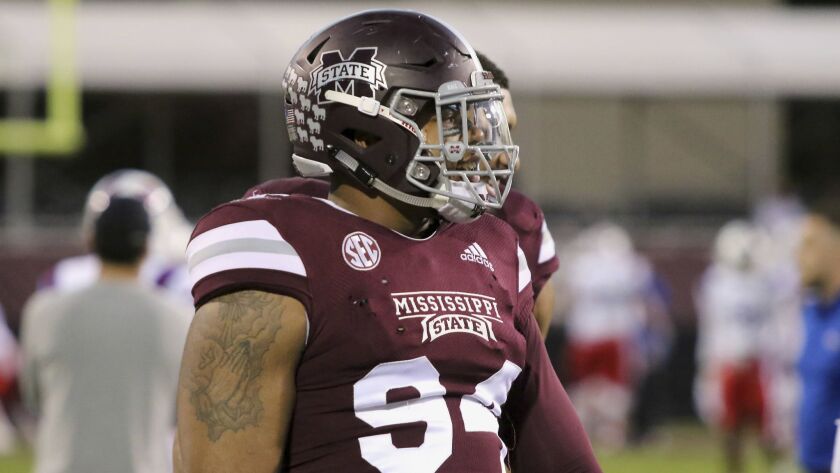 Convicted of assault in 2016 and therefore was not invited to this year's scouting combine. He suffered a torn ACL while training for the draft, although teams believe the type of tear he suffered lends itself to a full recovery.
Farmer's take: Another defensive tackle goes, even though the Titans need lots of help on offense. Torn ACL, checkered past, lead to Simmons slipping to No. 19.
20. TE Noah Fant | Denver Broncos (pick acquired via trade with the Pittsburgh Steelers)
He's not as good a blocker as teammate T.J. Hockenson, but Fant is an outstanding receiver. He has a 40-inch vertical leap and scored 18 touchdowns during the past two seasons.
Farmer's take: Broncos have three TEs coming off injuries from last season: Jake Butt, Jeff Heuerman and Troy Fumagalli. Fant is an outstanding receiver.
21. DB Darnell Savage | Green Bay Packers (acquired via trade with the Seattle Seahawks)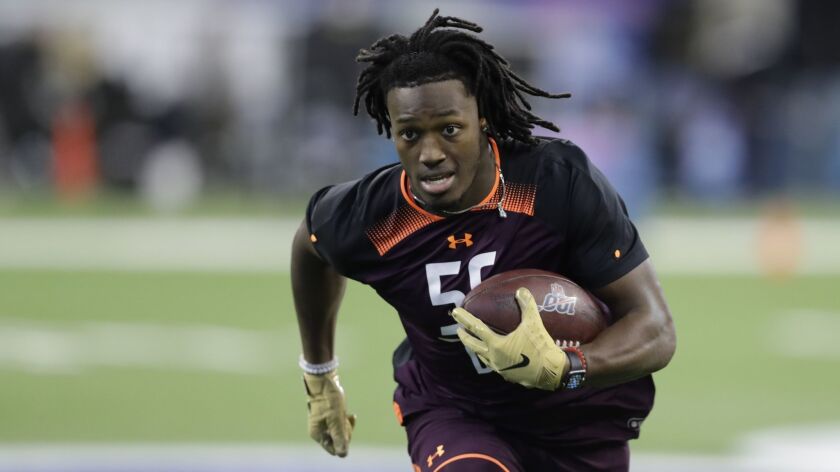 Savage was a defensive standout for Maryland, finishing fourth in total tackles and showcasing a level of speed and athleticism that makes him one of the top safeties in the draft. A four-year starter, Savage had a career-high four interceptions and 5½ tackles for loss last season.
Farmer's take: Packers give up two fourths to move up nine spots and get a burner who runs a sub-4.4-second 40-yard dash. Green Bay's safety spot is open next to Adrian Amos.
22. OT Andre Dillard | Philadelphia Eagles (acquired via trade with Baltimore Ravens)
Even though he didn't start playing football until eighth grade, Dillard rounded into an extremely reliable tackle, starting 39 games in a row since the beginning of his sophomore season.
Farmer's take: Dillard might be the best tackle in this draft class, and a guy who can protect the blind side of Carson Wentz when Jason Peters is gone.
23. OT Tytus Howard | Houston Texans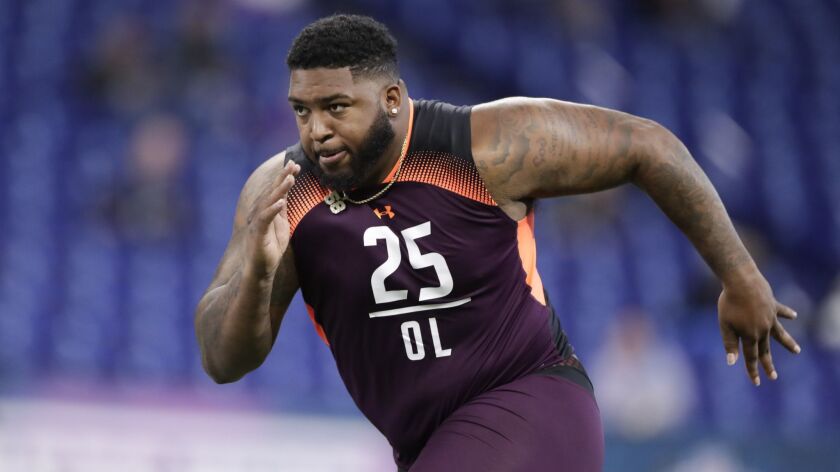 Tytus Howard, who played quarterback and tight end in high school, was a big, dominating presence on the offensive line for Alabama State. He should help stabilize an offensive line that struggled to protect Deshaun Watson at times last season.
Farmer's take: Watson was sacked an NFL-high 62 times last season, and he suffered broken ribs and a partially collapsed lung. Can a guy get some protection over here?
24. RB Josh Jacobs | Oakland Raiders
Josh Jacobs is compact at 5-foot-9, but he's not necessarily a power back. He's more multi-purpose than that, with his ability to catch balls out of the backfield and line up at receiver.
Farmer's take: Now that Marshawn Lynch has retired, the Raiders have a running back who can line up all over – in the backfield and split out wide.
25. WR Marquise Brown | Baltimore Ravens (pick acquired via trade with the Philadelphia Eagles)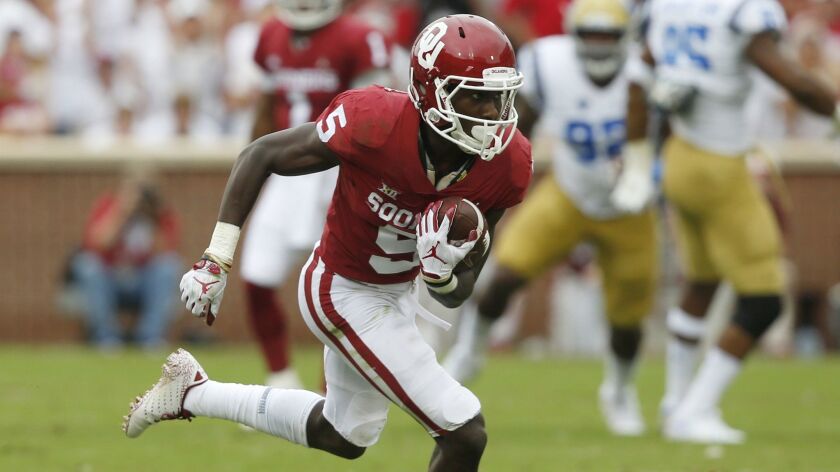 The blistering-fast Brown started his college career at College of the Canyons in Santa Clarita before two stellar seasons at Oklahoma, where he had 2,413 yards receiving and reeled in 17 touchdown catches.
Farmer's take: Cousin of former Raiders star wide receiver Antonio Brown, "Hollywood" is a new stretch-the-field burner for fleet-footed quarterback Lamar Jackson.
26. DE Montez Sweat | Washington Redskins (pick acquired via the Indianapolis Colts)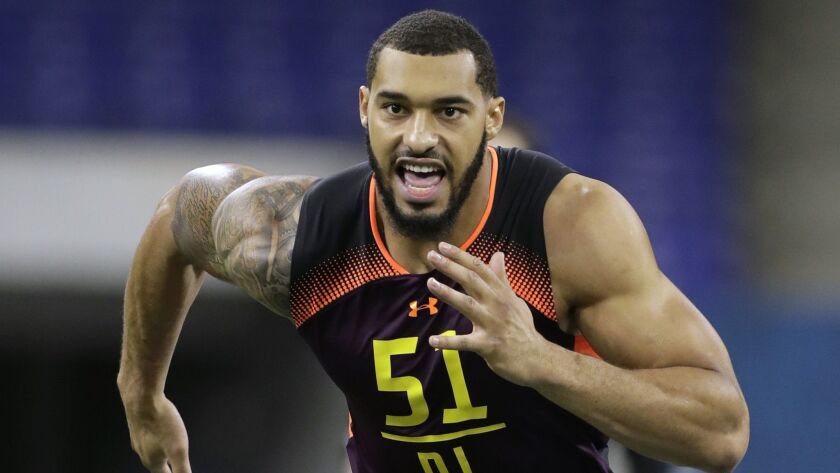 Montez Sweat, a two-time All-SEC selection, had 12 sacks and 14½ tackles for loss last season. A heart condition detected in February at the scouting combine created concerns among teams.
Farmer's take: Amazing athleticism and speed, but Montez Sweat dropped in the draft because of concerns over a heart issue. Raiders were poised to take him.
27. S Johnathan Abram | Oakland Raiders
Johnathan Abram's nose for the football makes him a potentially valuable addition for the Raiders' secondary.
Farmer's take: The Raiders picked up 5-foot-8 Lamarcus Joyner in free agency and now get a huge hitter in the likewise undersized Abram, just three inches taller.
28. DT Jerry Tillery | Los Angeles Chargers
Built like a massive NBA power forward at 6-foot-7 and 305 pounds. Jerry Tillery as caught on camera stepping on the leg of one USC player and kicking another in the head during a game in 2016.
Farmer's take: At nearly 6-foot-7, Tillery is a skyscraper in the middle who can make life hard on quarterbacks. He's a scary complement to bookend rushers Joey Bosa and Melvin Ingram.
29. DE L.J. Collier | Seattle Seahawks (acquired via trade with the Kansas City Chiefs)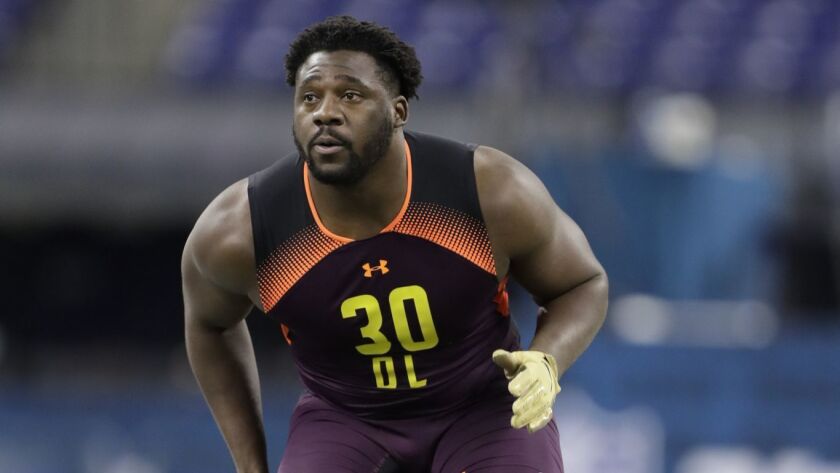 L.J. Collier's athleticism and knack for tackling made him a defensive menace at Texas Christian.
Farmer's take: The Seahawks traded Frank Clark – who led the team with 13 sacks last season -- and needed to pick up the slack. Collier switched from DT last season.
30. CB Deandre Baker | New York Giants (acquired via a trade with the Seattle Seahawks)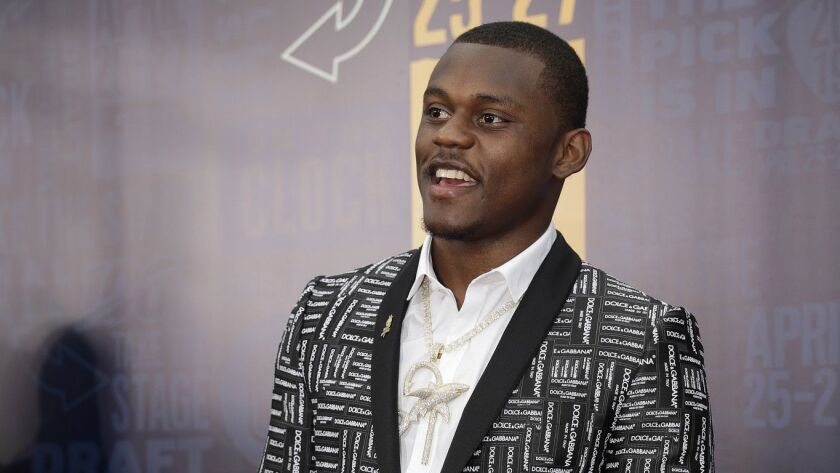 A three-year starter, Baker is at his best in man-to-man coverage. He's an aggressive tackler who is solid in the running game.
Farmer's take: First cornerback selected, and first time the Giants have ever had three first-round selections. They needed a blanket in man coverage.
31. OT Kaleb McGary | Atlanta Falcons (pick acquired via trade with the Rams)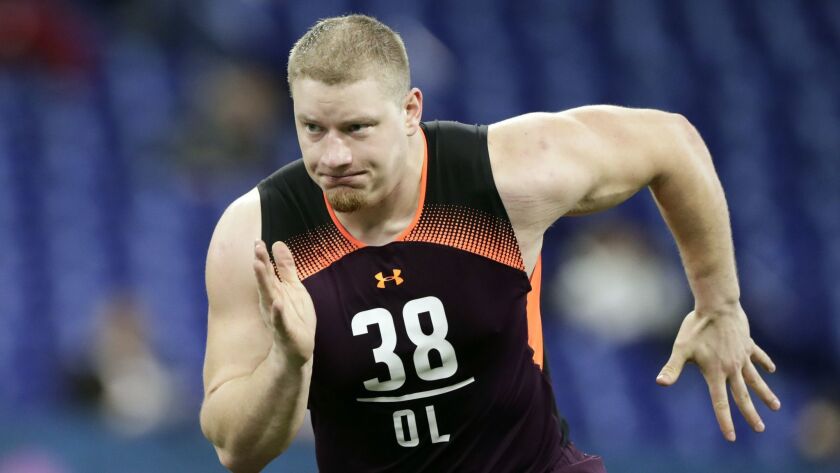 A onetime defensive lineman, the 6-foot-7 Kaleb McGary wound up winning the Morris Trophy as the top offensive lineman in the Pac-12.
Farmer's take: More rebuilding of the offensive line, and the Falcons had to trade back into the round to get McGary. General manager Thomas Dimitroff loves to trade.
32. WR N'Keal Harry | New England Patriots
N'Keal Harry led the Sun Devils in receiving touchdowns each of his three seasons; he finished with 22. Lauded for his route running, the 6-foot-3 Harry is also big and physical enough to win 50/50 balls.
Farmer's take: Julian Edelman will be 33 when the season starts. The Patriots needed another physical receiver who can go up and snare Tom Brady's passes.
Follow Sam Farmer on Twitter @LATimesfarmer
---