San Diego is ready to recharge efforts to keep its NFL team
There was no doom or gloom among San Diego leaders on the morning after the National Football League gave their city's pro football team permission to move away.
Local politicians instead insisted they can put aside months of acrimonious negotiations and find a way to keep the Chargers in town.
"When you're on death row and you get a little bit of a reprieve, you have to feel optimistic," San Diego County Supervisor Ron Roberts said Wednesday.
The reprieve came with the NFL's vote the night before, when owners rejected a proposal that would have allowed the Chargers and Oakland Raiders to build and share a stadium in Carson.
The league chose a different route, allowing the St. Louis Rams to relocate to L.A., and giving the Chargers a one-year option to work out a deal with the Rams, who plan to build a state-of-the-art venue in Inglewood.
Chargers owner Dean Spanos was noncommittal after the vote, saying: "This has been really excruciating for everyone. … It's very difficult to say right now I'm going to do this or I'm going to do that."
Which was all the opening San Diego's political leadership needed.
"Today is an opportunity for a fresh start," Mayor Kevin Faulconer said at a news conference with city officials. "We owe it to this community to come together on a fair agreement."
The tone stood in contrast to the often acerbic discussions between the sides during the past year.
The city and county had previously offered $350 million in taxpayer money as part of a financing plan to help build a venue on the same site as the Chargers' current home, the aging Qualcomm Stadium. There had also been talk of a hybrid stadium-convention center downtown.
The NFL is coming to Los Angeles
On Now
Video: On the site of the Rams' future stadium complex
On Now
How does an NFL team in LA impact the Coliseum, USC?
On Now
Rams fans celebrate NFL decision to relocate team to L.A.
On Now
Rams to L.A., Chargers have option to join them
On Now
Bill Plaschke's rules for L.A.'s new football team
On Now
One NFL fan's emotional reaction to news of the Rams returning to L.A.
Those negotiations took place in a more uncertain atmosphere — no one knew what the NFL would decide. Now, Faulconer and his colleagues believe they have a better picture of the situation.
The city's chances got an additional boost when the NFL announced Tuesday it would augment its standard $200-million stadium loan with an outright $100-million contribution if the team decides to stay put. If the team were to move, the Chargers would have to give the league $550 million, the same relocation fee the Rams must pay.
While suggesting that Spanos should not expect an increase in public funding, Faulconer made a point of welcoming new ideas.
"If the Chargers want to start over with a different location, we're open to that," the mayor said, adding: "If it's a viable, legal plan."
The Chargers must decide by January 2017. If public financing for a stadium is approved by San Diego voters, the team can seek another year's extension to choose whether to stay or go.
Public approval notwithstanding, there are compelling reasons to covet a larger market with more media and sponsorship possibilities.
Team revenues could double to $300 million annually in Los Angeles, by some estimates. The franchise's value would increase the instant moving vans crossed the Los Angeles County line.
"If a team is worth $1.5 billion in San Diego, it's worth somewhere in the range of $2.5 billion to $3 billion in L.A.," said industry consultant Marc Ganis of Sportscorp Ltd. "That number could get adjusted upward as the revenues kick in."
The switch could also bring risks.
The Rams will arrive in Los Angeles with an established fan base and a cultural identity that dates to the team's tenure in this region from 1946 through 1994.
That could put the Chargers at a disadvantage when it comes to selling tickets and attracting advertising.
"You have to be concerned about coming into a market as the second tenant," said David Carter, executive director of USC's Sports Business Institute. "It boils down to risk and return."
The framework for the Chargers to join the Rams in Inglewood has been in place since last weekend, according to three people with direct knowledge of the situation who were not authorized to speak publicly.
The teams are not currently in discussions but the sides are expected to talk in coming days. It's unknown if Spanos and Rams owner Stan Kroenke can find common ground professionally and personally.
In the mercurial world of professional sports, neither is a given.
"Dealing with owners, it's hard to know what is going through their heads," said David Ely, a finance professor at San Diego State University who has followed the issue. "What is important to them may go beyond numbers."
If no deal is made, the Raiders will have the option to join the Rams.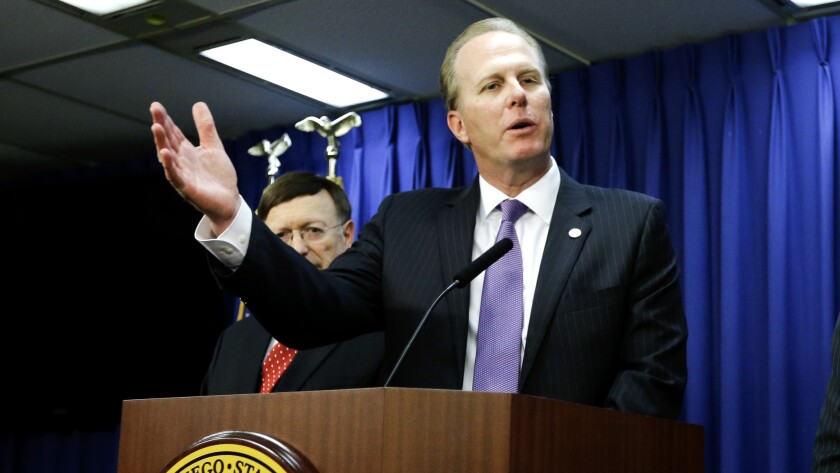 On Wednesday, Oakland officials launched a renewed campaign to keep their team by announcing they would be open to giving the Raiders a "favorable" lease on land for a new stadium.
As for continued negotiations between the Chargers and San Diego, that might have to wait.
After officials unsuccessfully reached out to the team Wednesday, Roberts said he and his colleagues were willing to give Spanos a few days to reflect on the situation.
The clock is ticking. Any deal that involves public money would have to go before voters in June or — more likely — November.
"We have to roll up our sleeves and get busy," Roberts said. "There's a lot of work to be done."
RELATED:
Rams owner Stan Kroenke gives details on getting deal done
Bill Plaschke: The big, bad NFL will have to play by L.A.'s rules
Poll: Where should the Los Angeles Rams play until their stadium is built?
Follow David Wharton on Twitter: @LATimesWharton
Staff writer Sam Farmer contributed to this report.
---
Get our high school sports newsletter
Prep Rally is devoted to the SoCal high school sports experience, bringing you scores, stories and a behind-the-scenes look at what makes prep sports so popular.
You may occasionally receive promotional content from the Los Angeles Times.