Column: The big, bad NFL will have to play by L.A.'s rules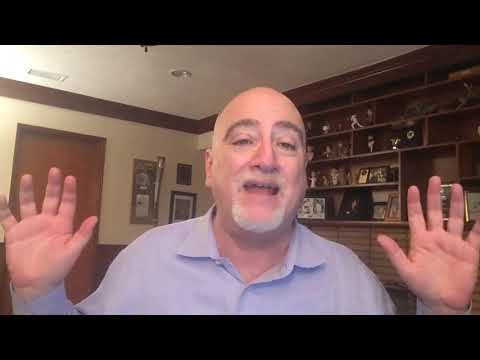 L.A. Times sports columnist Bill Plaschke is excited about the NFL team coming to Los Angeles, but he also wants the football folks to know a thing or two.
Welcome back, NFL. Welcome home, Rams. Welcome, maybe, Chargers.
Now get to work, all of you.
Certainly, it's worth celebrating Tuesday's vote by the NFL owners to approve the return of this country's national pastime to Los Angeles after a 21-year absence.
See the most-popular stories in Sports this hour>>
It's perfect that the first team back will be the Rams, our first professional champion, our first love.
It's interesting that the Chargers, born here, have the approval to possibly become a second team in the proposed Inglewood sports palace.
But, dear football folks, this town doesn't throw parades for just showing up.
The sports landscape around here has changed dramatically in the last two decades, and there are some things you should know.
First, we didn't ask you to come back. Oh, we may have whined occasionally during Super Bowl weeks, but we didn't hold giant rallies or send emotional letters or really miss you that much. We play fantasy football, we watch DirecTV, we drive to Las Vegas for a three-team parlay. We've had our fill of the NFL without actually having a team.
Live football? We've fallen in love all over again with the pro-style programs at USC and UCLA, just check attendance figures.
Sundays? We've done just fine watching the Dodgers on Sunday afternoons in the fall and the Lakers on Sunday nights in the winter.
Where will L.A.'s NFL team's play while a new stadium in built?
Second, we're not paying for you to come back. Every place else you've gone, the grateful locals have slipped you a few bucks to show up, but not here, not even close, which is probably why it took 21 years for you to return.
We didn't pry open civic pocketbooks or agree to any special taxes like some of those other smaller towns. We're sophisticated enough to understand that you're not a hospital or firehouse, that billionaires shouldn't need handouts to bankroll their pigskin parties.
So understand first that you're here because you want to be here and because you think you can make money here, not because anybody was dying to see you again. Consider yourself lucky to be back on our turf. And while you're here, you'll have to play by our three simple rules:
You must win. You must entertain. You must do both with the sort of decency and integrity that makes us feel comfortable enduring long lines of traffic, long lines at bathrooms, and mosh pits in parking lots for a chance to watch you play.
We've done that at Dodger Stadium and the Rose Bowl and the Coliseum, and we'll do that for you. But you have to earn it.
You must learn from Frank McCourt. The former Dodgers owner tried to cheat us and we ran him out of town.
Rams fans rally at Hollywood Park on Jan. 12 to celebrate the NFL's decision to allow the Rams to relocate to Inglewood from St. Louis.
(Robert Gauthier / Los Angeles Times)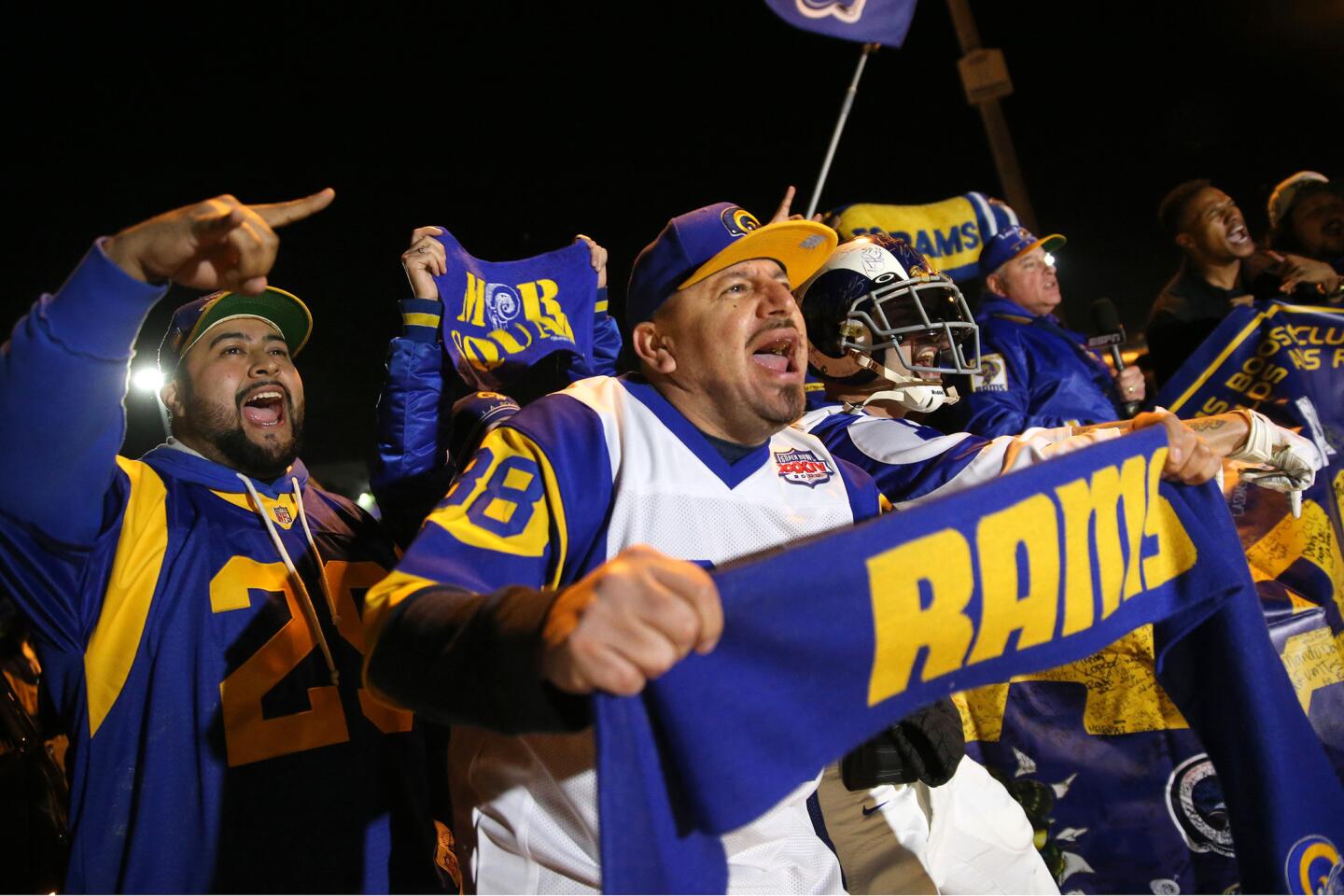 Alfredo Prieto, center, joins dozens of other Rams fans at Hollywood Park on Jan. 12 to celebrate the team's homecoming.
(Robert Gauthier / Los Angeles Times)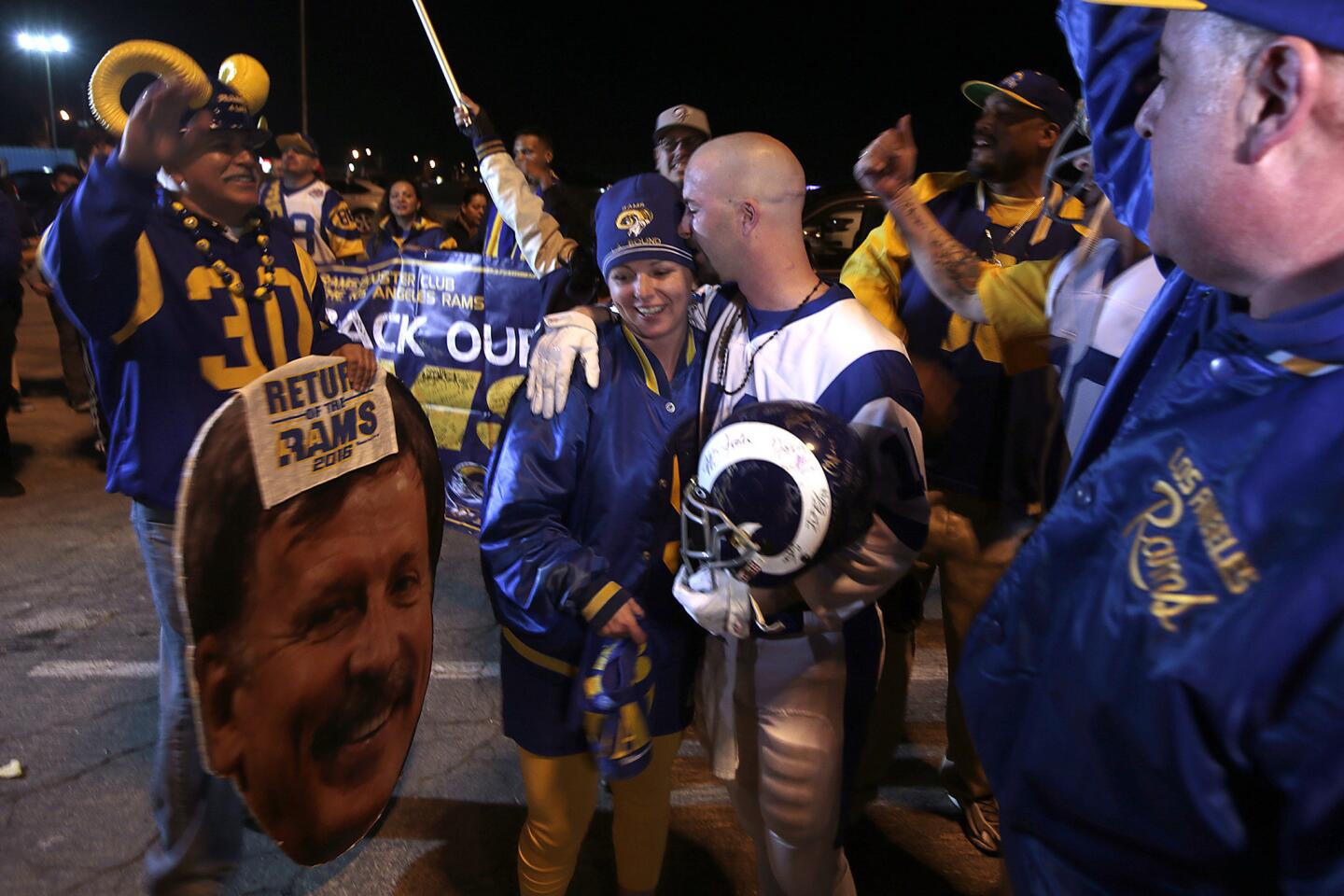 Mike "Rockstar Ram" Griffin kisses his fiancee Kerri Williams as fans celebrate the return of the Rams at Hollywood Park on Jan. 12.
(Robert Gauthier / Los Angeles Times)
Rams fans rally at Hollywood Park on Jan. 12 to celebrate the NFL's decision to allow the Rams to relocate to Inglewood from St. Louis.
(Robert Gauthier / Los Angeles Times)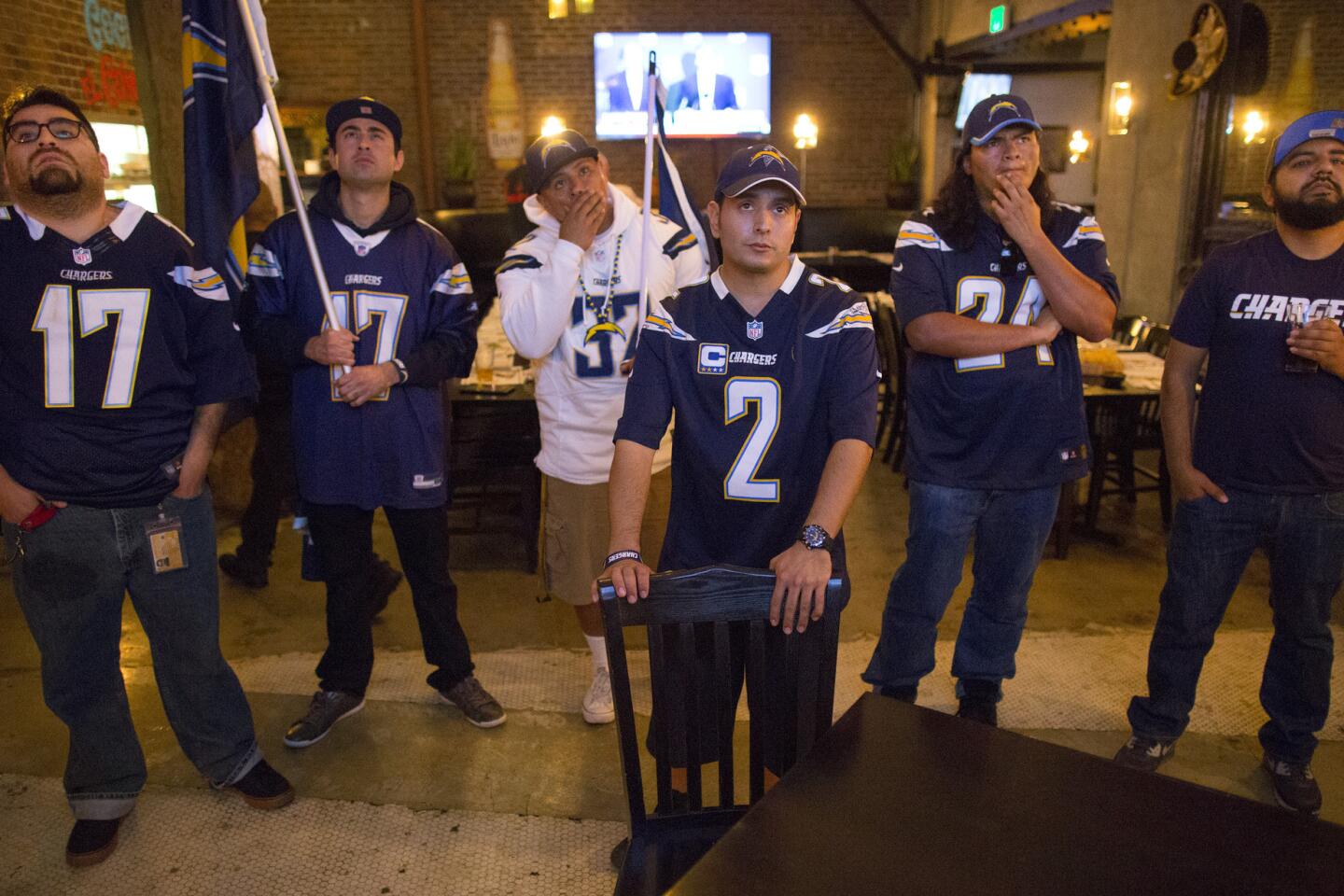 Los Angeles fans of the San Diego Chargers -- from left, Jorge Ponce, Angel Moreno, Erik Palacios, Micah Farias, Daniel Chavez and Arturo Hernandez -- react to news from the NFL owners meeting during a meet-up at El Compadre restaurant in L.A. on Jan. 12.
(Brian van der Brug / Los Angeles Times)
St. Louis Rams owner Stan Kroenke talks to reporters after NFL team owners, meeting in Houston, voted Jan. 12 to allow the Rams to move to a new stadium in Inglewood.
(Pat Sullivan / Associated Press)
NFL Commissioner Roger Goodell, left, laughs as Oakland Raiders owner Mark Davis talks to reporters after the NFL owners meeting in Houston on Jan. 12.
(Pat Sullivan / Associated Press)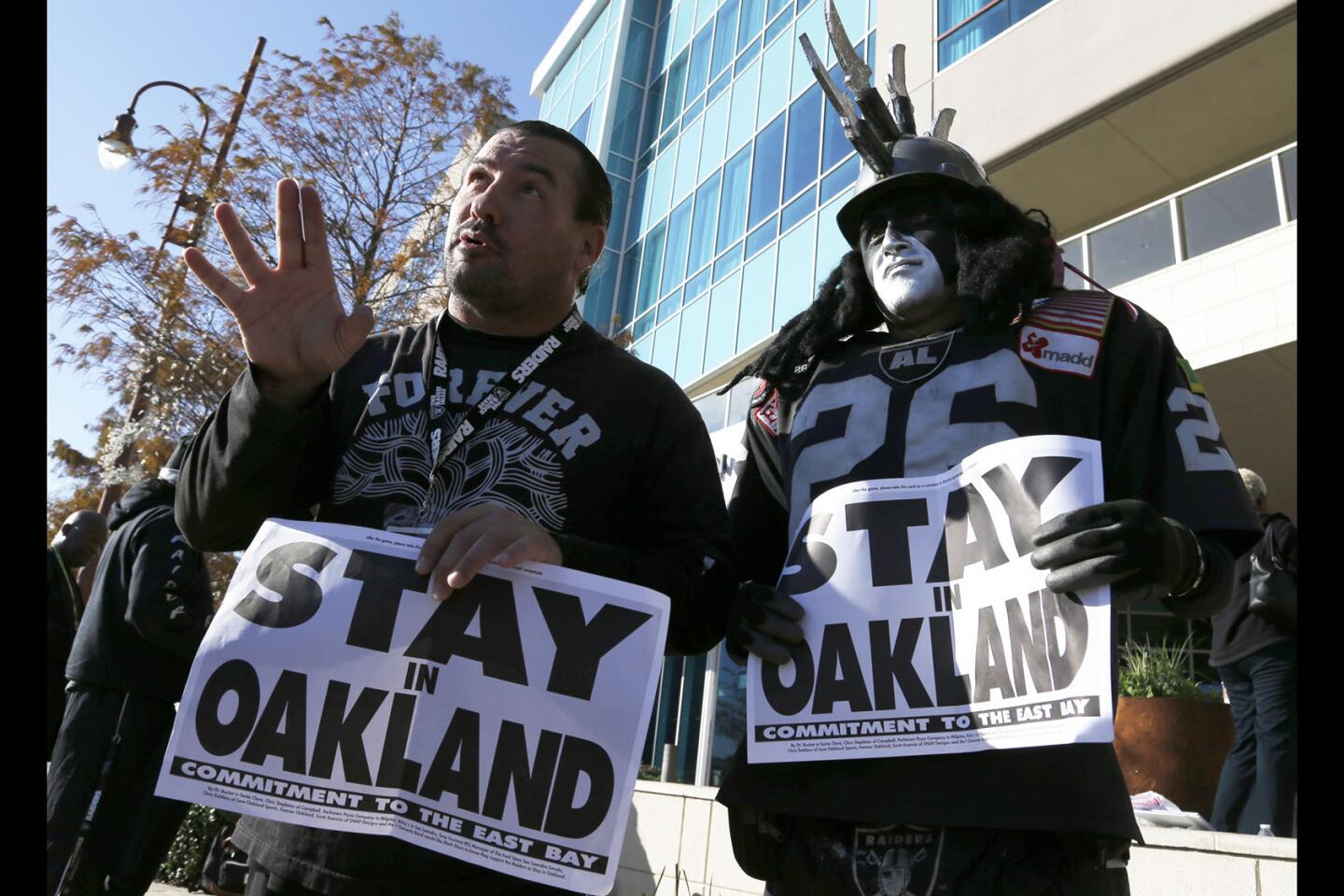 Oakland Raiders fans Griz Jones, left, and Ray Perez make their case for keeping the NFL team in Oakland with a Jan. 12 demonstration outside the hotel where NFL owners are meeting in Houston.
(Pat Sullivan / Associated Press)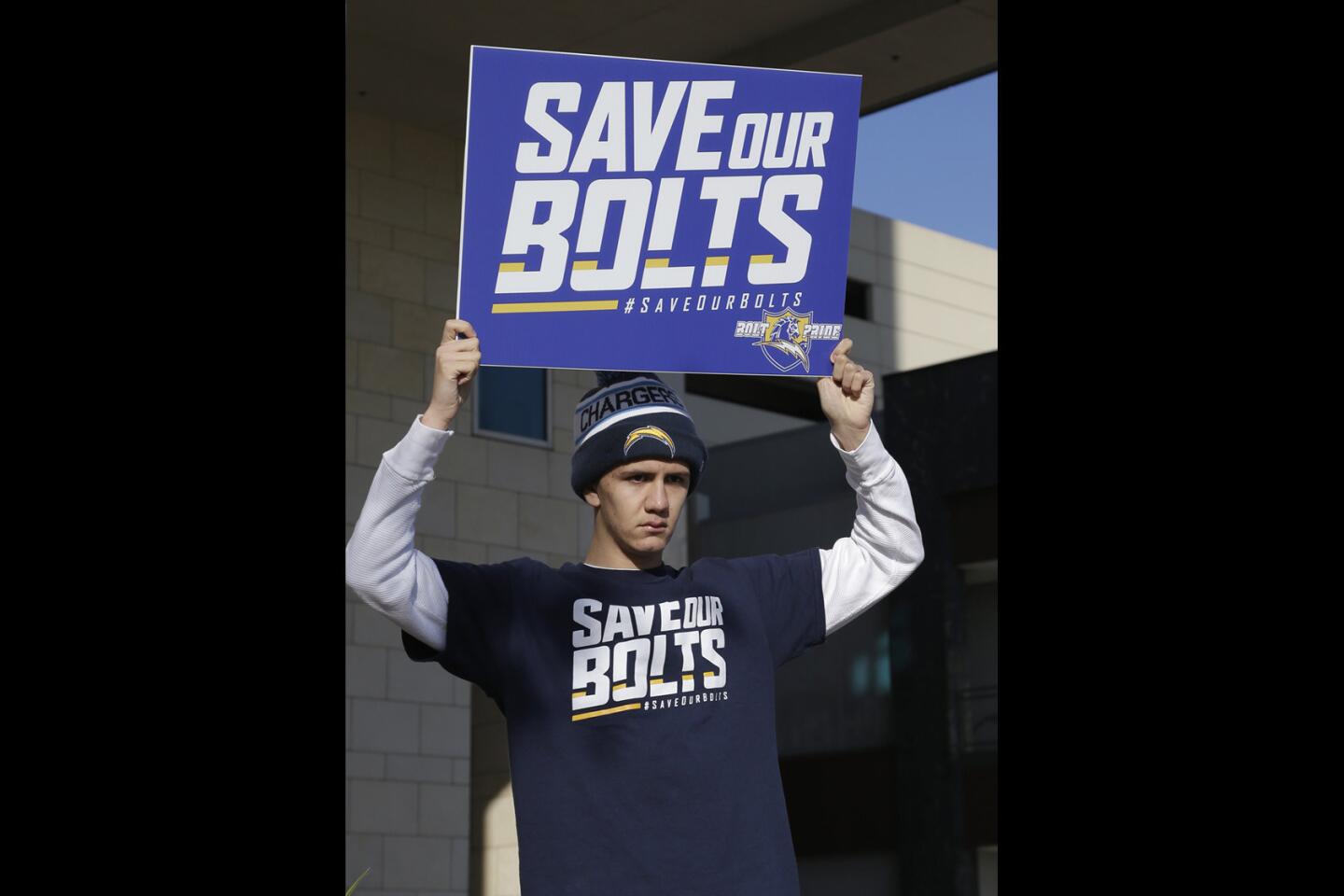 Chargers fan Richard Farley shows his feelings about keeping the team in San Diego, holding a sign outside the hotel where NFL owners are meeting in Houston on Jan. 12.
(Pat Sullivan / Associated Press)
You must learn from Donald Sterling. The former Clippers owner embarrassed us so we ignored him for years, until the NBA finally ran him out of town.
The NFL has made plenty of money off a tribal mentality among its fans, but we don't think like that. Sports is not our obligation, it's our entertainment, and when the fun stops, we stop showing up. You lose, we're gone. You take us for granted, we're gone.
We don't owe you cheers — even Kobe Bryant has been booed here. We don't owe you unconditional love — even with three consecutive division titles, the Dodgers brand has been splintered by an ownership group that refuses to fix a contact that has left more than half their fans unable to watch on television.
Watching the NFL march back through our door is like watching the return of a quiet, beloved relative who left home to become rich and famous. Now that he's back and wants everyone to join his party, well, hmmm.
When the Rams left town, they were viewed as a sweet neighborhood operation whose players weren't too proud to participate in an infamously corny music video — "Let's Ram It!" — and whose most ardent fans wore watermelons on their heads. But these Rams are coming back as an ATM for the reticent Stan Kroenke, and are a team that hasn't made the playoffs in 11 years.
The Rams' evolution has mirrored that of its league. The NFL has become the biggest and coldest of businesses, run by owners who have trivialized domestic abuse, covered up the effect of concussions, and mishandled legitimate cheating allegations against its most celebrated player, all in the last couple of seasons.
But there is much potential here, because the NFL is also about community. Just ask those purple-bundled fans sitting in below-zero temperatures in Minnesota last weekend, or the roaring sea of orange that can be found in Denver this weekend, or the thousands of screaming "12s" who show up all season in Seattle.
The NFL has become a shared experience like none other in sports, with a unique ability to connect even the most diverse neighborhoods in a weekly experience that for its most ardent fans has become sacred habit. Because it is as powerful on television as it is in person, because it owns every Sunday between September and February, and because its players represent helmeted superheroes unlike those found in any other league, the NFL owns the sports landscape in nearly every community it exists.
At least, everywhere else. And maybe here one day. But it's not going to be easy.
The Rams and Chargers can't just untie a bag of footballs, roll them across the Coliseum floor, and expect everyone to bow and pay $150 for the privilege.
The Lakers and Dodgers run this joint, and college football teams are giants, and nobody wins like the Kings, and nobody has more drama than the Clippers, and in 21 years Los Angeles has become arguably the nation's most interesting sports town — without the national pastime's help.
Welcome back, NFL. Now make us glad we missed you.
FROM THE ARCHIVES: Remembering when the Rams left
Ram fans kept the faith while team lost it
She's St. Louis' misery, and it can have her
Follow Bill Plasckhe on Twitter @billplaschke
Get our high school sports newsletter
Prep Rally is devoted to the SoCal high school sports experience, bringing you scores, stories and a behind-the-scenes look at what makes prep sports so popular.
You may occasionally receive promotional content from the Los Angeles Times.