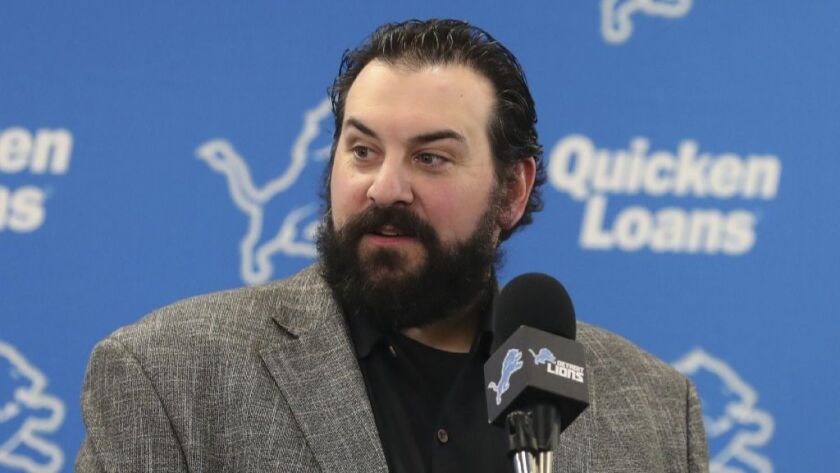 Detroit Lions coach Matt Patricia maintained his innocence and his new team said it supported him after a 1996 sexual assault allegation resurfaced Wednesday.
The Detroit News reported that Patricia and a friend were indicted 22 years ago by a Texas grand jury on one count each of aggravated sexual assault for an alleged incident involving a woman on South Padre Island. The accuser did not testify and the case was dismissed 10 months later.
"As someone who was falsely accused of this very serious charge over 22 years ago, and never given the opportunity to defend myself and clear my name, I find it incredibly unfair, disappointing, and frustrating that this story would resurface now with the only purpose being to damage my character and reputation," Patricia said in a statement issued by the Lions. "I firmly maintain my innocence, as I have always done."
Patricia held a brief news conference Thursday. Owner Martha Firestone Ford, general manager Bob Quinn and president Rod Wood were in attendance but did not speak.
An NFL spokesman said the league would review the matter with the team.
Patricia was an assistant coach under Bill Belichick with the New England Patriots from 2004-17. Belichick released a statement in favor of Patricia on Thursday:
"The New England Patriots were not aware of the matter which recently came to light. For 14 years in our organization, Matt conducted himself with great integrity and is known to be an outstanding coach, person and family man. We have always been confident in Matt's character and recommeneded him highly to become the head ocacoh of the Detroit Lions."
Etc.
Representatives for Mark Ingram say the New Orleans Saints running back did not test positive for a performance-enhancing drug and is weighing options for challenging his four-game suspension.
---
UPDATES:
May 10, 10:20 a.m.: This article was updated after Patricia's news conference.
May 10, noon: This article was updated with a statement from Bill Belichick.
This article was originally posted May 9 at 7:55 p.m.
---