NFL: Houston Texans founder and owner McNair dies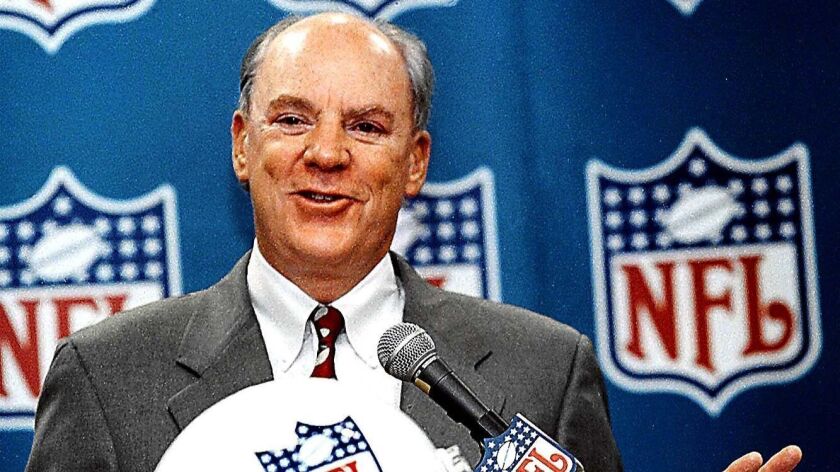 Robert "Bob" McNair, billionaire founder and owner of the Houston Texans, has died. He was 81.
One of the NFL's most influential owners, McNair had battled both leukemia and squamous cell carcinoma in recent years before dying in Houston on Friday. The team did not immediately release a cause of death, but says he died peacefully with his wife Janice and his family by his side.
When Houston lost the Oilers to Tennessee after the 1996 season, McNair made it his mission to return the NFL to the city. He formed Houston NFL Holdings in 1998, and on Oct. 6, 1999 he was awarded the 32nd NFL franchise.
The Texans began play in 2002. After several difficult building years as an expansion team, they won their first AFC South title and first playoff berth in 2011. They also won the division title a year later when they went a franchise-best 12-4. Both years they lost in the divisional round of the playoffs.
Baldwin will be game-time decison
Seattle Seahawks wide receiver Doug Baldwin will be a game-time decision for Sunday's matchup with the Carolina Panthers.
Baldwin had the groin issue surface on Tuesday as the team returned to practice after their weekend break following last week's Thursday night win over the Green Bay Packers. He has been listed on the injury report with a groin injury at other times this season, with the last instance two weeks ago.
"We're going to work him out in pregame and make sure that he's OK. We've got him as questionable right now," coach Pete Carroll said Friday.
Carroll had said on Tuesday that Baldwin was feeling the best he had all season after knee injuries in training camp and opening week kept him from being 100 percent most of the first half of the schedule.
"I'm not going to say that again," Carroll said with a chuckle.
Linebacker K.J. Wright has officially been ruled out due to a knee injury. It will be the eighth game he's missed this season because of the knee, which required surgery in late August and kept him sidelined the first six games.
"We're going to keep working on it," Carroll said. "There's a couple things that we're going to do. It will probably take him another week."
Running back J.D. McKissic had a good first week of practice after being designated to return from injured reserve. A foot injury late in training camp forced McKissic to be held out the first 11 weeks of the season. Despite the progress, Carroll said they would not activate McKissic for this week's game in Carolina.
"It just doesn't make sense for us to try to do it in one week's time," Carroll said. "We'll go next week and take a look at him again and anticipate that he's going to be in pretty good shape and pretty close to going the next week. We'll wait and see, but he looked terrific."
The Seahawks aren't in any hurry — they have four healthy running backs on their roster, and three that have posted 100-yard rushing games already this season.
Cornerback Neiko Thorpe is set to return after missing the last four games with a groin injury. Defensive end Dion Jordan is also back after sitting out the Packers game on a short week as the team tries to manage his knee issues.
Mariota practices
Tennessee Titans quarterback Marcus Mariota fully participated in Friday's practice and is expected to start Monday night's road game against the AFC South-leading Houston Texans.
Mariota suffered a stinger Sunday in a 38-10 loss at Indianapolis and didn't play in the second half of that game. He was limited in Wednesday and Thursday's work but got the green light from head coach Mike Vrabel on Friday to start, barring an unforeseen setback.
"He felt better," Vrabel said. "We've got to keep working. He looked good today, but that's why you practice. You try to always improve and get better and fix the things you didn't have right. He was not limited."
Mariota missed the first meeting between the Titans and Texans on Sept. 16 in Nashville. The Titans won that game 20-17 with backup quarterback Blaine Gabbert under center and with the help of a fake punt touchdown.
While Mariota was a full participant on Friday, defensive coordinator Dean Pees was absent from the afternoon practice.
Pees spent Sunday night in an Indianapolis hospital due to a medical issue. Pees returned to practice Wednesday and Thursday, but Vrabel wanted him to rest on Friday and excused him from practice.
"Dean was tired today, and I asked him to go home," Vrabel said. "I wanted him to get some rest. I'm trying to get Dean to Monday night, just like I am all the players. The plan was simply, `Hey, Dean, why do you go get some rest? Why don't you go get some sleep?' That's what I felt like was best to try to get him to the game."
Also, left tackle Taylor Lewan was out of Friday's practice due to illness. Running back David Fluellen remains out with a knee injury.
Tom Brady missing from start of Friday practice
New England Patriots quarterback Tom Brady was absent at the start of practice on Friday, the team's last before its game against the New York Jets.
The 41-year-old three-time NFL MVP hurt his knee when he slipped after receiving a pass in last week's game against Tennessee. He was listed on the injury report as limited for Wednesday's workout; the team did not practice on Thanksgiving Day.
Since taking over as the starter when Drew Bledsoe was injured in the second game of the 2001 season, only once has Brady missed games for injury, when he tore apart his knee in the 2008 opener. He also missed the first four games of the 2016 season to serve a suspension for his role in the team's illegal football deflation scheme.
Jets' McCown to start second straight for injured Darnold
Josh McCown will start his second straight game at quarterback for the New York Jets in place of injured rookie starter Sam Darnold.
Darnold strained his right foot against Miami on Nov. 4 and hasn't practiced since. He is listed as out Friday on the team's final injury report ahead of its game Sunday at home against New England.
Darnold was in uniform for the last three days of practice, but didn't throw any passes during the 30-minute periods the media were allowed to watch.
The 39-year-old McCown was the starter last season, but hadn't played a snap in the regular season until he filled in two weeks ago in New York's 41-10 loss to Buffalo. He was 17 of 34 for 135 yards with two interceptions.
Miami's Tannehill will play without limitations at Indianapolis
Quarterback Ryan Tannehill is poised to rejoin the lineup Sunday at Indianapolis, and four other former first-round picks might also return for the Miami Dolphins.
Tannehill, who has missed the past five games because of a throwing shoulder injury, will play without limitations, coach Adam Gase said following Friday's practice.
Left tackle Laremy Tunsil will return from a knee injury that forced him to miss the last game. Defensive end Charles Harris will return from a calf injury that sidelined him for five games.
Right tackle Ja'Wuan James (knee), receiver DeVante Parker (shoulder) are listed as questionable. Both have missed playing time because of their injuries.
---
Get the latest on L.A.'s teams in the daily Sports Report newsletter.
You may occasionally receive promotional content from the Los Angeles Times.