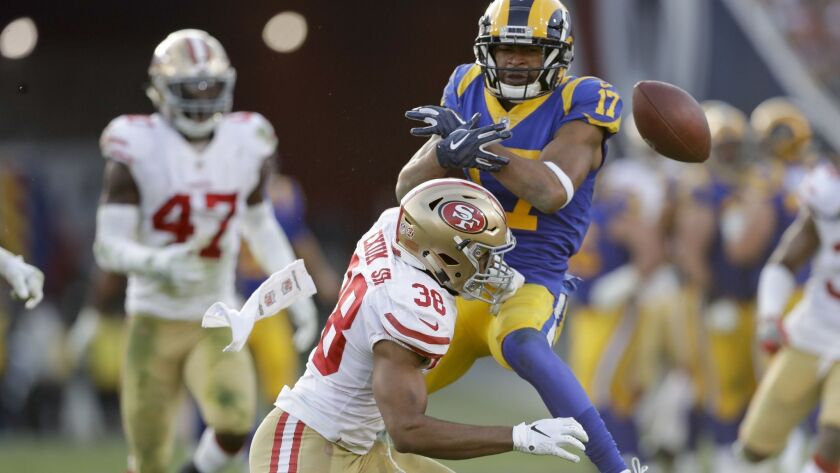 San Francisco 49ers safety Antone Exum Jr. has been fined $53,482 by the NFL for his hit on Los Angeles Rams wide receiver Robert Woods last Sunday.
Exum was penalized for unnecessary roughness on the play in which he hit Woods in his midsection in the third quarter of the 49ers' 48-32 loss while breaking up a deep pass.
Miami's Kiko Alonso and Robert Quinn were docked $10,026 on Saturday for unnecessary roughness, and Buffalo's Jordan Mills was fined $13,369 for unsportsmanlike conduct after they were all ejected for their roles in a skirmish between the teams last Sunday.
With Bills quarterback Josh Allen already sliding in the third quarter of Buffalo's 42-17 win, Alonso dived in front of him and kicked the quarterback in the helmet. A scuffle broke out amid a group of players, and Quinn ran in and dived atop the pile.
Jets, Broncos interview coaching candidates
The New York Jets have interviewed former Green Bay Packers coach Mike McCarthy for their head coaching job. The team announced Saturday it has completed its meeting with McCarthy, who was fired as Packers coach last month.
John Elway flew to Boston on Saturday to interview New England Patriots linebackers coach and defensive play caller Brian Flores about the Denver Broncos' head coaching vacancy. Flores, 37, also interviewed with the Packers and Dolphins about their openings.
McCarthy is the third known interview New York has conducted since firing Todd Bowles last Sunday night. The Jets met with Kansas City Chiefs offensive coordinator Eric Bieniemy on Wednesday, and former Miami Dolphins coach Adam Gase on Friday.
New York is also expected to interview Cowboys defensive backs coach/passing game coordinator Kris Richard in Dallas on Sunday and Tampa Bay Buccaneers offensive coordinator Todd Monken early next week.
McCarthy had a 125-77-2 regular-season record in 13 seasons with the Packers, and went 10-8 in the postseason — including a Super Bowl victory over Pittsburgh to cap the 2010 season.
Flores, who played linebacker at Boston College, broke into the NFL in the Patriots' scouting department in 2004 and moved onto Bill Belichick's coaching staff in 2008.
While there's plenty of buzz about Flores, he brings caveats for Elway, who went with a novice head coach who had just a year's coordinating experience when he hired Vance Joseph two years ago. Elway fired Joseph on Monday with an 11-21 mark, including 6-10 in 2018.
Other candidates who have interviewed for the Broncos' job this time around are Rams QBs coach Zac Taylor, ex-Colts head coach Chuck Pagano and Steelers O-line coach Mike Munchak.
---