NFL playoff picture: All-Pennsylvania Super Bowl even after Wentz injury?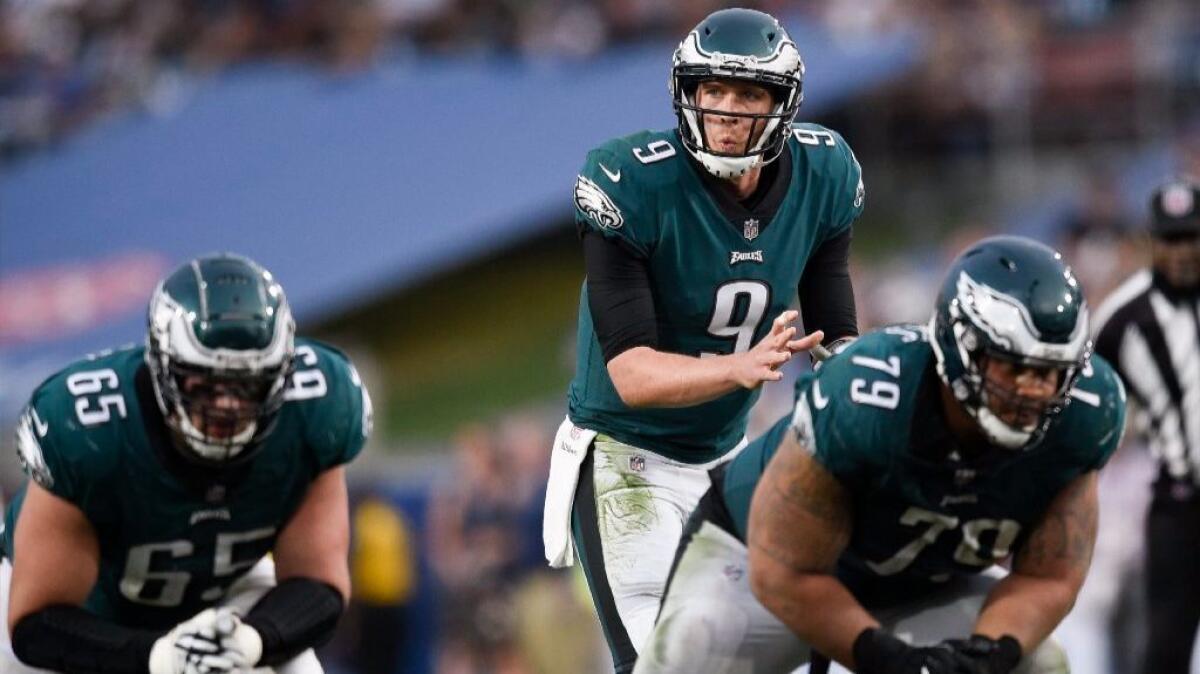 Could this be the year of the All-Pennsylvania Super Bowl?
With three weekends left in the NFL's regular season, it's too early to tell who's going to surge down the stretch, but both the Philadelphia Eagles and Pittsburgh Steelers are strong contenders. They have both won their divisions and are the league's only teams to secure playoff berths.
The Eagles were dealt a big blow Sunday with the loss of most-valuable-player candidate Carson Wentz, but their 11-2 team is more than just a quarterback.
The Steelers are 11-2 as well, and they play host to their longtime postseason nemesis Sunday when the New England Patriots come to town.
In terms of the postseason, this is the biggest weekend of the year for the Rams (at Seattle) and Chargers (at Kansas City), who both have must-win games. The Rams still would have a pulse with a loss; the Chargers would be pretty much cooked.
What follows is a power ranking of the 15 teams most likely to make the playoffs. It doesn't include teams such as Green Bay, Detroit, Miami or Oakland, who haven't been mathematically eliminated but would need all kinds of help to get in.
Philadelphia — Nick Foles is no Wentz, but the Eagles can still run the ball to set up their passing game. They have a ferocious pass rush, and a friendly finish to their schedule, which should assure them of the No. 1 seed. They're capable of winning two playoff games at home after that.
Pittsburgh — The Steelers have won an NFL-best eight in a row, and they're hitting their stride on offense. Ben Roethlisberger is coming off a 500-yard passing game, and both Le'Veon Bell and Antonio Brown are MVP candidates. Defense is the issue. Sunday's game against New England is a measuring stick.
Minnesota — Is the clock striking midnight on Case Keenum? It looked that way last week at Carolina. And is he capable of bringing the Vikings back if they fall behind? Either way, the Vikings have a scary-good defense and a distinct advantage in their ear-splitting stadium.
New England — At 40, Tom Brady is starting to show his age. He's still a guy with five Super Bowl rings who knows how to win all-or-nothing games. Getting to Brady is the key to beating the Patriots, so that offensive line will be pushed to its limits.
Rams — At their best, the young Rams are capable of beating any team in this field. They've struggled to corral mobile quarterbacks, and they tend to give up big plays and/or lots of yards in the first half. They have a mastermind coach in Sean McVay, though, and will be battle-tested after this last stretch.
Chargers — Two fundamental ingredients for success in the postseason: a good quarterback and an effective pass rush. The Chargers have both. If they don't win at Kansas City on Saturday, they would have slim hopes of winning the division — and even slimmer ones of securing a wild-card berth. To ensure themselves of a playoff berth, the Chargers need to win Saturday, then win at least one of their final two games: at the New York Jets, and at home against Oakland.
New Orleans — The Saints are primarily a running team, but, if they get to the playoffs, will they toss that out the window and rest their offense on the shoulders of Drew Brees? He's still effective with the underneath passes, but he's not the same down-the-field threat he once was.
Seattle — With all their injuries on defense, the Seahawks are suddenly vulnerable on that side of the ball. They still have Russell Wilson, though, and he can work magic in eluding defenders. The Seahawks are like a post-apocalyptic cockroach — until they're eliminated, they'll scare everyone.
Jacksonville — Every team would line up to play Blake Bortles in the postseason, so a lot of the load would fall on rookie running back Leonard Fournette. With a league-high 47 sacks, "Sacksonville" specializes in dragging down quarterbacks, and the Jaguars have a couple of playmakers in cornerbacks A.J. Bouye and Jalen Ramsey. Still, they're a year and a quarterback away.
Atlanta — The Falcons miss the offensive creativity of Kyle Shanahan — Super Bowl notwithstanding — and Matt Ryan is nowhere close to the MVP quarterback he was a year ago. Vic Beasley, who led the NFL in sacks with 15½ last year, now has four. Still, the Falcons have experience and could make some noise.
Baltimore — The best thing the Ravens have going for them? They have no fear, and that includes a belief they can win at Pittsburgh or New England. They have a solid defense. Their passing game is terrible, though, and they don't have much of a ground game to offset that. Then again, Joe Flacco has been to the mountaintop before.
Kansas City — What happened to that team that got off to a 5-0 start? If the Chiefs can somehow get back on track, they're capable of getting hot. They're just not as explosive on offense as they were, and their defense sorely misses Eric Berry. From week to week it's, which Chiefs are going to show up?
Carolina — The key to stopping the Panthers is stopping Cam Newton, and he does enough of that on his own. He was starting to look like an improved pocket passer, but now he's back to running the ball, but not in a way that's going to beat good playoff teams. The defense is solid, but not nearly as good as the Super Bowl version.
Tennessee — The Titans can run the ball, but Marcus Mariota is nursing a bum hamstring and gimpy ankle so he's not a threat in that regard. There's not a lot about this team that will intimidate opponents.
Buffalo — The story of the wins this season: Buffalo's defense has caused turnovers, and the offense has done just enough. The Bills have an excellent back in LeSean McCoy, but if they fall behind, they're in trouble.
Follow Sam Farmer on Twitter @LATimesfarmer
Get our high school sports newsletter
Prep Rally is devoted to the SoCal high school sports experience, bringing you scores, stories and a behind-the-scenes look at what makes prep sports so popular.
You may occasionally receive promotional content from the Los Angeles Times.