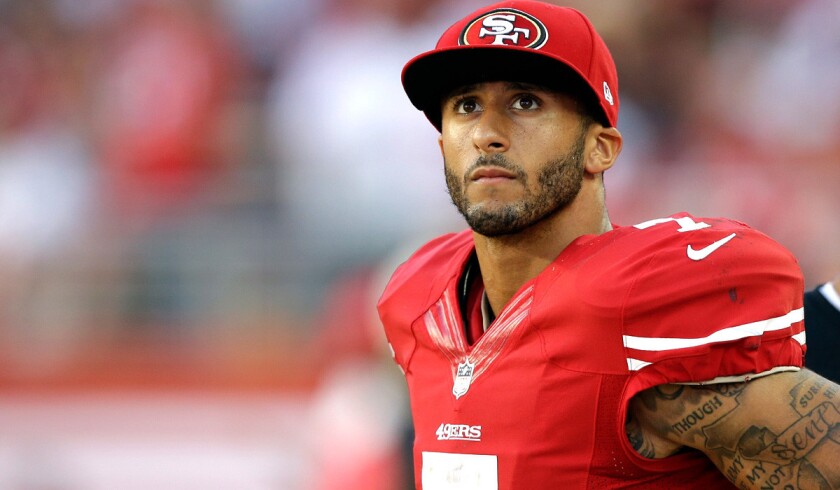 San Francisco's Colin Kaepernick said Wednesday he has been fined more than $11,000 by the NFL and he will appeal the penalty for what an official called "inappropriate language" by the 49ers quarterback after a fourth-quarter interception in Sunday's 28-20 loss to the Chicago Bears.
Kaepernick reiterated that he did nothing wrong when he and Chicago defensive end Lamarr Houston went at it — and Kaepernick points to Houston's comments that the quarterback didn't say anything offensive or out of line. Kaepernick shoved Houston.
"It will be appealed," Kaepernick said. "I didn't say anything. Lamarr Houston said I didn't say anything. We're going to leave it at that."
Side judge Laird Hayes threw the flag for unsportsmanlike conduct.
Houston told the Chicago Tribune after the game that he hadn't heard anything from Kaepernick and that he had said something to the quarterback after the first of two late interceptions by rookie Kyle Fuller that helped rally the Bears.
"I said, 'Nice pass,"' Houston said.
Because of Houston's comments, Kaepernick believes he has a case for an appeal.
"The player that I supposedly said something to has been quoted saying that I didn't say anything, and I don't know him, so it's not like he would have a reason to just randomly stick up for me," Kaepernick said.
In the letter from the league informing him of the fine, Kaepernick said there was no explanation as to what Hayes claims the quarterback said.
Coach Jim Harbaugh sought his own explanation and has heard from the NFL that there won't be a change to the call.
"Colin says he didn't say anything, this person says what they say and somebody else heard something else," Harbaugh said. "I don't have a stance. You can only imagine. I don't have a stance because I don't know, I didn't hear it. Colin's always been truthful 100% of the time."
Now, everybody is trying to move forward and focus on a key division game for the 49ers (1-1) at NFC West-leading Arizona (2-0) on Sunday.
Kaepernick has plenty on his mind after one of his worst performances as a pro. He threw three interceptions — two in the final period — and lost a fumble. In just his second full season as a starter, he expects more from himself, especially after signing a $126-million, six-year contract extension.
Jaguars switch linemen
The Jacksonville Jaguars are making changes — just not the one many outsiders want.
Coach Gus Bradley said Wednesday that rookie Luke Bowanko will start at center against Indianapolis and veteran Sam Young will start at right tackle. Chad Henne, however, remains the starting quarterback ahead of rookie Blake Bortles.
Bowanko replaces journeyman Jacques McClendon, who beat out Bowanko and Mike Brewster for the job in the preseason. Young replaces Cam Bradfield, who was waived Tuesday after starting the first two games this season and 23 games the previous two years.
"If a guy's not playing very well and it's been a consistent pattern, we owe it to the team to make changes," Bradley said.
Bradley made the moves after one of the worst offensive performances in team history.
Jacksonville gave up a franchise-record 10 sacks and managed 148 yards — including a 63-yard, busted-coverage touchdown pass from Henne to tight end Marcedes Lewis — in a 41-10 loss at Washington on Sunday.
Etc.
Minnesota Vikings linebacker Chad Greenway broke his left hand in last weekend's game against the New England Patriots and is questionable for the game on Sunday at New Orleans. Second-year man Gerald Hodges could see more playing time in his place. ... Baltimore Ravens quarterback Joe Flacco missed practice Wednesday with an unspecified illness but is expected to play Sunday against the Cleveland Browns. Flacco hasn't missed a start since launching his career during the first week of his rookie season in 2008. He has played in 98 straight games. ... New York Jets wide receiver Eric Decker and cornerback Dee Milliner have sat out practice with injuries, and their status is uncertain for the game against the Bears on Monday night. ... Detroit safety Don Carey is back on the practice field after missing the first two games because of a hamstring injury.
---