Sam Farmer's NFL Week 7 picks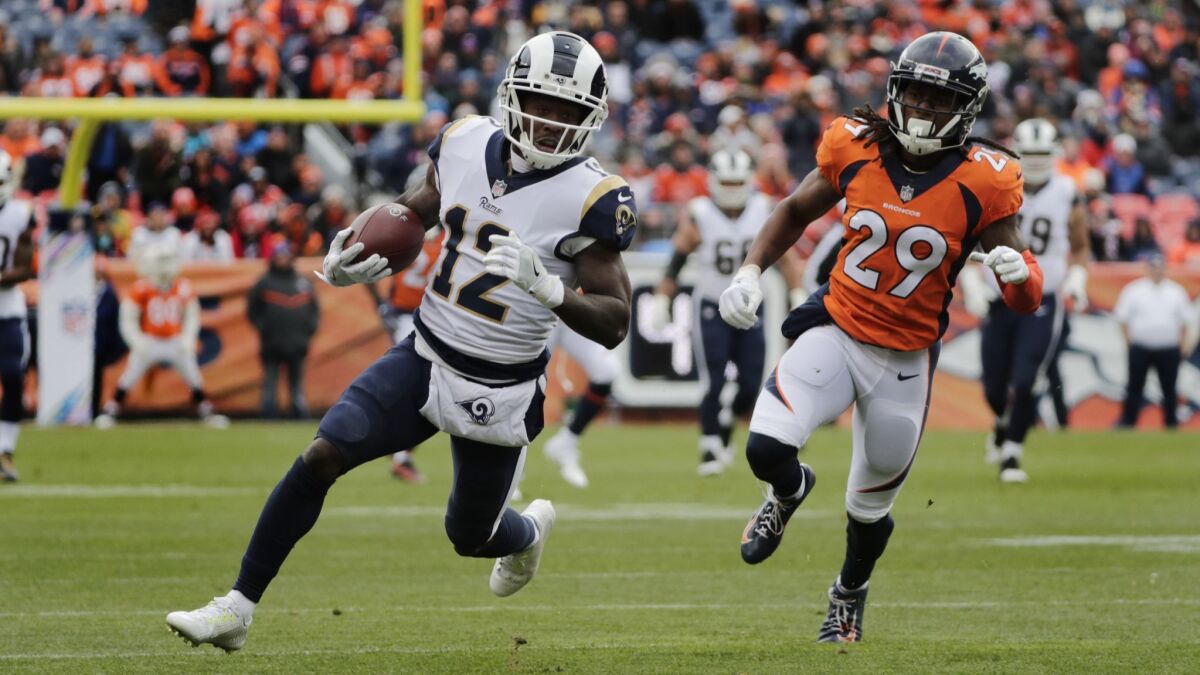 The Times' NFL writer, Sam Farmer, examines this week's matchups. Lines according to Pregame.com (O/U = over/under). Last week's record 10-5 (.667); season 55-36-2 (.604). Using point spreads with the scores Farmer predicted, the record against the spread last week would have been 9-6 (.600); season 40-47-6 (.459). Green Bay, Oakland, Pittsburgh and Seattle have the week off. Times are Pacific.
Tennessee (3-3) vs. Chargers (4-2)
Sunday, 6:30 a.m.
TV: Channel 2.
Line: Chargers by 6 1/2. O/U: 45.
Although Tennessee is capable of pulling off a stunner every so often, the Chargers are solid across the board. They're in position for a big second half of the season.
Chargers 28, Titans 17
New England (4-2) at Chicago (3-2)
Sunday, 10 a.m.
TV: Channel 2. DirecTV: 705.
Line: Patriots by 3. O/U: 49 1/2.
Get in Tom Brady's face and the Patriots are a completely different team, and the Bears have the players to bring the heat. But the edge goes to Bill Belichick finding a way to fluster Chicago's QB.
Patriots 28, Bears 20
Buffalo (2-4) at Indianapolis (1-5)
Sunday, 10 a.m.
TV: None. DirecTV: 706.
Line: Colts by 7 1/2. O/U: 43.
Andrew Luck is playing hard and having fun, even though the Colts are coming off a loss. Indianapolis will stop the run and put the game on the shoulders of Derek Anderson, or whoever is at quarterback.
Colts 21, Bills 10
Houston (3-3) at Jacksonville (3-3)
Sunday, 10 a.m.
TV: None. DirecTV: 707.
Line: Jaguars by 5. O/U: 42.
The Jaguars need to get Leonard Fournette back, especially after their debacle against the Cowboys. Houston can occasionally put a game together, but Jacksonville is fueled by pride in this one.
Jaguars 23, Texans 17
Detroit (2-3) at Miami (4-2)
Sunday, 10 a.m.
TV: None. DirecTV: 708.
Line: Lions by 3. O/U: 47.
The Lions are rested after their off week, and Miami is coming off a huge victory over Chicago. Is Brock Osweiler going to get it done for the Dolphins two weeks in a row? Here's betting no.
Lions 31, Dolphins 23
Minnesota (3-2-1) at New York Jets (3-3)
Sunday, 10 a.m.
TV: None. DirecTV: 709.
Line: Vikings by 3 1/2. O/U: 46 1/2.
The Jets can be explosive, and the Vikings are vulnerable to letdowns. But Minnesota has too much offensive firepower, and its defense is capable of getting its act together.
Vikings 30, Jets 20
Carolina (3-2) at Philadelphia (3-3)
Sunday, 10 a.m.
TV: Channel 11. DirecTV: 710.
Line: Eagles by 4 1/2. O/U: 45 1/2.
The Eagles are finding a rhythm, with Carson Wentz getting back to the way he looked last season. Philadelphia's defense is better than Washington's and the Panthers were stymied by the Redskins.
Eagles 27, Panthers 21
Cleveland (2-3-1) at Tampa Bay (2-3)
Sunday, 10 a.m.
TV: None. DirecTV: 711.
Line: Buccaneers by 3 1/2. O/U: 50.
The Browns have some receiver issues, and that makes it easier to defend against them. Being at home helps the Buccaneers, who are capable of overcoming their defensive upheaval.
Buccaneers 28, Browns 17
New Orleans (4-1) at Baltimore (4-2)
Sunday, 1 p.m.
TV: None. DirecTV: 712.
Line: Ravens by 2 1/2. O/U: 50.
This could be the game of the week. This is a red-hot Saints offense against a smothering Ravens defense. Drew Brees gets the nod over Joe Flacco, although both teams are rolling.
Saints 20, Ravens 16
Rams (6-0) at San Francisco (1-5)
Sunday, 1:15 p.m.
TV: Channel 2. DirecTV: 713.
Line: Rams by 9 1/2. O/U: 52.
The Rams are a better team, but they have some defensive issues, particularly in coverage. The 49ers make it interesting, but Todd Gurley and Jared Goff make the difference.
Rams 31, 49ers 27
Dallas (3-3) at Washington (3-2)
Sunday, 1:15 p.m.
TV: None. DirecTV: 714.
Line: Redskins by 1 1/2. O/U: 41 1/2.
This looked like a stinker a few weeks ago, but now it's one of the more interesting games. Each team has alternated wins and losses each week. Dallas breaks the trend and wins two in a row.
Cowboys 27, Redskins 24
Cincinnati (4-2) at Kansas City (5-1)
Sunday, 5:15 p.m.
TV: Channel 4.
Line: Chiefs by 6. O/U: 58.
The Chiefs will bounce back at home after a dispiriting shootout loss at New England. Both of these teams can score, but the Chiefs can score more — plus they're in comfortable surroundings.
Chiefs 34, Bengals 27
New York Giants (1-5) at Atlanta (2-4)
Monday, 5:15 p.m.
TV: ESPN.
Line: Falcons by 5. O/U: 54 1/2.
The Falcons are a different team at home, and they're capable of starting quick and putting it away. The Giants are a mess, as we saw in their last loss to the Eagles. Matt Ryan gets it done.
Falcons 34, Giants 20
---
Get our high school sports newsletter
Prep Rally is devoted to the SoCal high school sports experience, bringing you scores, stories and a behind-the-scenes look at what makes prep sports so popular.
You may occasionally receive promotional content from the Los Angeles Times.