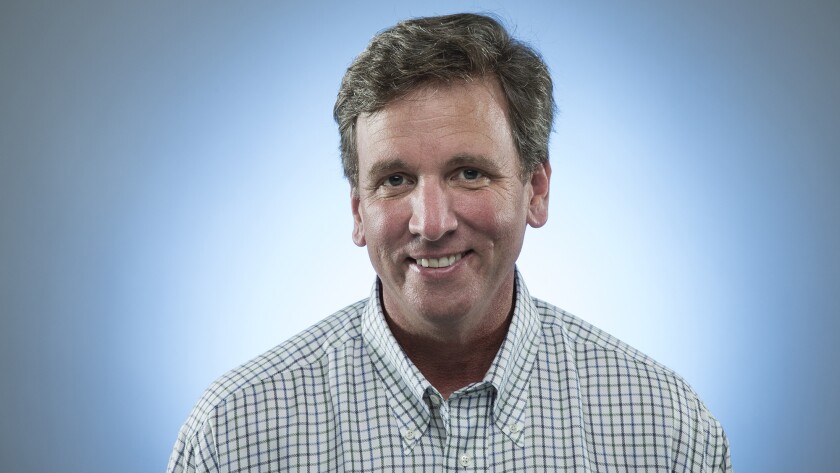 During a quarter-century covering the NFL, Sam Farmer of the Los Angeles Times has chronicled 25 Pro Football Hall of Fame induction ceremonies.
Now he will be part of one.
On Wednesday, Farmer was announced as the 51st winner of the Dick McCann Award, presented by the Professional Football Writers of America to a reporter who has "made a long and distinguished contribution to pro football through coverage."
Farmer will be honored during the 2019 Pro Football Hall of Fame Gold Jacket Dinner in Canton, Ohio, on Friday, Aug. 2, and presented with the award at the Enshrinement Ceremony on Saturday, Aug. 3 at Tom Benson Hall of Fame Stadium.
Best of Sam Farmer | How Walter Payton's Super Bowl ring ended up in a college kid's couch »
"It's surreal," Farmer said. "I always wondered, when somebody said, 'I'm humbled by this,' what does that really mean? Now I completely understand."
The McCann award was named for the first director of the Pro Football Hall of Fame, who was a longtime newspaper reporter and columnist before working for the Washington Redskins as a publicity director and general manager.
Best of Sam Farmer | NFL has perception problem with Robert Mueller running Ray Rice probe »
Farmer was voted the 2019 winner from a group of nominees that included Jarrett Bell (USA Today), Vinny DiTrani (Bergen Record-retired), Clark Judge (Talk of Fame Network), Jeff Legwold (ESPN.com) and Gary Myers (Athletic).
Times reporters are members of the 350-member PFWA, but Times policy prohibits voting for awards.
Farmer is the second Los Angeles Times writer to win the McCann award. Bob Oates won in 1974. Winners' names are inscribed on a plaque in the Hall of Fame.
Best of Sam Farmer | His NFL-to-prison cautionary tale leaves students transfixed. Here is Ryan Leaf's story, in his own words »
"Sam is entirely deserving of the award based on his long track record of great reporting and a knack for finding the out-of-the-box story that resonates so nicely and strengthens coverage in a sport that benefits from creative thinking and delivers something special to readers," said Bob Glauber, president of the PFWA.
Farmer began his journalism career as a sportswriter covering high schools and colleges for the Times' San Fernando Valley edition. He worked at the Bellevue (Wash.) Journal American and the Valley Daily News in Kent, Wash., before returning to California in 1995 to cover the Oakland Raiders for the San Jose Mercury News.
Best of Sam Farmer | Al Davis dies at 82; Oakland Raiders owner transformed team »
He rejoined The Times in 2000 as NFL columnist, chronicling the league in a city that was without a team for more than two decades before the eventual return of the Rams from St. Louis in 2016, and the Chargers' move from San Diego to Los Angeles in 2017.
"This was truly a group effort, because I'm surrounded by the best editors and colleagues in the business," Farmer said. "The fact that I spent more than half of my career covering the No. 1 sport in the nation's No. 2 market — and without a team — gave me unique flexibility to pursue the stories I wanted to pursue, and to see NFL history unfolding from an up-close vantage point. I'm so grateful for that opportunity."
Best of Sam Farmer| Players from 'Greatest Show on Turf' era keeping track of these unbeaten Rams »
Farmer made the most of the opportunity, Times sports columnist Bill Plaschke said.
"When it comes to the NFL in Los Angeles, nobody has covered it more passionately, elegantly and doggedly than Sam Farmer," Plaschke said. "For two decades he brought the league to life for a town without a team. His incisive reporting then gave Times readers a front-row seat to the fitful journeys here by the Rams and Chargers.
Best of Sam Farmer | It's about time for the NFL to give extra-point tries the boot »
"His years of Hall of Fame work have made him truly deserving of a place in Canton."
Said Times sports editor Angel Rodriguez: "Sam is a rare breed of journalist — a reporter that is universally respected and liked by everyone he encounters. Everyone at the Los Angeles Times is incredibly lucky to have been able to work with him."
Follow Gary Klein on Twitter @latimesklein
---