Nick Foles' father always had seen Eagles quarterback as something (Philly) special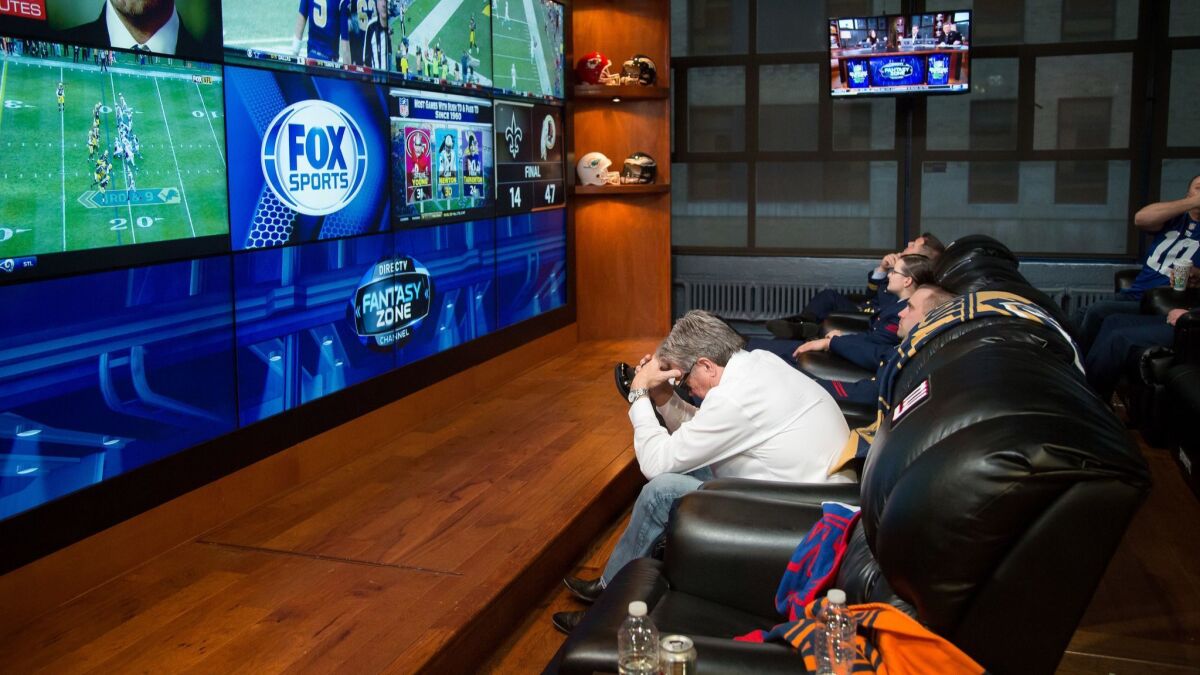 Sometimes, a parent just gets a feeling.
That's the inkling Larry Foles had a year ago when the Philadelphia Eagles played at the Rams in a pivotal NFC game. He owns a home in Laguna Beach, so he might have come to the game anyway, but he often enjoys watching Eagles games on TV, especially because his son, Nick, wasn't playing but was backing up starting quarterback Carson Wentz.
But Larry Foles felt like he needed to be at the Coliseum.
"I just had an eerie feeling, more than anything else," he said.
Turns out, his instincts were correct. Wentz, the NFL's leading MVP candidate at the time, suffered a season-ending knee injury in that game and was replaced by Nick Foles, who defied long odds by helping the Eagles to their first Super Bowl victory.
Those are more than mothballed memories now. They're relevant, because Foles is back in the spotlight as the Eagles prepare to play at the Rams on Sunday, with Wentz out because of a fracture in his back. Foles played quarterback for the St. Louis Rams in 2015.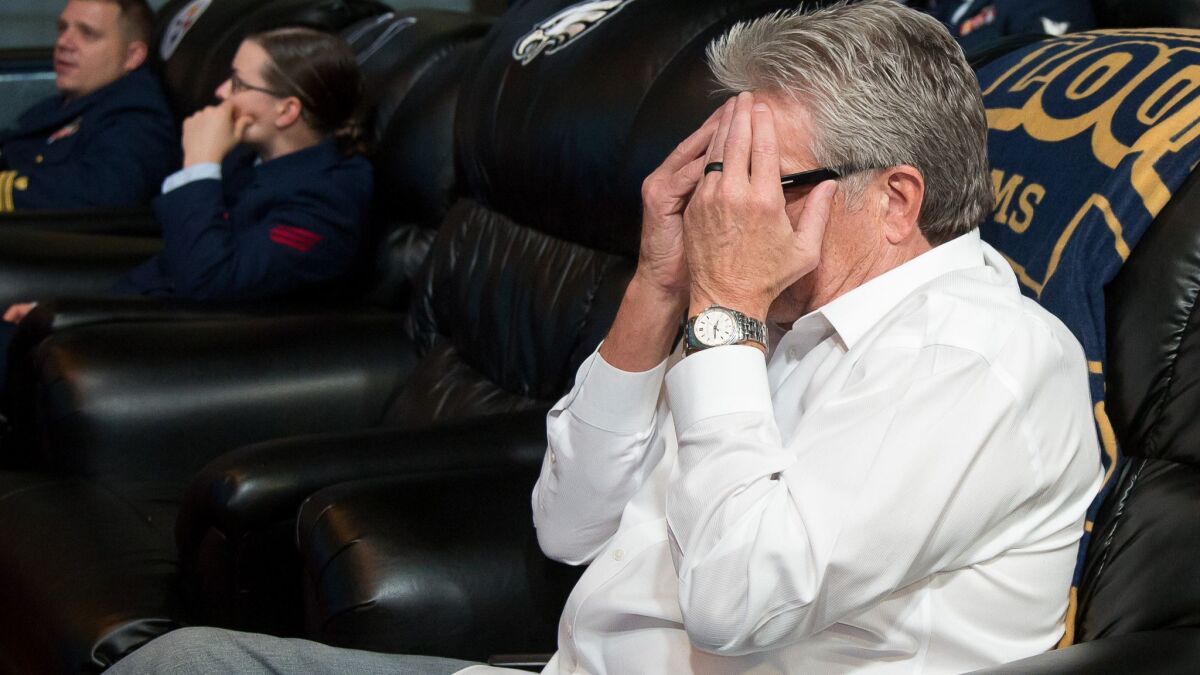 The elder Foles spoke to The Times this week about Philadelphia's improbable championship run last season, one that got off to a shaky start but ended with his son hoisting the Lombardi Trophy as Super Bowl MVP. The elder Foles declined to discuss any specifics he might know about Sunday's game, only to say, "It's a different day this weekend. All that's behind you. All the accolades, all the things that have been done and said, you've got to show up on Sunday."
When they came to Los Angeles a year ago, the Eagles were 10-2 and on their way to clinching the NFC East later in the day. After Wentz was injured, Foles stepped in and played well enough to get a 43-35 victory. There was a widespread belief, though, that the Eagles would be doomed without their second-year star.
With Foles at quarterback, Philadelphia finished the regular season with a close win over the New York Giants, a defensive gem against Oakland that secured the Eagles the No. 1 seed in the NFC, and a meaningless loss to Dallas in which most starters rested.
Then, the magical run through the postseason, with a narrow victory over Atlanta, a stomping of Minnesota in the NFC title game, and a 41-33 triumph over favored New England on the biggest stage. The signature moment in that Super Bowl was "Philly Special," a trick play on fourth-and-goal when running back Corey Clement took a direct snap, pitched it to Trey Burton, and the tight end passed to a wide-open Foles for a touchdown.
Amazingly, Larry Foles doesn't remember any of that. He was at the Super Bowl but was either too nervous, too overwhelmed, or too engulfed by people congratulating him to recall anything but a few plays from that game: the first time the Eagles made a first down, a third-down completion to Nelson Agholor in the third quarter, and a pass on fourth down to Zach Ertz in the fourth quarter.
"The rest of it is kind of a fog," Larry Foles said. "Philly Special, I didn't even know until I went and watched it after the game. I saw a lot of replays and said, 'I don't even remember that play.' People would tell me what was going on and I'd say, 'You're kidding me!'
"We were in the corner of the end zone and had a good shot [of the play]. But just having all those people hitting you, patting you, standing up. In a stadium, you have all the people jumping up in front. You can't see anything. On TV you can."
It was the greatest game he never saw.
Foles has seen his son come through in pressure situations plenty of times before.
"I've seen him do this since he was a kid," he said. "In most times, when it really mattered, it was just something about him. Not always, but most of the time he could rise to the occasion if he could understand where [the coaches] were going with the plays and things like that.
"He and I, from the 11th grade on, I quit trying to coach him. I quit trying to give him inspiration and stuff like that. I just backed off because I could see he had it. He had the 'it' factor."
For the Eagles, the situation this year is markedly different. They're 6-7 and clinging to hope they can sneak into the playoffs as the No. 6 seed. Their secondary is wafer-thin and facing an 11-2 Rams team that's loaded with offensive weapons and looking to get back on track after a sputtering loss at Chicago.
That Super Bowl run might as well have been decades ago.
"It's another exciting part of a life," said Larry Foles, who owns more than 30 restaurants in Texas, Arizona, California, Tennessee, and Oklahoma. "I've told Nick before, 'You won the Super Bowl. You were MVP. So what's next?' It's kind of like you can't rest on your laurels. You have to look in front of you and say, 'What's next?' "
The Coliseum is a meaningful place to the Foles family, and not just because Nick started his march there last season. He was quarterback at the University of Arizona, and in 2009 led the Wildcats to a 21-17 victory over USC there, spoiling Pete Carroll's final home game for the Trojans.
"It was my birthday," Larry Foles recalled. "I told my wife, 'We're going to beat them, because it's my birthday and I know Nick.' He marched down there and won the game. Then he came over and led about 5,000 or 10,000 fans singing 'Happy Birthday' to me."
It was a special moment. Foles will be in the stands Sunday, hoping for another.
Follow Sam Farmer on Twitter @LATimesfarmer
Get our high school sports newsletter
Prep Rally is devoted to the SoCal high school sports experience, bringing you scores, stories and a behind-the-scenes look at what makes prep sports so popular.
You may occasionally receive promotional content from the Los Angeles Times.