Sean McVay's influence on Redskins is so loud you can still hear it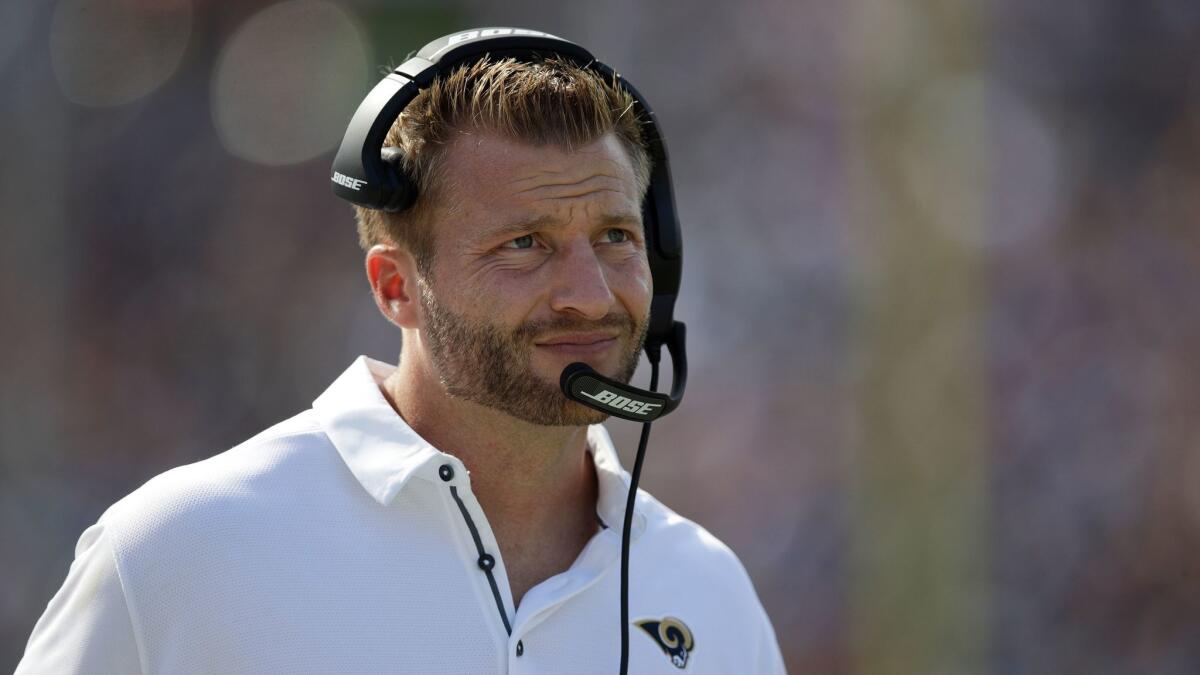 Reporting from Landover, Md. —
Can you hear me now?
If you're Sean McVay, the answer is undoubtedly yes.
Even though he's seemingly out of earshot, as head coach of the Rams and roughly 2,600 miles away, his former Washington Redskins players wonder if he can still hear them.
"We'd always joke about how well he can hear, and not just in meetings," tackle Trent Williams said. "Outside of practice, too. You'd hear two guys talking among each other five yards behind him. If it's a question he could answer, he'd turn around and answer you. It was like, 'How'd you even hear it?'"
The Redskins called it "ear hustle." McVay, their offensive whiz kid, had relentless ear hustle.
"Coach Sean, he's a big eavesdropper," tight end Jordan Reed said with a smile. "If you're talking, he's listening. He might be looking that way, but he's listening."
In his head coaching debut last Sunday, McVay made some noise himself. The Rams, who couldn't find the end zone last season with GPS and a kennel of bloodhounds, scored five touchdowns in a 46-9 rout of Indianapolis. That's as many points as Los Angeles scored in the first three weeks combined last fall.
The Rams play host to the Redskins on Sunday in a game that reunites McVay and the team that afforded him his NFL foothold. He spent seven seasons in Washington, working his way from assistant tight ends coach (2010), to tight ends coach (2011-13), to offensive coordinator (2014-16).
He is beloved in that Redskins locker room, and, as it relates to Sunday's game, somewhat feared.
"To go against Sean the first time is kind of nerve-racking," said Williams, the All-Pro left tackle. "Because I know for a fact he knows everything about everybody on this team that was here when he was here."
Cornerback Josh Norman, another Washington All-Pro, believes McVay took a Sharpie to the schedule the day it came out and circled this game in red.
"He's a fiery guy," Norman said. "He's so smart. He's a magician. As far as offensive minds, he's young but could probably create something that we'll see and be like, 'That's Sean McVay.' Just like the West Coast offense. Who created that? Bill Walsh. Sean McVay could add another layer on top of that. That's scary, but he has the opportunity to do that."
McVay's pedigree is well known. His grandfather, John McVay, was a longtime executive for the San Francisco 49ers who collaborated with Walsh, the Hall of Fame coach, to build a dynasty with that franchise. The younger McVay would go on to become a high school standout in Georgia as a quarterback and defensive back, play receiver at Miami University in Ohio, then rise through the coaching ranks under Jay Gruden and Kyle Shanahan. McVay was 30 when the Rams hired him in January, making him the youngest head coach in modern NFL history.
"Once you talked to him about football, the age thing goes right out the door," Redskins tight end Niles Paul said. "He's one of the smartest people I've ever known when it comes to football."
From the day he was promoted to tight ends coach, the bright-eyed McVay, with his spiked hair and boundless energy, let it be known that his players would have to adjust to his clock-management issues.
"The first week was incredible, because he was so pumped," recalled Chris Cooley, formerly the team's star tight end and now a Redskins color commentator. "We're in Week 13 of the season and Sean had us meeting an extra hour at the end of the day to go through this plethora of tape cut-ups and break down what we're doing that week, individualize routes and how we want to run them.
"I'm like, 'Sean, whoa! You see the parking lot out there? The rest of the guys are gone.' He was like, 'I know, I know, just a little bit longer.' He was so excited. I thought, this is going to be fun for him, this is going to wear off in a week. It didn't."
Cooley, who takes pride in knowing the game, quickly realized that even he was out of his depth when debating concepts and philosophies with his new position coach.
"I have always thought of myself as a smart football player," Cooley said. "And Sean's in the room, and within a week he knows 10 times more than I know about the game of football. So it became a massive challenge to me to challenge Sean. To understand it the way he understood it. Because of him I learned every front, every coverage, every look that you could get defensively."
McVay stubbornly insisted his players not only know their positions, but fully understand and know the assignments of the players around them. Not every coach does that.
"He speaks football on a level that's like Spanish to most people," Cooley said. "Football is its own language, really, and every offense is a little sect of that language. But he speaks the most fluent football I've ever heard. You get to a point where you're like, 'Sean, we're saying the same thing here. I'm just saying it in Spanglish.' He's like, 'No, but I want you to say it my way.' "
That attention to detail paid off for the tight ends, and then for the entire Redskins offense, which last season averaged more than 400 yards a game for the first time in franchise history and finished as the NFL's third-ranked unit.
"What he does is lets guys be themselves," said Reed, who last season became the first Redskins tight end to make the Pro Bowl since Cooley in 2008. "He doesn't try to mold you to be what he wants you to be. He takes your strengths and he tries to bring the best out of you with what you can do. That's what he did with me. I'm not the traditional tight end, and he let me be myself."
Now, McVay is doing that with the Rams, and his former players figure he's got the same singular focus.
"You'd have to ask Sean what his hobbies are," Cooley said. "Outside of football, I'm not sure. Probably watching college football."
The rabbit-eared McVay, you see, is always working on sound fundamentals.
Follow Sam Farmer on Twitter @LATimesfarmer
Get our high school sports newsletter
Prep Rally is devoted to the SoCal high school sports experience, bringing you scores, stories and a behind-the-scenes look at what makes prep sports so popular.
You may occasionally receive promotional content from the Los Angeles Times.