Column: Rams can bring more star power to L.A. with a franchise quarterback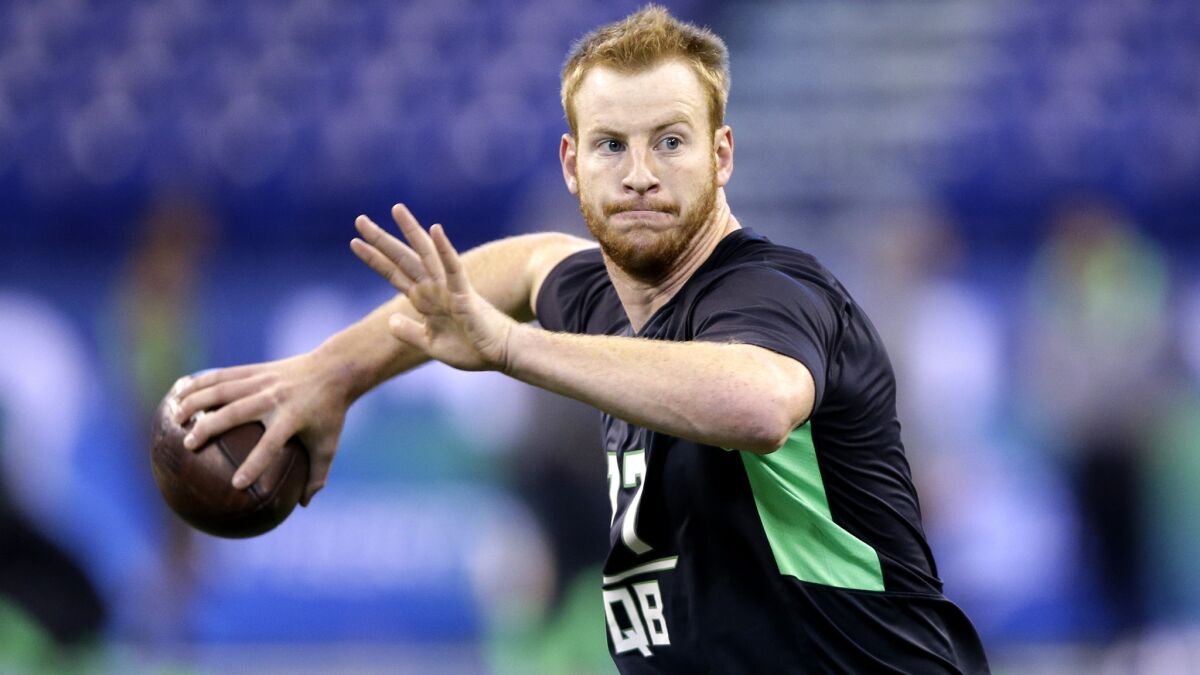 Mamba out. Rams in?
As Los Angeles' most tenured sports star was brilliantly shooting his way into retirement Wednesday night, Los Angeles' newest sports team was waiting respectfully in the shadows.
Kobe Bryant shot and shot while the Rams waited and watched. Shortly after Bryant put the ball down for the last time, the Rams picked it up for the first time. Within hours of Bryant's final heave, the Rams stepped into the spotlight with a dramatic prayer of their own.
Bryant is leaving the Southland sports landscape just as the No. 1 overall pick in this month's NFL draft will be arriving, and how's that for Hollywood synergy?
In a deal that was done Wednesday night but not announced until Thursday morning, the Rams have mortgaged a big chunk of their future to acquire the top overall pick from the Tennessee Titans so they can get the franchise quarterback they so desperately need, either North Dakota State's Carson Wentz or California's Jared Goff.
For draftniks, problematic. For this marketplace, perfect.
In one daring move, for the first time since arriving here two months ago, the Rams show they understand they now work in a Los Angeles sports landscape that demands winning, entertainment, and stars. Only with a franchise quarterback can a football team satisfy all three requirements, and suddenly the Rams have a chance to acquire that quarterback.
"A day after Kobe's retirement game, I think we're all reminded that this is a star-driven market," said Kevin Demoff, the Rams' executive vice president of football operations and chief operating officer. "As an organization, we have to be cognizant of that."
Demoff grew up in Los Angeles. He gets it. By the looks of this deal, the Rams get it. Since their arrival two months ago they had been mulling around under the radar with mediocre grades in the free-agent market and no movement in the buzz department. But with one move that's all changed. A drafted quarterback will immediately give the downtrodden team a hopeful face at its most important position, a reason for real hope, somebody who can sell tickets, a marquee figure for a town that navigates by marquees.
Yes, the Rams have a great running back in Todd Gurley, but the star expectancy of an NFL running back these days is about 10 minutes, and how often do we see him when he's not wearing his helmet? Yes, the Rams already have a great defense led by Aaron Donald, but defense is not going to make people flock to the Coliseum.
"A quarterback is so important in any market, just look at the teams who have success year in and year out," said Demoff. "It's something we haven't had, something we've craved, something we've tried to find. When your head hits the pillow at night, that's one position you do not want to worry about, and hopefully we'll solve that with this pick."
How important is it to find your quarterback at the top of the draft? Since 2008, 20 quarterbacks have been drafted in the first round, yet Tim Tebow is the only one drafted outside the first five picks to win a playoff game, and that required a miracle pass in overtime.
The Rams have blown this scenario before in making Sam Bradford the No. 1 overall pick in 2010. But at least they already understand the marketplace enough to know that they need to keep swinging big. It helps that this could be the kind of dare necessary in the final years of the contracts of Coach Jeff Fisher and General Manager Les Snead.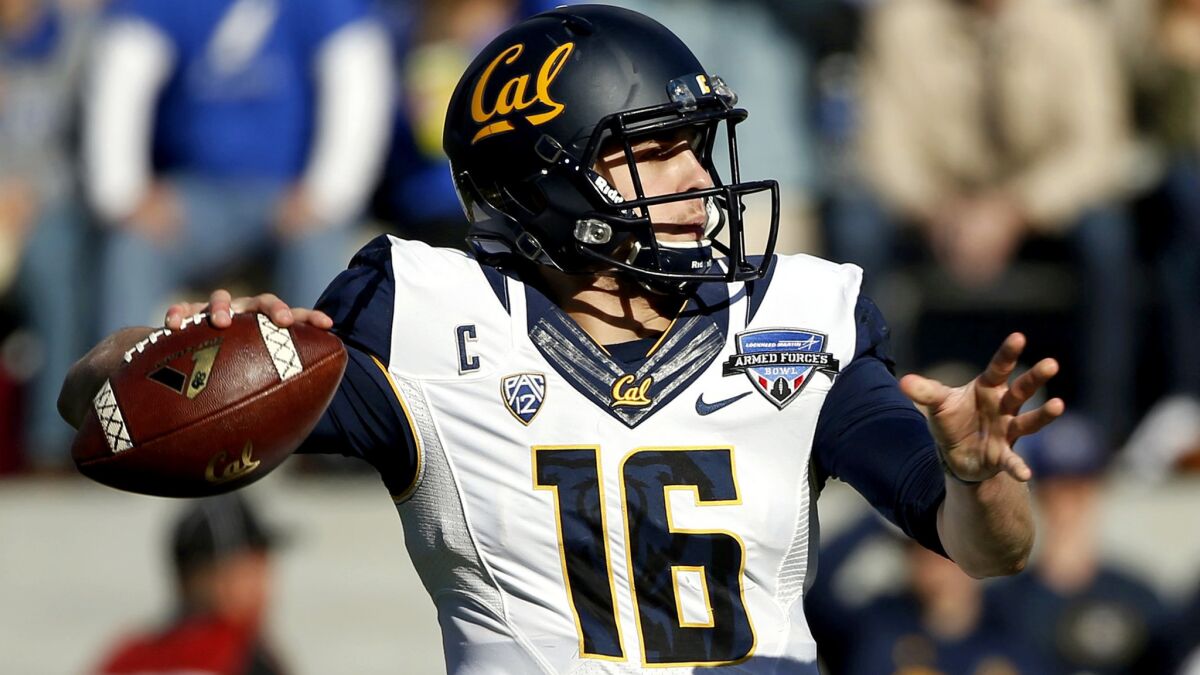 "We know what L.A. wants more than anything else is a winner, and our ownership is committed to making big moves to bring great players into this marketplace; that's the message we want to send," said Demoff. "Stan [Kroenke, owner] understands and is willing to make big moves and take big risks."
If only the new Dodgers ownership understood the same thing about its fans last July at the trade deadline. If only Dodgers ownership would be willing to take such big swings to end this television blackout debacle.
Those who claim this is an awful deal because the Rams had to give up three high picks this year and their top pick next year don't understand that this town doesn't like paying for future possibilities, only entertaining realities. Those who claim that neither Wentz nor Goff will be immediate impact stars in the manner of an Andrew Luck or Cam Newton are missing the point.
Either one of these guys will be great theater, great story lines, great intrigue. If it's Wentz, it will be the small-town kid from Bismarck, N.D., thrust under the brightest of lights. If it's Goff, it will be the Bay Area kid strutting into enemy territory.
Because of the increase in social media, either player will be the most scrutinized rookie in this city's sports history, and that's even before the first episode of "Hard Knocks." Either player, good or bad, will command the attention the Rams will need in an attempt to find their foothold here while they prepare for the 2019 move to their palace in Inglewood.
"This fits in perfectly with how we want to tackle this market," said Demoff.
The timing was also right, and not a coincidence. Demoff said the deal was done early Wednesday evening, about an hour before the start of Bryant's final game at Staples Center. Demoff said he was at an L.A. Live hotel, and witnessed the raucous Kobe fever outside Staples Center, and realized an announcement would have to wait. Rams officials held a celebration dinner Wednesday night with the Lakers game blaring on TVs in the background, then released the news Thursday around dawn.
"It was totally out of deference to Kobe's night," Demoff said. "He shouldn't have to share the spotlight. We knew we would have plenty of time to do it the next day."
Some have said this "deference" was only the NFL making sure the decks were clear so it could command the news cycle like always. But who cares? The timing fit. Fans will be suffering from a Kobe Bryant hangover for months, but, at least on this first day without him, they awoke to a bit of Rams hope.
"We knew people were sad, so we wanted to give them something that might make them happy," said Demoff with a chuckle.
That's kind of crazy. But it kind of worked.
Follow Bill Plaschke on Twitter: @billplaschke
---
Get our high school sports newsletter
Prep Rally is devoted to the SoCal high school sports experience, bringing you scores, stories and a behind-the-scenes look at what makes prep sports so popular.
You may occasionally receive promotional content from the Los Angeles Times.