Column: Rams have to salute Case Keenum after castoff helps Vikings flag down another victory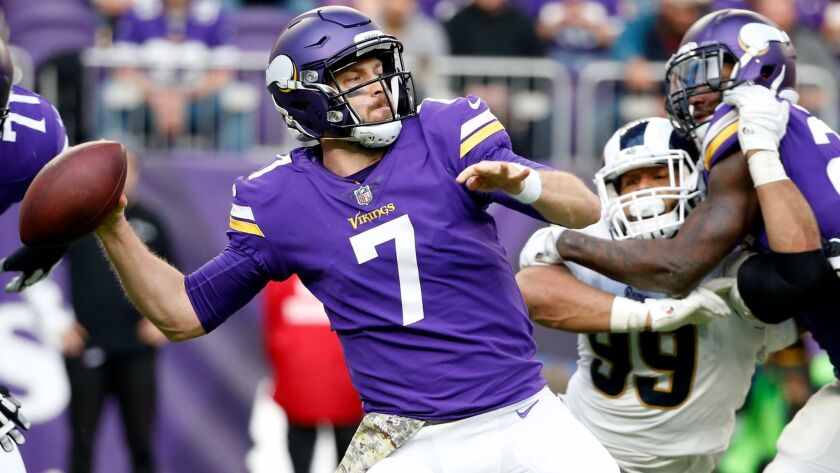 Reporting from minneapolis —
First, Case Keenum carried the flag. Then, he carried the franchise.
As part of the NFL's "Salute to Service" month, the Minnesota quarterback sprinted onto the field during introductions Sunday carrying a large American flag.
He then went on to lead the Vikings to a 24-7 victory over the Rams, his old team, for Minnesota's sixth win in a row.
It was no simple task, keeping his emotions in check while playing the team that let him go, but it was Keenum's cool head that won the day.
"One of the things that coach said this week was, 'Don't go off the reservation,' " said Keenum, who completed 27 of 38 passes for 280 yards and a touchdown. "The quarterback coach too. We had a good long talk about how to approach it mentally. It's business as usual."
Keenum's line treated him the way he treated Old Glory — never letting him touch the ground.
"You know how many games we've gone without a sack? Six," said Keenum, who has been sacked only five times in 300 pass attempts. "It's awesome. Against that defensive line?"
Afterward, a frustrated Aaron Donald said Keenum "did good moving around and protecting his offensive line from me."
That's an interesting way to put it, Keenum using his feet to protect the line from Donald. Regardless, there's no denying that in one season the Minnesota line has gone from M*A*S*H to smash unit, keeping its quarterback pristine against a tough defense.
One of the few times Keenum was touched, Donald was flagged for a roughing-the-passer penalty. That came in the fourth quarter with the Vikings backed up to their end zone, and kept alive a touchdown drive that put the home team up 21-7.
It was a debatable call, with Donald coming in slightly high as Keenum released the ball and giving him a little shove after.
"He got off the ball and honestly I never saw him," Keenum said. "I was looking down the field and all of a sudden I feel him hitting me. I have to watch the film; it happened so fast."
Whereas some quarterbacks show up at the lectern dressed to the nines, the casual Keenum had a look befitting his blue-collar style: scruffy beard, untucked shirt, ball cap turned backward. Someone from the Vikings media-relations staff fixed his sweatshirt for him before Keenum stepped up onto the dais.
This guy is about scoreboard points, not style points.
"You trust the process," he said, sounding every bit the son of a football coach. "You go to bed every night confident that you've done everything you can that day."
The Rams wore down for many reasons, including losing cornerbacks Kayvon Webster and Nickell Robey-Coleman. Minnesota had one three-and-out, compared with three by the Rams, and enjoyed a remarkably lopsided time-of-possession advantage: 37:22 to 22:38.
After halftime — when the game was tied 7-7 — the Vikings averaged 57.8 yards per possession, more than double the Rams' 22.2.
Minnesota gained 171 yards on the ground, with 99 of those coming in the second half.
"You go back and look at a lot of our big rushing performances," tight end Kyle Rudolph said. "It's not always pretty early. But it seems like in the second half these big runs just start popping."
As for Keenum, his most memorable run of the day was the one out of the tunnel shaped like a Viking ship, with that flag pole in his grasp.
"That was an incredible opportunity for me," he said. "They talked to me, I think it was Friday or Saturday, talked about if I'd want to run out with the flag. I jumped at the opportunity. It was awesome. It was incredible. For me, being around the flag, being out there during the national anthem — I'm so thankful to get to do what I do, because there are men and women out there that put their lives on the line and sacrifice so much, and I get to play a game."
In question now, how much longer will Keenum be the starter? Teddy Bridgewater, the franchise quarterback in waiting, logged his second game on the active roster since returning on his rebuilt knee. Keenum is the NFL's biggest bargain, signed to a one-year, $2-million deal during the offseason.
"If it's not broke, don't fix it," he said when asked if his play warrants him keeping the starting job. "Let's keep doing what we're doing."
Follow Sam Farmer on Twitter @LATimesfarmer
---
Get the latest on L.A.'s teams in the daily Sports Report newsletter.
You may occasionally receive promotional content from the Los Angeles Times.