Redskins claim Reuben Foster off waivers just days after his domestic violence arrest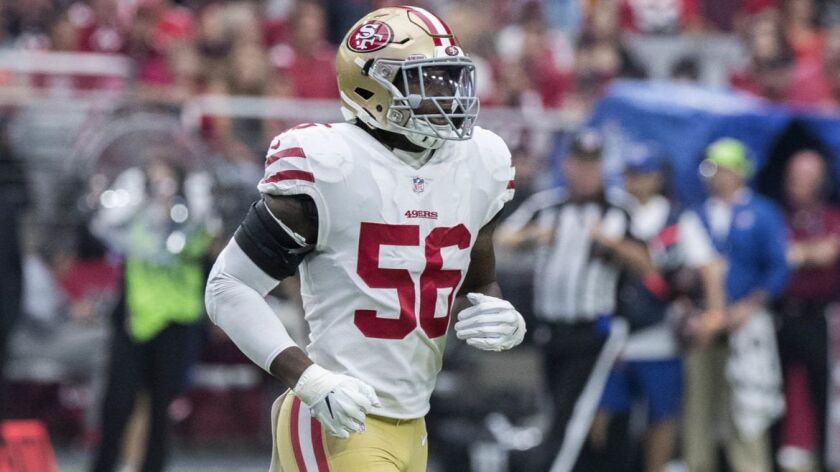 Reporting from Ashburn, Va. —
The Washington Redskins claimed Reuben Foster off waivers Tuesday after the San Francisco 49ers released the linebacker following a domestic violence arrest, though it's unclear if or when he'll suit up for them.
The team announced the move in a statement from senior vice president of player personnel Doug Williams acknowledging the circumstances surrounding Foster.
"The Redskins fully understand the severity of the recent allegations made against Reuben," Williams said. "If true, you can be sure these allegations are nothing our organization would ever condone.
"Let me be clear, Reuben will have to go through numerous steps including the full legal process, an investigation and potential discipline from the NFL, as well as meetings with counselors associated with the team before he will ever have the opportunity to wear the burgundy and gold as a player."
The NFL put Foster on the Commissioner Exempt list, and he can't practice or attend games while the league continues to review his situation. It was not immediately clear if or when Foster would report to the team's facility, where he is allowed to be for meetings, individual workouts, therapy and rehabilitation and other non-football activities.
The team says conversations with former Alabama teammates led to the decision to claim Foster. There are seven other players from Alabama on the team.
"Nothing is promised to Reuben, but we are hopeful being around so many of his former teammates and friends will eventually provide him with the best possible environment to succeed both personally and professionally," Williams said.
Foster was arrested Saturday night for an incident at the 49ers' team hotel in Tampa, and he was released the next morning before their game against the Buccaneers. Reports emerged later Sunday that police had been called on Oct. 12 for another incident between Foster and the woman in Santa Clara.
The 49ers claimed they had a zero-tolerance policy this season with Foster, who also was arrested on suspicion of domestic violence last spring involving the woman.
Foster is the latest player with off-field issues the Redskins have taken a chance on.
They signed linebacker Junior Galette in 2016 after the New Orleans Saints released him following a domestic violence arrest. The charge was later dismissed.
This past summer they signed running back Adrian Peterson, who in 2014 pleaded no contest to a misdemeanor reckless assault charge after being indicted for felony reckless or negligent injury to a child.
The 49ers looked past red flags with Foster leading up to the 2017 draft, including a failed drug test at the combine, and took him with the 31st pick in the first round.
Foster then faced more serious charges for an incident in California in February. He was initially charged in April with felonies for domestic violence, making criminal threats and weapons possession after being accused of beating up Ennis.
A judge ruled there was no probable cause on the first two charges after Ennis recanted the allegations and the judge found no other evidence to support the charges. The weapons charge was reduced to a misdemeanor and Foster pleaded no contest to that in June. He was sentenced to two years of probation, 232 hours of community service and $235 in fines.
Foster was suspended the first two games of this season for violating the NFL's conduct and substance-abuse policies.
San Francisco coach Kyle Shanahan, who was Washington's offensive coordinator from 2010-2013, said the 49ers had someone checking in on Foster often, doing everything the team could do short of having someone live with him.
"There were things that we believed we could help him with," Shanahan said. "We worked on him since he's been here. We thought he would improve and we were gonna do everything we could to help him. And Reuben did improve in some things.
"But for that to come up and what happened Saturday with the same (person) at a team hotel, it's just hard to comprehend how you could put yourself in that situation again."
---
Get the latest on L.A.'s teams in the daily Sports Report newsletter.
You may occasionally receive promotional content from the Los Angeles Times.