Pete Carroll: Seahawks' bid for new NFL title is 'coolest opportunity'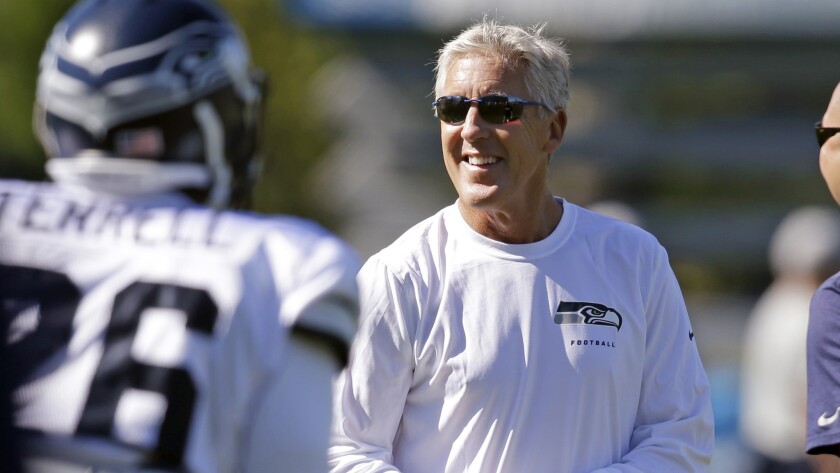 Reporting from Renton, Wash. —
Pete Carroll was sure about Seattle. And Seattle was … cautiously optimistic about Pete Carroll.
Here's proof: In 2010, his first season as coach of the Seahawks, Carroll made his "Win Forever" book available at booths and the team store at the stadium. Seattle opened at home and beat the San Francisco 49ers, 31-6, undoubtedly leaving elated Seahawks fans intrigued about the USC coaching transplant's words of wisdom.
The next day, Ben Malcolmson, Carroll's right-hand man, called the team store to check on book sales. No restocking was required.
Total sales among that crowd of 67,044?
Three books.
"I thought to myself, 'I will not be telling Coach that,'" Malcolmson recalled. "When he asked, I tried to change the subject, but he kept asking. I finally told him and he grabbed his chest like he was shot in the heart and kind of fainted backwards. We've laughed about it since, but it was definitely painful at the time."
Three seasons, three playoff appearances and one Super Bowl victory later, the Seahawks and their fans hang on Carroll's every word. And the coach now has the opportunity to crack the NFL code and win consecutive Super Bowls, a feat last achieved by the New England Patriots in the 2003 and '04 seasons. In addition to the Patriots, six other franchises have won two Super Bowls in a row: Green Bay, Miami, Pittsburgh (twice), San Francisco, Dallas and Denver.
"I'm really excited about this chance," said Carroll, sitting with a reporter in a quiet hallway in the Seahawks' headquarters, training camp done for the day. "This is the coolest opportunity. Everybody says that you can't — although they'll still call you the favorite to put the heat on you — but all that stuff about nobody's been able to do it for 10 years. To be able to play like we're capable of playing, that's all we want. If that's good enough, boom, we're there."
This is not uncharted territory for him. In the same seasons the Patriots won those consecutive Super Bowls, Carroll was guiding the Trojans to back-to-back national championships, something he can draw on now.
"I think we learned a lot in college because that was a long time of staying on top," Carroll said. "It was a rare opportunity to experience what happens when you're there, in terms of what comes your way — the attention, the focus, the media, the expectations, the opponents clamoring. There are so many things about it, I really feel like we've been through it before."
Unlike most NFL coaches, Carroll doesn't identify winning the Super Bowl as his goal. That's simply a byproduct of a more immediate goal — having his team realize its peak performance at any given moment. It's a milestone, not a mountaintop.
"It's not about any one game or any one season or the Super Bowl or anything," he said. "It's about, how long can you maintain a high level of play? I always said at 'SC, 'We'll look back some day and tell you how we did.' Getting that Super Bowl ring to me was not the ultimate. I don't think our players think about it that way. It's 'That's what happened. Now, what's next?'"
What's next for the Seahawks is their exhibition debut at Denver against the Broncos on Thursday. It's a Super Bowl rematch in name only, as most of the starters aren't likely to play more than a handful of snaps. To Carroll, though, there's peril in his team's taking its foot off the gas.
"We can't afford to do that," he said. "We've got to crank it up every single time we go. Forever."
Because of free agency, no team stays exactly the same from season to season, and the Seahawks are dealing with some changes. They have lost some experienced players on the offensive line. Chris Clemons and Clinton McDonald also are gone; both were big contributors on the defensive line. Running back Marshawn Lynch was unhappy with his contract this off-season and, having won a Super Bowl and absorbed (and delivered) routinely brutal poundings during his seven seasons, there are lingering questions about how much longer he wants to play.
By Carroll's thinking, if winning the Super Bowl is the "ultimate goal," that gives his players the excuse to exhale, relax, and possibly stray from what got them there. So, though he wants them to enjoy their accomplishment, he doesn't want them to dwell on it.
"At least I've been through it before," said Carroll, whose USC team was ranked No. 1 in the Associated Press poll for a school-record 33 consecutive weeks. "It was a long time of that spotlight and that expectation and that demand. And I hope to thrive in that setting, and we'll be able to show that you can do that at this level and it isn't just commonplace that you just fall apart and have a bad season because you win a Super Bowl and can't handle it."
The Seahawks have done their share of celebrating, starting with a huge parade through the middle of the city. But Carroll said he has worn his Super Bowl ring just once, on the day he received it, and has watched the broadcast of the blowout victory over Denver only once, from the comfort of his home. He had hoped to host a party and watch it with his players, but that plan never came together.
There's no doubt that the Seattle-San Francisco rivalry has rounded into the NFL's best, what New England versus the Indianapolis Colts was to the previous decade. But you won't hear Carroll, his assistant coaches or players prattling on about that. Want to know how to get a Seahawks player to clam up? Ask him about the rivalry with the 49ers.
"It was the same way [with the Trojans]," said Rocky Seto, a Seahawks defensive assistant who was on Carroll's staff at USC. "We didn't talk about Notre Dame or UCLA or Ohio State. Same thing. Because we wanted to play well against Fresno State or Oregon State too. It's about being consistent. It's about us, how good can we play every single time, regardless of the outcome?
"We define success as, how good can we be as long as we can be it? Period. And the byproduct is the national championships and Super Bowls."
And, perhaps, book sales.
"I bet," Seto said, "that if he tried to sell those at a game today, he'd sell more than three."
---
Get our high school sports newsletter
Prep Rally is devoted to the SoCal high school sports experience, bringing you scores, stories and a behind-the-scenes look at what makes prep sports so popular.
You may occasionally receive promotional content from the Los Angeles Times.