Your questions answered: Buying tickets to see the Rams in Los Angeles this season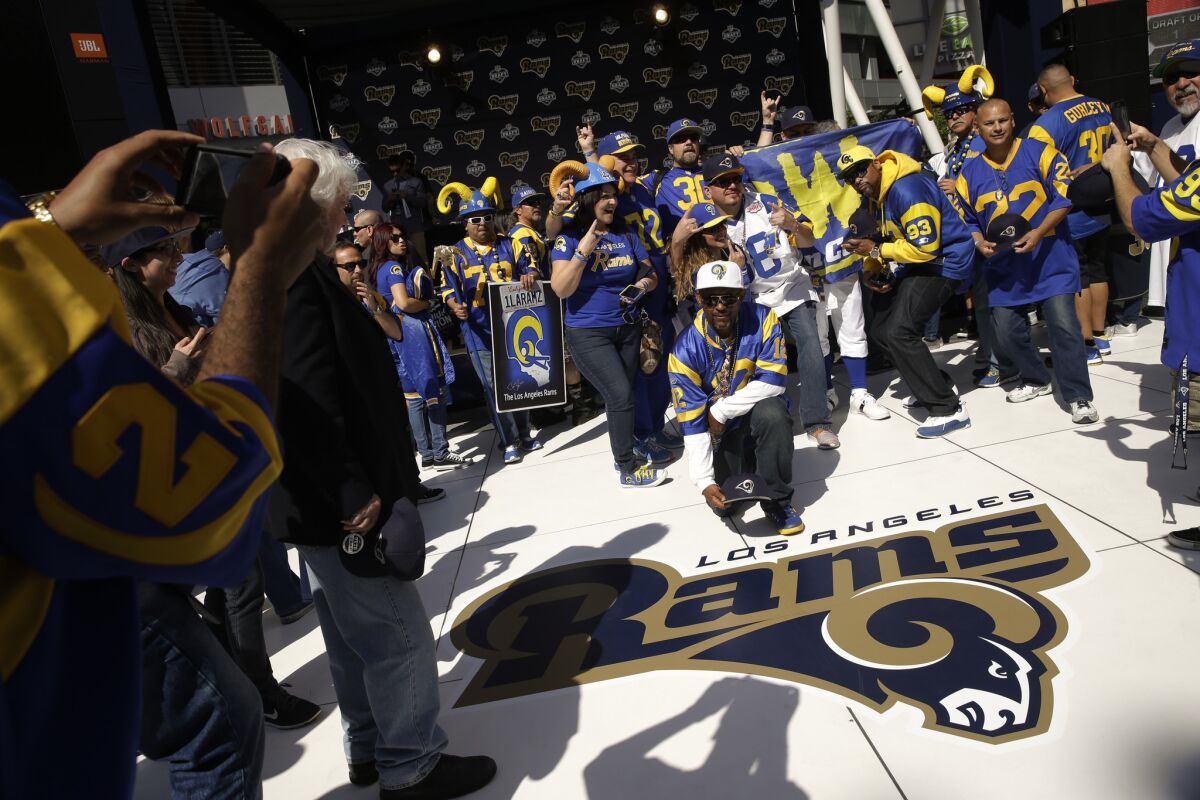 Soon after the Rams got the green light to return to Los Angeles, they began a campaign in which fans put down a $100 deposit to get in line for season tickets. Now, the franchise is moving on to the next stage, selling those seats at the Coliseum for a nine-game home schedule that begins with an exhibition opener against Dallas on Aug. 13 on ESPN.
For further clarification on the sale of tickets and related matters, The Times talked to Jake Bye, vice president of ticket sales and premium seating:
Q: Some people who put down deposits have been contacted, but others haven't. What's the process?
BYE: We began the first wave of deposit owners, contacting those people that logged on at 10 a.m. on Jan. 18. Their window will be next week to go in and select their seats. Then we will move on to the next wave of deposit owners, give them the opportunity to select their seats. We'll work through the list just as we always planned to.
These were the two main goals this entire time, especially once we received 56,000 deposits in a two-week window. It was clear that the energy and passion and demand for L.A. Rams football was higher than maybe we could have anticipated or hoped for, so we want to give as many of those people on the deposit list the chance to attend a Rams game this fall. And we want tickets in the hands of Los Angeles Rams fans that are going to use the tickets and create a home-field advantage that we hope is the best in the NFL.
Part of that process is to limit the sale of tickets to re-sellers, or to accounts that view the opportunity as a means or a platform for financial gain by re-selling the tickets and potentially getting those into the hands of opposing teams' fans.
Q: How do you identify the people who intend to re-sell their tickets?
A: We dug really deep. We have a lot of business-analytics partners that were able to look at our data and find certain criteria that indicate if someone had a history of re-selling tickets. We did it because we wanted to maintain our goal, which is giving as many Rams fans the ability to buy tickets, people who are passionate about using the tickets, attending games, cheering for the team, as opposed to people just looking to exploit the high demand for financial gain.
Q: What resources will people have to select their seats?
A: We've created a Rams ticket member Internet portal. It's an online area where we're going to push relevant content to all of our deposit owners. Everything from parking information when it's available, NFL security and clear-bag policies, some great video content. People can explore the virtual venue and look at the various seating options before their window to purchase and we would encourage them to do that. Once the purchase window opens, the experience on the portal will change for members who are "on the clock" -- they will be presented the option to select seats.
See more of our top stories on Facebook >>
There is also a public version of the portal with great content, including the virtual venue, that fans can access through the ticket portion of our primary website: TheRams.com.
Q: When do you hope to wrap up season-ticket sales?
A: The goal is to have this wrapped up by the end of June, where we've gotten to everybody on the list in some form.
We're going to have events and touch points far beyond our nine home games. We'll have experiences at training camp. We just had a really successful draft party for our deposit owners. We'll have a fan-fest where deposit owners on Aug. 6 at the Coliseum will get to come and watch a live practice up close and experience a Rams "game" in that form. We're going to do a lot more than just a nine-game schedule to make sure that people have access to the team in a variety of ways.
Q: What's the capacity for Rams games at the Coliseum?
A: We'll be in the neighborhood of 80,000. The Coliseum with all the temporary seating and the bleacher seating in the end zone is over 90,000. As we've really looked at, we're trying to make sure that we're not just going to sell a seat because we can. Just because you could put more people in the building doesn't mean you should. So we're working with USC to determine what's the best capacity without compromising the experience for our fans.
Q: What's the parking situation? How many spaces will be available?
A: We don't have a hard and fast number, but our strategy on that is to secure as much as we can, and then offer those permits to our season-ticket members first. That will be a separate process once we get through the ticketing portion. We have a very friendly, open dialog with the state of California and USC in terms of what we can secure in Exposition Park, what we can secure on campus. As an example, we've got an active dialogue with the California Science Center already and we're working with them on securing space in their garage for Rams home games. It's somewhat a moving target with parking, but we're going to secure as much as we can.
Q: What about single-game ticket sales?
A: To the general public that wouldn't happen until August, and of course that's subject to availability. Our focus right now is getting through the deposit owners and giving them a chance to buy Rams tickets. Maybe not season tickets for everyone, but single-game tickets or packages -- they'll have priority for that, if and when those are available. We will constantly reevaluate the process and parameters to ensure tickets can be accessible to as many of our members as possible.
Q: So people who are on the deposit list but do not purchase season tickets will have priority when it comes to buying single-game tickets?
A: Yes, they would have access to single-game tickets before we do a public sale outside of that list. If you're on the deposit list, you're going to be able to pay the lowest possible price for whatever form of ticket you purchase.
ALSO
Will the NFL bet on the Raiders in Las Vegas?
Jarryd Hayne retires from NFL to pursue Olympic rugby dreams
It's your Los Angeles Rams in their first trailer for HBO's 'Hard Knocks'
---
Get our high school sports newsletter
Prep Rally is devoted to the SoCal high school sports experience, bringing you scores, stories and a behind-the-scenes look at what makes prep sports so popular.
You may occasionally receive promotional content from the Los Angeles Times.