Atlanta Falcons assistant Kyle Shanahan sounds ready for his next step as coach of the San Francisco 49ers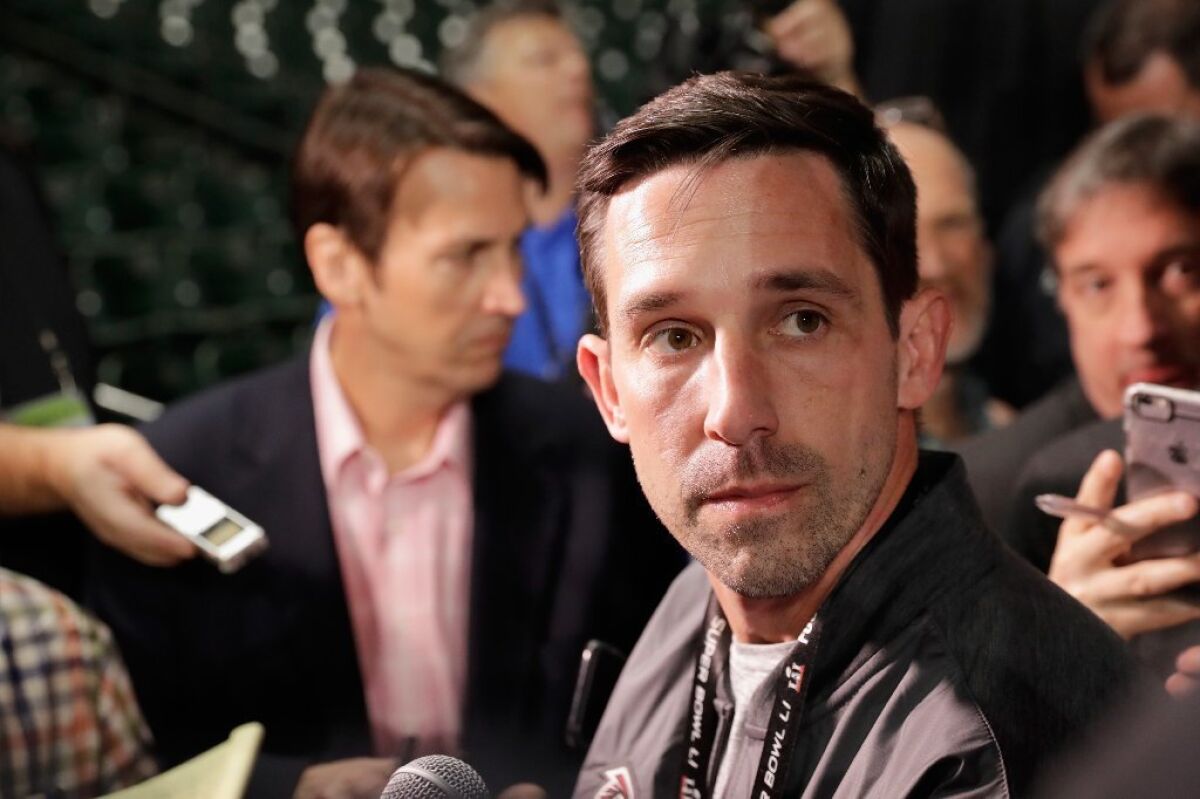 Reporting from HOUSTON —
Kyle Shanahan draws up an offense better than he plays defense.
The Atlanta Falcons offensive coordinator didn't dodge and deflect Monday night about his future as coach of the San Francisco 49ers, even though he can't officially be hired until after the Super Bowl.
He patiently answered the questions of reporters who encircled him during the Falcons' media session at the NFL's "Opening Night" event. In so doing, he already sounded like a head coach.
"I just think the key to a good organization is people who are committed to winning," said the 37-year-old Shanahan, whose father, Mike, won two Super Bowls as coach of the Denver Broncos. "You want to bring in the right people, try to commit to it with the draft picks, free agency. There's a lot of distraction in this league and it's tough to make the right decisions, but when you've got everyone going in the right direction ... that's what gives you a chance."
Shanahan is in the same position that Falcons Coach Dan Quinn was in two years ago. Quinn had essentially been hired as Atlanta's next coach, yet he needed to finish his responsibilities as the Seattle Seahawks' defensive coordinator in the Super Bowl against the New England Patriots.
Meanwhile, the 49ers moved ahead with their biggest front-office acquisition, and it was a shocker. They hired John Lynch to a reported six-year deal as general manager, even though the Fox analyst and retired safety — a Hall of Fame finalist — has no experience as a scout or personnel executive.
Lynch, a former Stanford star, played for Mike Shanahan's Broncos, and he and Kyle know each other well. The younger Shanahan said he has no concerns about Lynch's lack of front-office experience.
"Whenever you have a smart guy who's very talented and has extremely high character, and has no problem working extremely hard, and you give him the time, it's only a matter of time before that guy is going to figure it out," Shanahan said.
"Anybody who has met John [knows] he's as impressive a human being as there is. He's succeeded in everything he's done. I get that it's new to him, but if I'm going to bet on someone, I'm going to be on John Lynch."
Game's in the bag
According to a USA Today report, Shanahan had a bad scare after the media session when the backpack he had with him went missing — with the Super Bowl game plan inside.
That led to a frantic search that lasted more than 15 minutes, the report said. Turns out, the bag was accidentally picked up by San Francisco Examiner columnist Art Spander, who mistook it for his own. The Falcons breathed a sigh of relief when Spander returned it.
"I've screwed up before, but I've never picked up the wrong bag," Spander, 78, told USA Today Sports. "And there's no way I'd have a game plan."
Face it
Of all the people dressed up in costumes for the media session, and there were several, the creepiest by far was the guy wearing the eerily realistic Tom Brady mask.
The thick rubber mask was causing triple-takes because it looked so real, right down to the fashionable razor stubble. It's from another era of Brady hairstyles, though, with long reddish hair, as opposed to the current close-cropped dark cut.
"People look at you twice," said the mask-wearer, Dan Worthington of Bleacher Report, who wore a No. 12 Patriots sweatshirt with the message #FAKEBRADY spelled out on it. "They look at you, they process it, and then they start laughing."
Follow Sam Farmer on Twitter @LATimesfarmer
Get our high school sports newsletter
Prep Rally is devoted to the SoCal high school sports experience, bringing you scores, stories and a behind-the-scenes look at what makes prep sports so popular.
You may occasionally receive promotional content from the Los Angeles Times.