Patriots vs. Everybody: A look at why New England is the most-hated team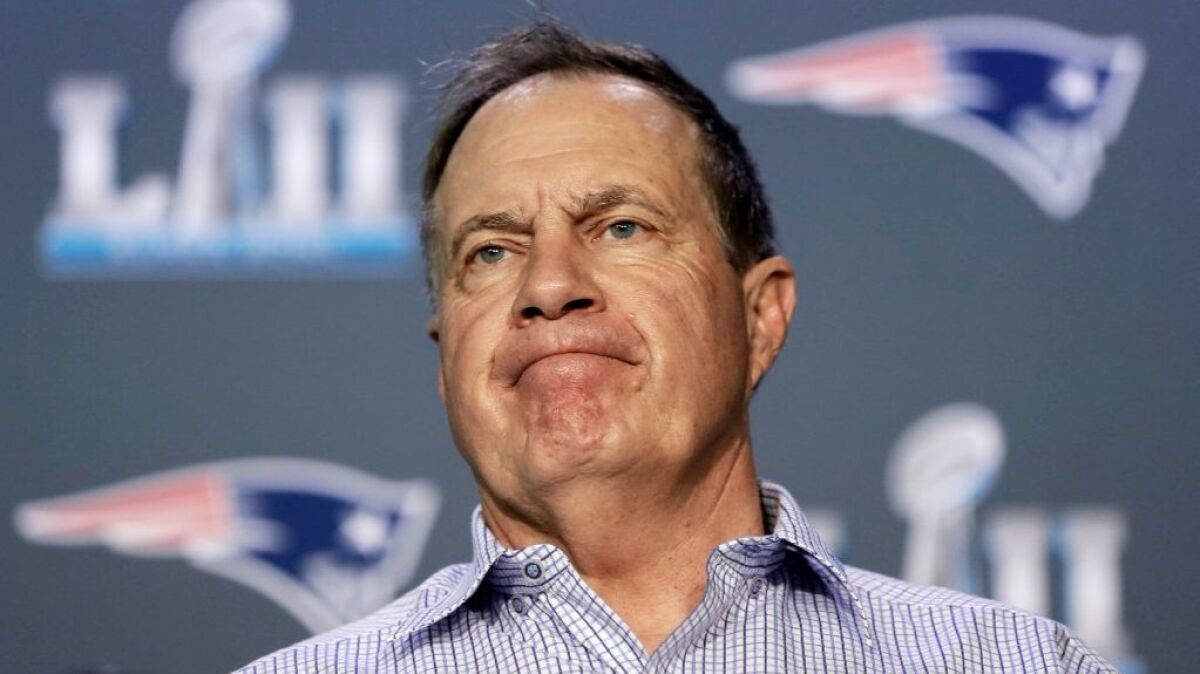 Reporting from Minneapolis —
A simple slogan captures the spirit of Super Bowl LII:
Patriots vs. Everybody.
It's on T-shirts, sweatshirts and hats here, and it's not unique. Other teams have used the phrase to reflect their us-against-the-world ethos, including the Philadelphia Eagles, who are also playing in the game.
But with New England in the NFL's marquee game for the third time in four years, and the franchise on the verge of its sixth Lombardi Trophy since the 2001 season, Patriots fatigue has reached epidemic proportions.
"I'm even a little fatigued," said retired tight end Christian Fauria, who won two rings with the Patriots. "Winning takes a lot of energy out of you. Success is tiresome. Which championship ring am I going to wear? Which hat am I going to put on? I get it. It's nauseating to some fans, especially when you lose over and over and over again. And you lose in silly ways, the simple ways.
"You try to mimic what the Patriots are doing, but there are so many major factors that people just don't have."
Are you still wondering why people hate the Patriots?
Enter the Eagles, who are making their third trip to the Super Bowl and have yet to win one, a sore spot exacerbated by the fact that the three other teams in their division — the Dallas Cowboys, New York Giants, and Washington Redskins — have each reached the mountaintop multiple times.
It's a little like the Yankees were. Once a team starts winning, it doesn't endear them to fans of other teams.
— Patriots owner Robert Kraft
"I don't know if there are words that can really explain what Philadelphia would be like if the Eagles win the Super Bowl," former Eagles quarterback Ron Jaworski said. "It will be the biggest parade ever. I run into people all the time and it's like, 'I don't want to die before the Eagles win a Super Bowl. It's the one thing I have to have in my life.' There's incredible passion for the team."
Never have the Eagles had more fans than they will Sunday in what annually attracts the biggest television audience of the year, more than 100 million viewers. Super Bowls make up 19 of the 20 most-watched TV broadcasts, with the series finale of "MASH" in 1983 being the lone exception. NBC is charging north of $5 million for a 30-second ad.
Still, tens of millions of those eyeballs will be rolling at the Patriots, who are making a record 10th Super Bowl appearance, and dour coach Bill Belichick, who is participating in a record 11th Super Bowl. For Belichick, two of those came as a Giants assistant coach. New England quarterback Tom Brady is tied with Hall of Fame linebacker Charles Haley for the most Super Bowl rings by an individual player, with five.
A year ago, Public Policy Polling released the results of a survey showing the Patriots were the most disliked team in the NFL, with 21% of respondents saying New England was their most hated team, and 42% declaring negativity about the franchise. The poll identified Brady as both the most beloved and most hated player in the league.
Eagles defensive end Chris Long, who won a Super Bowl with New England last year, said disappointed friends would ask him, "Now I have to root for the Patriots?" when he signed with the team.
"It's no secret there's people all over the country who want to see them fail," Long said.
The Eagles, who are 4½- point underdogs, seem to be embracing that challenge.
"There's that Philadelphia-Boston rivalry to begin with," said former NFL quarterback Dan Orlovsky, who was born in Bridgeport, Conn., Patriots country, but now lives in Philadelphia. "But now the Eagles fans are relishing, 'OK, we're going to be the underdog that knocks off the giant.' There are people in the city that that's who they are, that's in their DNA."
Inflaming passions even more, the Patriots have a reputation for bending the rules to gain an advantage — whether it's covertly taping the secret hand signals of opponents, or improperly deflating footballs to make them easier to throw and catch — allegations they staunchly deny and write off to envy.
"They've had this inordinate, unseen level of success," Orlovsky said. "Outside of that little circle of New England, they're easy to hate. I don't feel that way, and I have friends who are diehard Patriots fans, but it's understandable."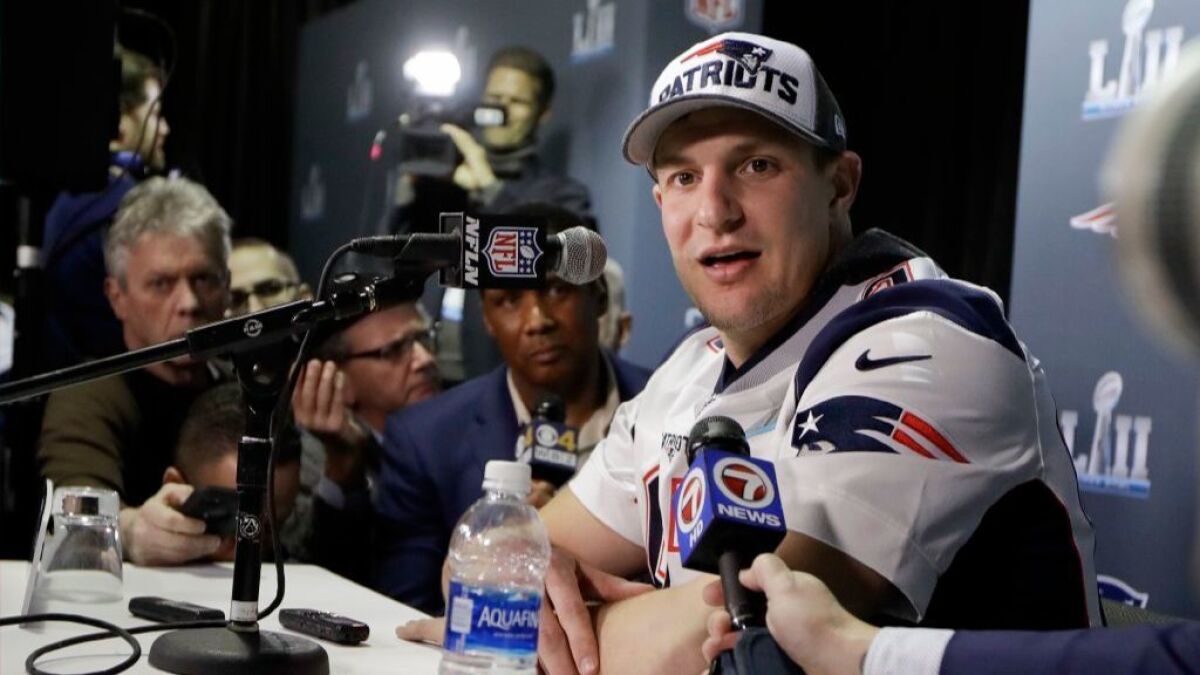 The Patriots turn a deaf ear to critics. They make no apologies for their success.
"It's a little like the Yankees were," Patriots owner Robert Kraft told The Times last summer. "Once a team starts winning, it doesn't endear them to fans of other teams."
What's more, they happily turn the knife. Specifically for this Super Bowl, they launched the "Not Done Network," which streamed Patriots-related content around the clock, starting Monday with the send-off rally at Gillette Stadium and ending Saturday night with a live production "Patriots All-Access." The first-of-its-kind endeavor attracted 20 million page views in the first 24 hours, and sounded like a threat, as in, "We're not done tormenting you."
"Brady's not going anywhere, Bill's not going anywhere," Fauria said. "All that nonsense that you heard weeks ago about tension and this and that, it doesn't happen. No relationships have been splintered. No egos have been hurt. They've had to make some tough decisions, but, oh, by the way, that's what multi-billion-dollar corporations do. That's why they're successful."
And oh-so-loveable.
"We try not to be arrogant, and I think most of the people in this organization are not," Kraft said. "Stylistically, sometimes the way Bill comes across to people… But it's just that people want other teams to win.
"I understand it, but we're going to try to do our best to keep the haters hating."
Follow Sam Farmer on Twitter @LATimesfarmer
---
Get our high school sports newsletter
Prep Rally is devoted to the SoCal high school sports experience, bringing you scores, stories and a behind-the-scenes look at what makes prep sports so popular.
You may occasionally receive promotional content from the Los Angeles Times.