Eagles blow out Vikings to earn franchise's third trip to Super Bowl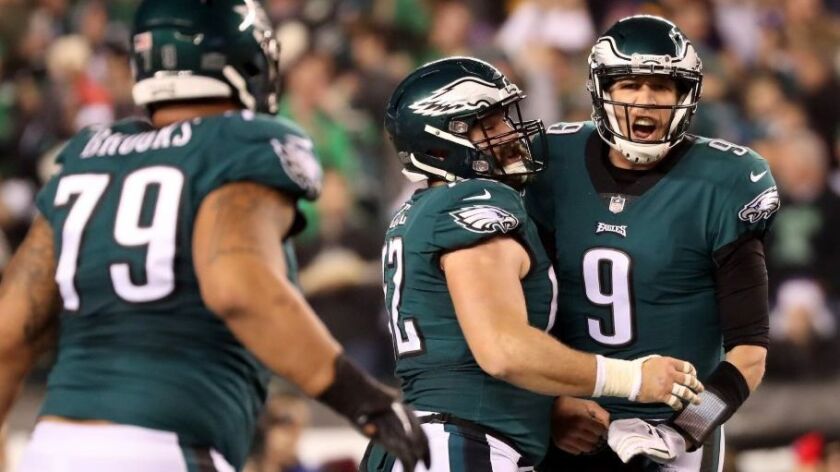 Reporting from philadelphia —
The clock was winding down, the blowout was complete, and the Philadelphia Eagles took starting quarterback Nick Foles out of the game, allowing him to absorb the moment and soak in the cheers spilling down from the highest reaches of Lincoln Financial Field.
Foles was approached on the sideline by teammate Chris Long, who has known him since their days with the St. Louis Rams. It didn't take a professional lip reader to decipher Long's words: "I always believed in you."
"He's a special guy," Long said. "He's not a backup. That's not the way I look at him."
Sunday, against the NFL's top-ranked defense, Foles was elite. When the Eagles needed him most, with a trip to the Super Bowl on the line, he threw for 352 yards and three touchdowns to power Philadelphia to a 38-7 torching of the Minnesota Vikings.
In two weeks, the Eagles will play the New England Patriots in Super Bowl LII, a rematch of Super Bowl XXXIX. In that game, played 13 years ago in Jacksonville, Fla., the Patriots won 24-21.
This year's game pits the top-seeded teams in each conference. The Patriots advanced with a 24-20 victory over Jacksonville on Sunday.
The Super Bowl will be played at U.S. Bank Stadium in Minneapolis, and the Vikings were hoping to become the first team to play a Super Bowl on its home field. They rode a wild wave of excitement into Philadelphia, having beaten New Orleans in the divisional round on an unbelievable, 61-yard touchdown reception by Stefon Diggs on the final play. This time, there would be no sequel to the Minnesota Miracle.
"Once you get a game away from playing in the Super Bowl, that's going to be hard to swallow," said Case Keenum, who completed 28 of 48 passes for 271 yards with a touchdown and two interceptions. "The way it happened, I mean, they played really well and we didn't. It's unfortunate."
The Eagles responded to a touchdown on Minnesota's opening drive with 38 consecutive points, a scoring cavalcade so overwhelming the visitors never got a chance to catch their breath.
"The vibe, the feeling we've had in this locker room the whole playoffs is, we're not going to be denied," Philadelphia tight end Brent Celek said. "When you've got fans like that that have got your back? This is a tough place to play, man. A tough place to play."
Although the Eagles put on an offensive clinic that included 456 yards and a 71% conversion rate on third down (10 of 14), the avalanche started with defense. Cornerback Patrick Robinson picked off a third-down pass by Keenum, cut all the way across the field from left to right, and scored on a 50-yard return. The cheers were so loud, the stadium shook.
"Two hours before the game, I was like, `If I get a pick, I'm not going out of bounds,' " Robinson said. "I was running down the sideline and I was like, 'No, I definitely can't go out of bounds.' So I cut it back upfield. [Fellow corner Ronald] Darby made a great block."
Alshon Jeffery had two touchdown receptions, and LeGarrette Blount powered his way into the end zone with an 11-yard run. It was Blount's league-leading 10th rushing touchdown in the postseason since 2013, four more than Oakland's Marshawn Lynch, who is second on that list.
According to a tweet by @NFLResearch, Blount's 10 rushing touchdowns in the postseason are more than the combined playoff totals of Hall of Famers Eric Dickerson (four), Walter Payton (two), Jim Brown (one) and Barry Sanders (one).
Asked whether he ever looks in amazement at his opportunities, Blount said, "No, there's not really enough time to take a walk down memory lane. We've got to get back to the drawing board. We're going to enjoy this one, and we've got two weeks to prepare for a really good Patriots team."
Blount and Long won rings as members of the Patriots last season.
Long was relentless Sunday, with at least two big hits on Keenum, two pass breakups and a fumble recovery.
It was another heartbreaking performance on the big stage for Minnesota, which, in addition to going 0-4 in Super Bowls between 1969 and 1976, has lost in its last four appearances in the NFC title game.
Before Sunday's game, authorities in Philadelphia were doing what they could to keep potential revelers somewhat under control. City crews who referred to themselves as "Crisco cops" greased the light poles around town to prevent fans from climbing them in celebration.
Sunday marked the first conference championship game featuring two starting quarterbacks who were backups at the beginning of the season. Keenum replaced the injured Sam Bradford in Week 2 and Foles stepped in for Carson Wentz, who suffered a season-ending knee injury in a Week 14 game at the Rams. Wentz, recovering from surgery, used a cane on the sideline Sunday and cheered on his team.
"He's an extremely intelligent player, so I listen to everything he says," said Foles, who embraced him in the postgame celebration. "It's been a crazy year. It's been a long year. We work together every single day, long hours. You don't really have to say anything. A hug goes a long ways."
The Eagles didn't just lose Wentz, but nine-time Pro Bowl left tackle Jason Peters, and playmaking middle linebacker Jordan Hicks.
"It's our belief, our love for one another that has gotten us to this point," safety Malcolm Jenkins said. "So injuries, circumstances, bad plays, mistakes, they don't faze us. We believe in the process. We believe in the people we have in place. And we just keep fighting."
Follow Sam Farmer on Twitter @LATimesfarmer
---
Get the latest on L.A.'s teams in the daily Sports Report newsletter.
You may occasionally receive promotional content from the Los Angeles Times.