Olympics Buzz: U.S. on track for lowest medal total in 20 years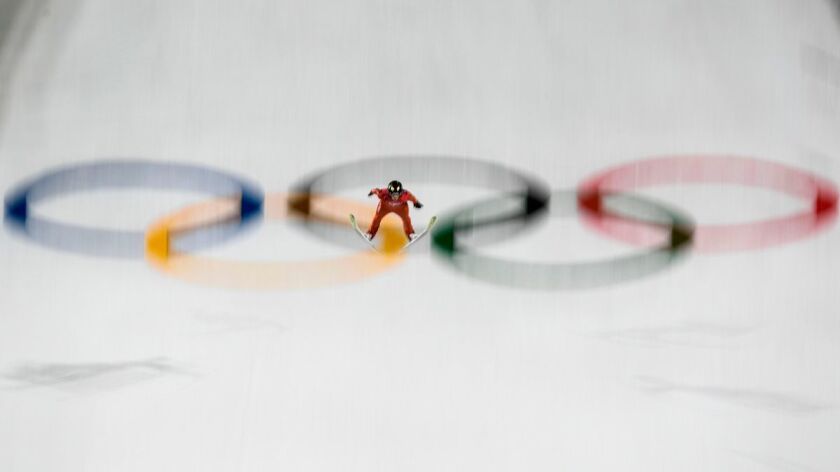 This is your daily infusion of information and news that you might have missed. The really big stuff you'll find in other stories.
It's the halfway point in these Winter Games and time to look at how the U.S. is doing. And the optics are not good. Based on expected results, the U.S. should finish with between 19 and 23 total medals, its lowest total in 20 years.
It's probably not a breakdown in how the different governing bodies care and train their athletes but more a case of some of the athletes just not living up to expectations.
The Alpine skiing team has been disappointing with, through Saturday, no men's medals. And Mikaela Shiffrin and Lindsey Vonn both failed to medal in disciplines you thought they should. Nathan Chen's disastrous short program compromised a medal for him despite a great long program. Lindsey Jacobellis, the best known women's snowboarder, failed to hit the podium and gain some redemption.
So, with a week to go, how will the United States add to its nine medals it had headed into Sunday morning?
Alpine: Could pick up two medals with Vonn in the downhill and Shiffrin in the combined. (2)
Bobsled: The women are likely to pick up a medal in the women's race with Elana Meyers Taylor but Jamie Greubel Poser could sneak in. (1)
Figure Skating: Alex and Maia Shibutani will very likely win a medal in ice dance, but that's it. (1)
Freestyle: The men's halfpipe is likely to get at least two medals between David Wise, Torin Yater-Wallace and Alex Ferreira. Maybe sweep the podium, but that's being greedy. Gus Kenworthy could hit in the slopestyle and Brita Sigourney or Maddie Bowman could medal in the women's halfpipe. These are sports where things can easily go wrong … or right. (4)
Hockey: U.S. women likely lose the gold to Canada. Can't imagine them not medaling. Not so good outlook for the men. (1)
Snowboard: Look for Chris Corning on the men's side and Jamie Anderson on the women's side to hit in the Big Air competition. Should do nothing in parallel giant slalom. (2)
Speedskating: Joey Mantia will possibly medal in the men's mass start, which would be the only U.S. medal in this sport. (1)
Wild cards: Someone unexpected could medal and someone expected to medal won't. It all evens out.
Blanked sports the rest of the way: biathlon, cross-country skiing, curling, Nordic combined, skeleton, short-track speedskating.
That gets, by Buzz predictions, 21 medals, give or take a few.
So, how does that shape up against the past?
2014-Sochi (28); 2010-Vancouver (37); 2006-Turn (26); 2002-Salt Lake City (34); 1998-Nagano (13).
Now it would not surprise if the United States Olympic Committee were to say that the medal total was very close to expectations. But if that happens, those in the front row of the news briefing should be wary they don't get poked by officials' noses growing at an alarming rate.
Another U.S. medal
John-Henry Krueger picked up a silver for the U.S. in 1,000-meter short-track speedskating. It was quite the surprise being that he was rated 12th in the World Cup standings at this distance. He had to withdraw from the trials for the Sochi Games in 2014 because of contracting the swine flu, something he's obviously over. His hero is Conor McGregor, so being second-best mirrored his idol. Samuel Girard of Canada won the gold.
In the women's 1,500 meters, Choi Min-jeong gave South Korea its second gold medal by winning that event. The U.S. had no one make the finals.
All the medals
Slovakia isn't a very big country population wise; in fact, it's about half the size of Los Angeles County. But Anastasiya Kuzmina seems to represent it well. She has won all three of the country's medals in South Korea, finally picking up a gold after two silvers. She won the women's biathlon 12.5-kilometer mass start. She hit 19 of 20 targets, which was the difference. The U.S. was guaranteed not to hit the stand, as it didn't enter anyone.
Great to be Norwegian
Marit Bjoergen and Ole Einar Bjoerndalen are more than just a collection of 18 consonants and 14 vowels. They are, for at least a day or so, inexorably tied in Winter Olympics lore. Bjoergen's win as part of the Norwegian women's 4x5-km relay gave her 13 Olympic medals, tying her with Bjoerndalen. She's got two more starts in these Games to grab the lead by herself. The U.S. finished fifth in the 14-team race.
Defending the gold
Kamil Stoch of Poland defended his gold in the large hill ski jumping competition. It came as no surprise as he was tops in the World Cup standings. Kevin Bickner was the high finisher for the U.S. in 20th position.
Another sport done
Skeleton joined luge as the only two sports to call it a Games for competition. Of course, that's because they have to leave the course for the bobsledders. Lizzy Yarnold of Britain was the women's gold winner and it was a shocker. She hadn't won in international competition in three years. She won by almost a half-second, which almost calls for the mercy rule if they had one in skeleton. Katie Uhlaender of the U.S. finished in 13th place.
In progress …
The U.S. women split matches on Saturday, beating the team of Russian curlers, 7-6, and getting routed by Canada, 11-3. The women are pretty much out of medal contention in sixth place with a 2-3 record. The top four advance to the playoffs.
---
Get the latest on L.A.'s teams in the daily Sports Report newsletter.
You may occasionally receive promotional content from the Los Angeles Times.