U.S. men's bobsled team wants to be the slide ruler in Sochi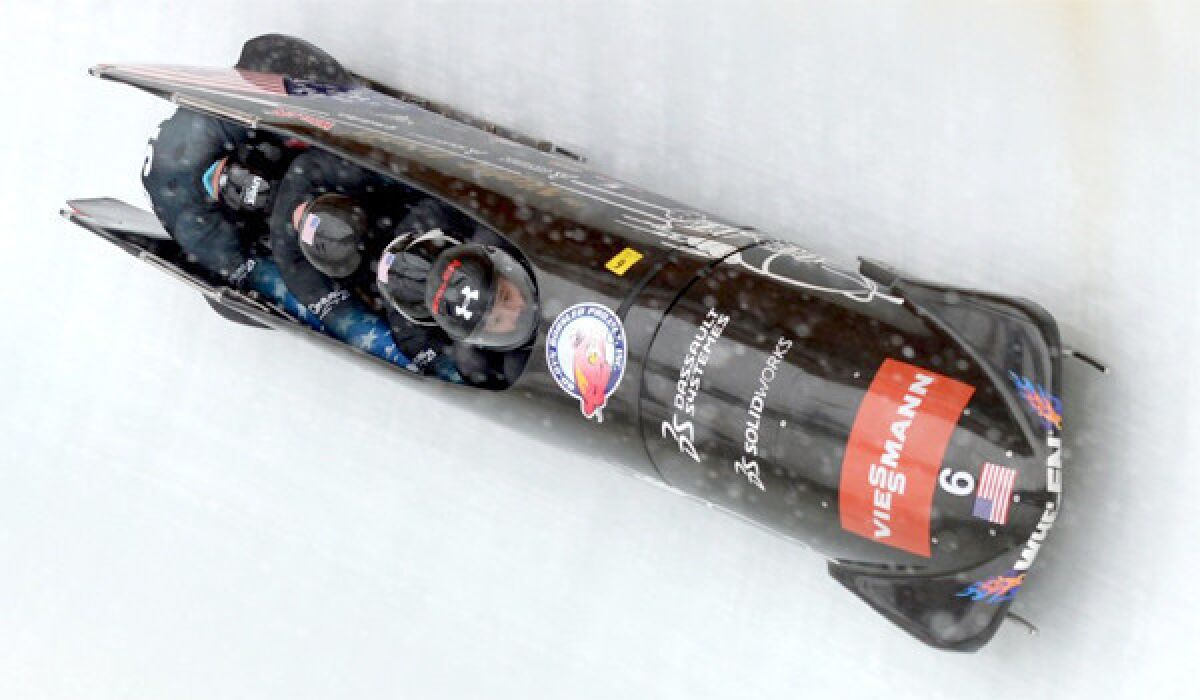 SOCHI, Russia — After dominating the first half of the World Cup season, U.S. bobsled pilot Steven Holcomb walked into a suburban Chicago high school gym on an icy December morning and headed straight toward the weight room.
"The goal is two gold medals in Sochi," said Holcomb, who along with teammate Katie Eberling took no respite from Olympic ambitions while in the Chicago area for a wedding. "Anything else would be a disappointment. There's no more thinking you're just happy to be there. We have too many people and sponsors counting on us."
His mind-set shows just how dramatically expectations have changed since the 2010 Olympics, when Holcomb piloted USA-1 to its first four-man bobsled gold in 62 years. The American team is no longer content to simply reach the medal podium — it wants to stand atop it.
Holcomb has put his team in the position to do just that, entering these Games as the world's No. 1 two-man driver and the second-best four-man pilot. The rankings give him an excellent starting position in both events and leave him among Team USA's best hopes for gold at Sochi's Sanki Sliding Center.
If successful, it would be the first time in 82 years that the U.S. won back-to-back Olympic titles.
"It's going to take a really fast push [and a] great sled. It's going to take great driving," Holcomb said. "It will take all three. We have all three."
Holcomb's four-man crew is expected to include Chris Fogt, Curt Tomasevicz and Steve Langton. Tomasevicz helped pushed USA-1 — nicknamed the Night Train because of its black varnished exterior — to gold four years ago.
The American team has not announced Holcomb's two-man partner yet because of timing issues at the track this week. The data are needed before the pairings can be decided, a U.S. Bobsled and Skeleton Federation spokeswoman said.
On the women's team, driver Elana Meyers — who won bronze in Vancouver as a push athlete and will drive USA-1 in Sochi — remains a medal favorite after finishing second on the World Cup circuit this season. She and brakeman Aja Evans have been the sport's dominant duo since their second-place finish at Sanki last year.
After a training run earlier this week, Meyers suggested the United States could sweep the podium in Sochi. That would be an arduous task, especially given the team's overall record competing outside North America, but Meyers insists it's possible that fellow pilots Jazmine Fenlator and Jamie Greubel could make the podium with brakemen Lauryn Williams and Lolo Jones.
"We're going for it," Meyers said. "We have the brakeman, we have the equipment, and now it's figuring out this track."
Regardless of where they finish, Williams and Jones are set to make history as they become the ninth and 10th Americans to compete in both the Summer and Winter Games.
"I guess it's just the weather that's really different," Williams said. "The Olympic spirit, the athletes' village all feels the same."
The U.S. team also has excellent medal chances in skeleton, where Noelle Pikus-Pace has dominated the women's World Cup circuit this season. She reached the podium in nine of 10 races — and won the 10th race, too, but was disqualified for a sled violation in a controversial post-race inspection.
She and teammate Katie Uhlaender finished first and second at the Olympic test event in Sochi last year, giving them a confidence boost heading into next week's competition.
"It does add confidence," Pikus-Pace said. "We feel very confident at this track. Neither of us came for international training back in November, so every other nation has quite a few more runs than we do on this track. But it's not about quantity, it's about quality."
The men's skeleton team members are longshots to medal, though John Daly did finish fourth at the test event last year.
"It has definitely given me motivation in the summer for training," Daly said. "It kept me hungry all year to know that I was a contender. But this is the Olympic Games and it is a different experience, a different race and a chance to step up and do something great."
The American luge team is not favored to win any medals, either, though both the men and women arrived in Sochi with strong World Cup results.
Kate Hansen became the first American woman to win a World Cup event since 1997 when she took gold in Sigulda, Latvia, last month. Teammate Chris Mazdzer capped his best season with a fifth-place finish in the World Cup standings.
Erin Hamlin, the 2009 world champion, also has had strong training runs since arriving in Sochi last week.
Though any of them could win a surprise medal, history is not on their side. The United States has never reached the podium in singles.
"We've never won in the 60-plus years that our sport has been in the Olympics," Mazdzer said. "That's a lot of years without a medal. Our entire organization has been working so hard to put us in a position where, yes, we can compete with the world. A medal would be a win for our entire organization."
Twitter: @stacystclair
---
Get the latest on L.A.'s teams in the daily Sports Report newsletter.
You may occasionally receive promotional content from the Los Angeles Times.