QB Nick Foles is absent from Rams' workouts, where Jared Goff impresses teammates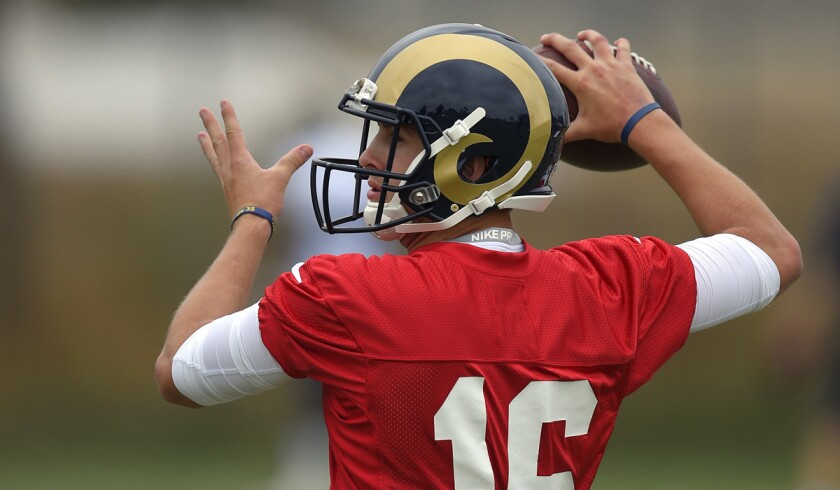 The Rams firmly believe that they solved their long-running quarterback issue by drafting Jared Goff.
But that does not mean the aftermath is to be devoid of drama.
As Goff went through his second day of full-team workouts Wednesday in Oxnard, Nick Foles, presumably the odd man out in the quarterback competition, remained absent.
And Rams Coach Jeff Fisher does not expect to see Foles on the field anytime soon.
"We're on the same page and we're trying to work things out," Fisher told reporters after a two-hour, non-contact practice.
Foles was once considered the Rams' quarterback of the future. They traded Sam Bradford to Philadelphia for him in March 2015 and then signed Foles to a $24.5-million extension.
But Fisher benched Foles in favor of Case Keenum, who started the final five games last season. Foles' status had been tenuous since mid-April, when the Rams traded for the top pick in the NFL draft. Two weeks later, his fate appeared sealed when the Rams chose Goff.
Foles has not practiced at the Rams' training facility since, and he was absent Tuesday when the team began full-squad organized team activities, which are voluntary.
Fisher said Foles' situation "has nothing to do with him not wanting to come in and compete" with Goff, Keenum and Sean Mannion. He praised Foles' competitiveness and said he appreciated his leadership.
"I think Nick has the feeling that if things stay the same, he's probably not going to be on the roster," Fisher said. "Beyond that, it was more of a mutual thing.
"Not that we said, 'Don't come.' It was just he said, 'Hey, coach, I'd rather just stay away until we get things worked out,' and I said, 'I'm fine with that.'"
The Rams have seven remaining OTA workouts before breaking for summer. If Foles is not traded in the interim, he is expected to be in Irvine for the start of training camp in late July. The trade market for a veteran could improve then if other teams lose quarterbacks because of injuries or other situations.
"If Nick comes back, we'll definitely welcome him with open arms," receiver Tavon Austin said. "If not, we definitely understand what's going on."
Running back Tre Mason and safety T.J. McDonald also have been absent and are expected to sit out all of the OTA workouts because of what Fisher described as "personal reasons."
Mason was arrested in Florida in March on suspicion of misdemeanor drug and driving-related offenses. He has entered a plea of not guilty. McDonald was arrested this month in Woodland Hills on suspicion of driving under the influence of a substance other than alcohol. A court date was scheduled for Friday, but the Los Angeles city attorney's office is still awaiting test results from police, so the date will be rescheduled, a spokesman said.
Of the players in attendance at Wednesday's workout — the first that was open to media — Goff drew the most attention from reporters and camera operators.
Goff had participated in the Rams' rookie camp with other draftees and free agents before his first two practices with veterans. He said he had a good handle on the playbook and was not upset by mistakes.
On Wednesday, Goff worked mainly with reserves. He mostly made good decisions and passes, but also had a pass intercepted.
"There's a lot of thinking going on, so you can't be as perfect as you want," he said. "But so far I think I've done a decent job."
Teammates have been impressed.
"Just his composure," running back Todd Gurley said. "He's a real chill, laid-back type of guy and he can sling it.
"I'm not a quarterback guru, but I see he's got a quick release."
Keenum, preparing for his fifth pro season, recalled his own first OTA workout.
"I don't think I could get out of the huddle and get a play call out," he said, "so the fact that he's doing that has got me impressed. … He's making some really good throws and he's smart with the football."
Goff is expected to get plenty of opportunities with the first-team offense as workouts progress.
"There might be a day where he gets all the No. 1 reps before we're done with camp," Fisher said. "That certainly doesn't mean to say he won a job, but it means he's developing in the offense and you want to give him that opportunity."
Twitter: @latimesklein
---
Get the latest on L.A.'s teams in the daily Sports Report newsletter.
You may occasionally receive promotional content from the Los Angeles Times.