Clay Matthews, Eric Weddle bring versatility to Rams' defense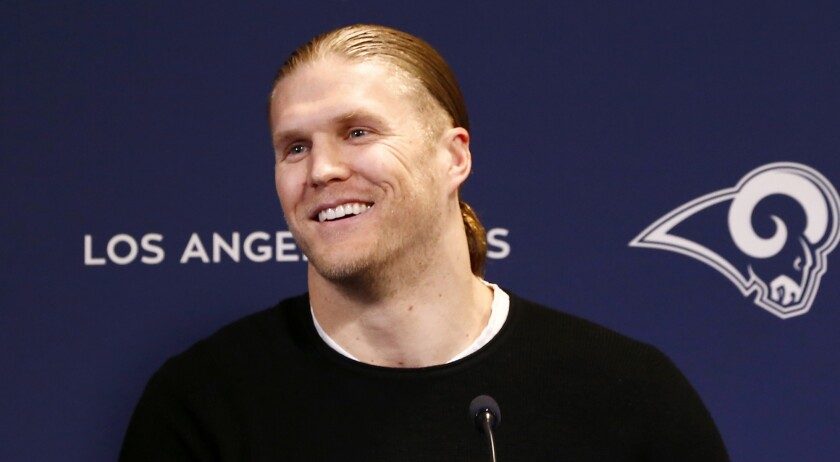 For the first time since he was a rookie, Clay Matthews must spend the offseason acquainting himself with a new team.
The 33-year-old spent 10 years with the Green Bay Packers until he signed with the Rams in March. Meeting new teammates, studying a new game plan, even navigating where to park were details Matthews learned quickly.
"When I first got here, I definitely wasn't comfortable," Matthews said. "But as far as five weeks in, I mean, everyone has brought me up to speed."
The Rams met Monday for the first of 10 days of organized team activities, also called OTAs, part of the third phase of voluntary offseason workouts. For Matthews it was a chance to bond with teammates as the Rams offense and defense faced each other in 11-on-11 drills without live contact.
Matthews, a six-time Pro Bowler and an All-Pro and Super Bowl champion in 2010, said he likely will serve primarily as an outside linebacker, but his role could be more flexible on pass-rush and third-down plays.
He is not the only veteran joining the Rams defense. Safety Eric Weddle, who spent three seasons with the Baltimore Ravens after nine with the Chargers, also signed with the Rams.
Sign up for our daily sports newsletter »
Both players' versatility enables the Rams flexibility in how they construct their defense, coach Sean McVay said.
"When you have players that enable you to be a little more flexible with what you can give an offense to deal with, we're gonna get a lot better," McVay said. "And those guys, you already feel their contribution. … Out there today, you see these guys, and you say, 'Man, I'm glad they're on our team now.'"
Weddle, also a six-time Pro Bowler and an All-Pro in 2011 and 2014, attended Alta Loma High in Rancho Cucamonga and played in college at Utah. Matthews grew up in Agoura Hills and is a former USC walk-on. Matthews' Southern California ties swayed his decision to sign with the Rams. But in his conversations with McVay and others, there was something else about the Rams that seemed like the perfect fit, Matthews said.
"It's just different," Matthews said. "There's an energy around here. And I think that stems from being successful, but that ultimately comes from the right people being on the team."
Matthews sees the difference in the veterans' leadership. Weddle commended newer players' receptiveness to feedback.
"Especially the young guys who are willing to listen and work hard, and give them pointers and tips and actually listen," Weddle said, "it's refreshing."
Matthews has gotten comfortable with the Rams, bolstered by familiarity built during voluntary workouts and his teammates' friendliness. It has deepened his confidence that the team can build on last season's success.
"I know it's really early," Matthews said, "but through five weeks, you know, I couldn't be more excited."
Star players absent
While many new Rams practiced Monday, several familiar faces were missing.
Running back Todd Gurley, cornerbacks Marcus Peters and Aqib Talib, and linebacker Dante Fowler were not present Monday. McVay said he was aware of their absences in advance. McVay said Gurley has a specific workout plan that includes outside trainers and he expected Fowler to join the team later in the week.
"We just want to make sure we're staying in contact with those guys," McVay said. "They've been very active throughout this offseason."
Kupp making progress
During the nearly six months he has spent recovering from left knee surgery, wide receiver Cooper Kupp has learned to set goals on a weekly basis.
"That's where I'm living right now," Kupp said, "living with the small victories, day by day."
McVay said the goal is to have Kupp healthy by the season opener.
Kupp participated in individual workouts Monday but not in the 11-on-11 drills. He is recovering from a torn anterior cruciate ligament he sustained against the Seattle Seahawks on Nov. 11, which sidelined him for the rest of the 2018 season.
"Right on track with where we want him to be," McVay said of Kupp's recovery. "We'll be able to kind of get creative and get him involved a little bit more as we progress."
Etc.
McVay said Ted Rath, the Rams' director of strength training and performance, is still on leave pending a May 31 court date. Rath has been on leave since mid-January after being charged with three counts of misdemeanor sexual battery. Rath has pleaded not guilty.
---
Get the latest on L.A.'s teams in the daily Sports Report newsletter.
You may occasionally receive promotional content from the Los Angeles Times.