Sean McVay has had influence on new Packers coach Matt LaFleur and new Bengals coach Zac Taylor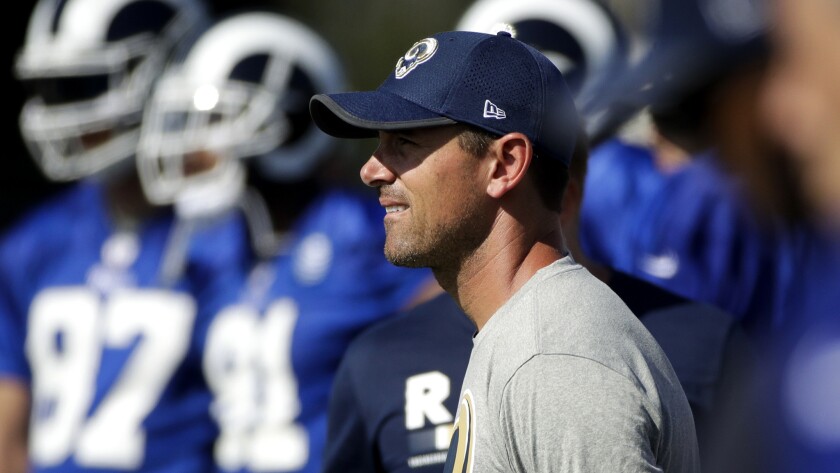 NFL coaching trees can require years to take root.
But like just about everything Rams coach Sean McVay has done in his career, the branches of his tree are spreading quickly.
"I'm too young to have a coaching tree," the 33-year old McVay joked last month.
New Green Bay Packers coach Matt LaFleur and new Cincinnati Bengals coach Zac Taylor prove otherwise. Both were members of McVay's 2017 staff.
"It's a big credit to just the success that we had in L.A.," LaFleur, 39, said Wednesday at the NFL scouting combine.
Said Taylor, 35: "I've been fortunate to have a really strong foundation with some of the coaches I worked with and learned under. Sean just really helped put that over the top."
Two years ago, the Rams made the then 30-year old McVay the youngest coach in modern NFL history. LaFleur was McVay's non-play-calling offensive coordinator, and Taylor was the assistant receivers coach for a team that finished 11-5, won the NFC West and made the playoffs for the first time since 2004.
LaFleur parlayed that success into a play-calling role with the Tennessee Titans. Taylor ascended to quarterbacks coach for a Rams team that advanced to the Super Bowl.
The momentum of the "McVay Effect" then worked for both.
In early January, the Packers hired LaFleur to replace longtime coach Mike McCarthy. Later that month, the Bengals tabbed Taylor to replace longtime coach Marvin Lewis, and then made it official after the Rams' Super Bowl loss to the New England Patriots.
On Wednesday, LaFleur and Taylor addressed reporters from combine podiums and during individual interviews. McVay is scheduled to appear Thursday.
LaFleur and Taylor praised McVay for demonstrating the importance of building relationships with coaches and players.
"He's just wise beyond his years," LaFleur said.
Some of that apparently rubbed off on LaFleur, once a member of a Washington Redskins staff that included San Francisco 49ers coach Kyle Shanahan and McVay. LaFleur was the Atlanta Falcons quarterbacks coach in 2015 and 2016 before McVay hired him with the Rams.
LaFleur helped develop quarterback Jared Goff and an offense that led the NFL in scoring in 2017. But McVay was the play-caller and, presumably, will be as long as he wears a sideline headset. The Titans interviewed LaFleur for their vacant head coach job that ultimately went to Mike Vrabel, , but Vrabel offered LaFleur a chance to join his staff as a play-caller.
LaFleur said Wednesday that it was difficult to leave his friend McVay on both a professional and personal level. And he recognized how good the Rams would be in 2018.
"I didn't want to necessarily leave, but I felt like just from a professional standpoint it's something I needed to do," he said. "Kind of get out of my comfort zone a little bit and go out and call plays and try to learn as much as I can."
After one season with the Titans, who finished 9-7, the Packers came calling.
Asked if the affiliation with McVay helped LaFleur's cause, Packers general manager Brian Gutekunst said his interest was based more on LaFleur's cumulative work, and on interviews with people who knew him.
Sign up for our daily sports newsletter »
"I thought it said a lot too that he could have stayed in L.A., but he wanted to call plays and went to Tennessee and had to do some things differently there with that personnel group," Gutekunst said.
LaFleur has worked with quarterbacks such as Goff, Matt Ryan and Marcus Mariota. Now he is coaching a team that features future Hall of Famer Aaron Rodgers.
LaFleur said he would call on all of his experiences, noting that in 2015 he built a relationship with another veteran in Ryan.
"It's a process, but one that I'm looking forward to," he said. "I've had a couple opportunities to talk to Aaron just on the phone, just to get know each other.
"I know the guy wants to win, and I want to win. And I think we're going to have a lot of fun working together."
Taylor also is in charge of team with a veteran quarterback in Andy Dalton.
Taylor coached in the NFL with the Miami Dolphins and in college at Cincinnati before he joined McVay's staff. The culture McVay built, the relationships he forged, and the scheme he installed all affected Taylor in positive ways.
"Whether it leads to you getting a job or not, I don't know, it's not for me to say," Taylor said. "I do know that I believed in everything that was part of the process that [McVay] had gotten started there and we all believed in it — that's why you go to the Super Bowl.
"When you believe in a process and when you're in a [job] interview and you're talking about what you lived for two years, that's an easy thing to talk about."
Duke Tobin, the Bengals' director of player personnel, said when the franchise decided to interview Taylor, it was not looking at him solely as a product of his coaching associates.
"Obviously, they've had offensive success in L.A.," Tobin said. "I think elements of that will come with Zac, but it will be the Bengals' offense as we go forward."
LaFleur and Taylor have spent the last few weeks putting the finishing touches on their staffs and preparing for the combine, free agency and the draft.
During the upcoming season, the Rams are scheduled to play the Bengals in London at a date to be determined. Taylor said he has not had time to consider what it will be like to coach against McVay in his first season.
"I'll be able to better answer that when we get closer to the day," he said. "Right now, there's so much else to focus on."
Follow Gary Klein on Twitter @latimesklein
---
Get the latest on L.A.'s teams in the daily Sports Report newsletter.
You may occasionally receive promotional content from the Los Angeles Times.