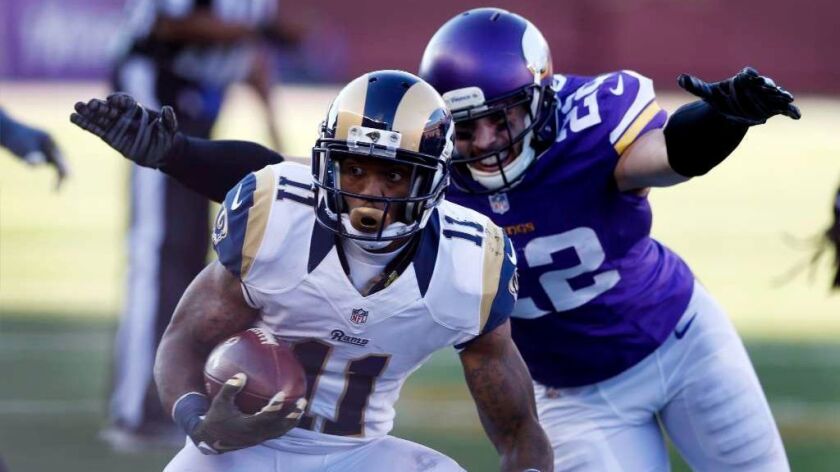 The Super Bowl will be played in February at U.S. Bank Stadium in Minneapolis, the same venue that Rams coach Sean McVay and his team will travel to this week.
The Rams play the Minnesota Vikings on Sunday in a matchup of 7-2 teams that appear bound for the playoffs.
Asked Monday if he would allow himself to envision returning to the stadium for the Super Bowl if his team continues to play well, McVay held firm, repeating his one-game-at-a-time mantra.
"If we don't get to our eighth win, then nothing else really matters," McVay said during a news conference in Thousand Oaks, "and that's what's important for us right now."
The Rams are in the Super Bowl conversation — one betting service has them at 12-1 to win it — after Sunday's 33-7 victory over the Houston Texans at the Coliseum extended their winning streak to four games.
But now it gets tougher.
The game against the Vikings is the first of several against teams that have the look and records of playoff contenders.
The Vikings defeated the Washington Redskins 38-30 on Sunday for their fifth consecutive victory.
The matchup against the Vikings will be "a tough one," Rams quarterback Jared Goff said.
"It'll be a fun one though," Goff said Sunday after passing for three touchdowns and a career-best 355 yards against the Texans.
After the Vikings, the Rams play at home against the New Orleans Saints, who are 7-2 going into Sunday's game against the Redskins.
Among the Rams' other remaining games are matchups against the Philadelphia Eagles (8-1), Seattle Seahawks (6-3) and Tennessee Titans (6-3).
"It's a good challenge for us to see where we are as a team," running back Todd Gurley said. "We want to be in the playoffs, and right now if we keep doing what we're doing, we will. … Whether you're playing the worst team or the best team, you have to bring it each week, because you never know what might happen."
The Vikings' winning streak includes victories over the Chicago Bears, Green Bay Packers, Baltimore Ravens, Cleveland Browns and Redskins.
Former Rams quarterback Case Keenum has completed 64% of his passes, 11 for touchdowns, with five interceptions. But Teddy Bridgewater has returned after suffering a season-ending knee injury in 2016, so Vikings coach Mike Zimmer might wait to name a starter.
Keenum completed 21 of 29 passes for 304 yards and four touchdowns against the Redskins, with two interceptions.
"He's a great competitor," McVay said. "He's got the ability to kind of throw off a bunch of different platforms.
"I think he's been a huge reason why they've been so productive offensively."
The Vikings average 24.1 points a game, which ranks 10th in the NFL, so that will be a challenge for Rams defensive coordinator Wade Phillips.
But the Vikings, under Zimmer, are built on defense.
They have given up only 18.3 points and 294.6 yards a game, ranking fifth in the NFL in both categories. They are third in rushing defense (81.3 yards a game) and 12th in passing defense (213.2).
"He's known, similar to Wade, for great defenses," McVay said of Zimmer, "and he's got a lot of different things that you see other teams in the league running because of the success that, really, he started doing a handful of years back."
Etc.
McVay said that linebacker Robert Quinn, sidelined against the Texans because of what the Rams described as an illness, would return to practice and that his status for Sunday's game would be determined later in the week. Offensive lineman Rodger Saffold suffered an ankle sprain against the Texans, but McVay indicated it was not serious. … For the second consecutive week, Gurley was timed running more than 20 mph in a game. Gurley, who was clocked at 20.62 mph in the Rams' victory over the New York Giants, hit 20.35 mph against the Texans, according to the NFL. Gurley rushed for 68 yards in 11 carries and caught six passes for 68 yards.
Follow Gary Klein on Twitter @latimesklein
---