Aaron Donald isn't satisfied: 'I'm definitely going to come back better'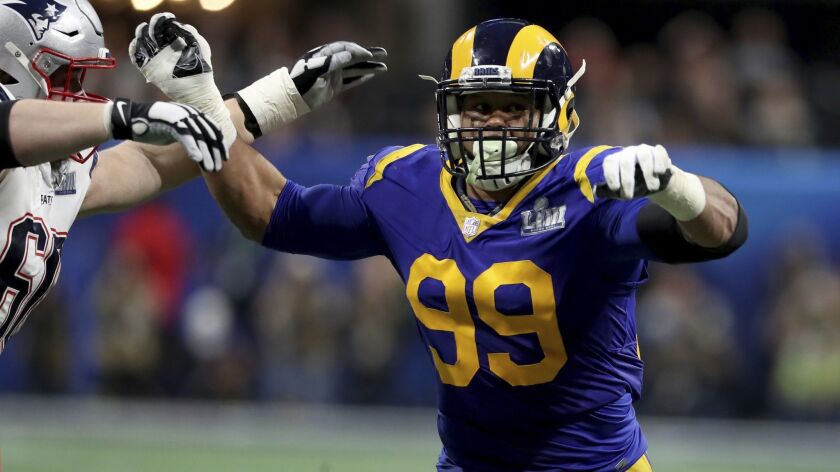 With a long season and a Super Bowl defeat behind them, most Rams players will take some extended time off and perhaps go on vacation before the team reconvenes in April for offseason workouts.
Not, apparently, tackle Aaron Donald, the two-time NFL defensive player of the year.
"Probably take a couple days," he said. "I get right back to work."
Donald, 27, signed a $135-million extension before the season and then recorded 20½ sacks, a record for an interior lineman.
He did not have a sack in three postseason games, but the attention he demanded from opponents helped free Ndamukong Suh for outstanding performances against the Dallas Cowboys in the divisional round and against the New Orleans Saints in the NFC championship game.
Donald had five tackles in the Rams' 13-3 loss to the New England Patriots in Super Bowl LIII. He also had one of the Rams' four hits on Patriots quarterback Tom Brady.
Donald said there was "a lot of good, a lot of bad" in the loss. He will use it as a learning experience and "get back to grinding" so that the Rams can return to the Super Bowl next season.
"We wanted to win, we didn't — that didn't do nothing but light a fire," he said.
Donald said he was honored to win a second consecutive defensive player of the year award, a feat accomplished only by former New York Giants linebacker Lawrence Taylor and Houston Texans lineman J.J. Watt.
But there is still room for improvement.
"All aspects of my game — everything," he said, when asked what area needed work. "Watch the film of a game where I got slowed down and try to find a way that I can beat that and find ways to defeat it no matter what they're trying to do. ...
"Can't let myself get satisfied or comfortable. So as long as I stay like that, stay hungry, we'll be fine. I'm definitely going to come back better than I was this year."
Rookie defensive lineman John Franklin-Myers has the same goal.
Franklin-Myers recorded the Rams' only sack against the Patriots, causing Brady to fumble late in the first quarter. The Patriots recovered the ball.
"That was a dream I've been having since I can remember," Franklin-Myers said of sacking Brady in a Super Bowl.
Franklin-Myers, a fourth-round draft pick from Stephen F. Austin, said the sack was a starting point. He will spend the offseason working to improve his strength, quickness and grit.
"You got to start somewhere, and making a play like that it helps show the coaches I kind of, maybe I belong here, maybe I mean business," he said. "But, I mean, I've got a lot to learn, a lot to improve on.
"I'm not going to focus on that sack as much as I am just improving every day."
Etc.
The Rams signed defensive back Donte Deayon, linebacker Travin Howard, offensive tackle Kyle Murphy and receiver Austin Proehl to free-agent contracts. The players were members of the practice squad last season. Howard was a seventh-round draft pick in 2018.
Sign up for our daily sports newsletter »
Follow Gary Klein on Twitter @latimesklein
---
Get the latest on L.A.'s teams in the daily Sports Report newsletter.
You may occasionally receive promotional content from the Los Angeles Times.